After several quarters of growth, notes SalMar in its most recent financial report, in Q1 2018 the volume of salmon harvested in Scotland fell by 13 per cent compared with the first quarter 2017, while in the second and third quarters, output is expected to decrease by 15 per cent and 11 per cent respectively.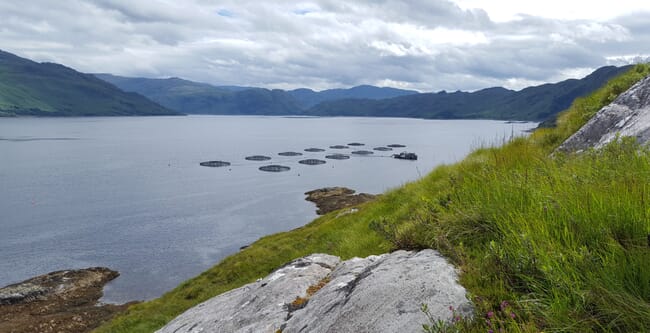 Despite this, SalMar's own Scottish operations - Scottish Sea Farms (which it jointly owns with Leroy) - reported a y-on-y increase in harvest volumes, which increased by 600 tonnes to reach 6,500 tonnes in the quarter. They also recorded an impressive yield, with gutted weight EBIT/kg reaching NOK 26.67 in the period, compared with NOK 16 in the previous quarter and NOK 24.22 in Q1 2017. Moreover, fish affected by poor gill health were harvested out in the fourth quarter 2017 and the company now reports good biological status in all its operational areas.
Global trends
According to SalMar, the global supply of Atlantic salmon was 9 per cent higher in the first quarter 2018 than in the corresponding period last year. However, the growth rate is expected to tail off as the year progresses. In the second and third quarters, output is expected to be 3 per cent higher than in the same periods last year, while growth in the fourth quarter 2018 is expected to be up 1 per cent on the same quarter in 2017.
Output in Norway rose by 6 per cent in the first quarter and the annual volume harvested in Norway is expected to increase by 6 per cent to 1.28 million tonnes.
A sharp downturn in the growth rate in Chile is expected through 2018. After increasing by 25 per cent in the first quarter, growth of 5 per cent and 1 per cent respectively are expected in the second and third quarters. Year-on-year, output is expected to fall by 7 per cent in the fourth quarter. For 2018 as a whole, the volume harvested in Chile is expected to increase by 5 per cent to 607,400 tonnes.
Developments in North America are expected to remain stable throughout 2018, with quarterly growth of 2–6 per cent. For the year as a whole, the harvested volume is expected to rise by 3 per cent to 166,800 tonnes.
In the Faroes, the total output in 2018 is forecast to be 74,000 tonnes, a decrease of 8 per cent on 2017. Output in other regions is expected to total 107,800 tonnes in 2018, up 6,200 tonnes or 6 per cent on the year before.