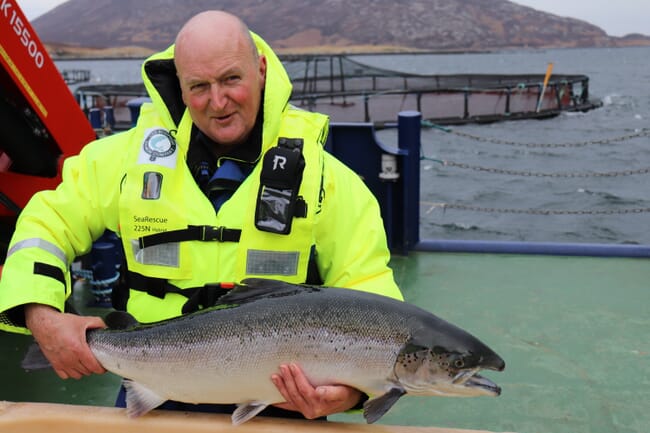 The volume of salmon harvested in Scotland last year was 205,393 tonnes, according to the results of the newly published Scottish Fish Farm Production Survey, just beating the 203,881 tonnes harvested in 2019.
However, on less positive note, the figures in the report show that the smolt survival rate for the 2019 input year class decreased to 74.4 percent, down from 77.5 percent for the 2018 input year class. And while, there was one reported salmon escape incident, it resulted in the loss of 19,686 fish.
There was also a small decrease in farming staff numbers, reflecting Covid and post-Brexit labour market challenges. However, Salmon Scotland said the total number of workers in the sector remains consistent at around 2,500 – with an additional 10,000 indirect jobs through the supply chain.

In response to the survey, Tavish Scott, chief executive of Salmon Scotland, said: "2021 was a record year for Scottish salmon and that is credit to the hard-working farmers and everyone in our sector who rose to the challenge of meeting demand for our world-renowned fish."

Separate figures show that the sector delivers £760 million for the Scottish economy, supporting fragile coastal communities, while HMRC data confirms that Scottish salmon is the UK's largest food export.
"All this has been achieved despite the challenges of Covid and Brexit. With the right government support – streamlined regulation, a more business-friendly approach to immigration, and action to tackle rural housing shortages – we can deliver further sustainable growth," Scott added.
Meanwhile rainbow trout harvests increased by 8 percent in 2021 to reach 8,156 tonnes, the second highest level recorded, while brown and sea trout production decreased from 24 tonnes in 2020 to 23 tonnes in 2021.