Due to wetland destruction, the Madagascar pochard is teetering on the brink of extinction, with fewer than 30 birds living in the north of the country. For several years, the Wildfowl & Wetlands Trust (WWT) in Slimbridge, along with other partners, has been working to conserve the ducks, including the development of a captive breeding programme in Madagascar.

The remaining wild population of the pochards survive in just one lake. With the birds in such a perilous position, clutches of eggs were brought into captivity, giving WWT time to develop long-term plans to save the species. The breeding programme in Madagascar has been a success, and has now bred close to 100 ducks in captivity.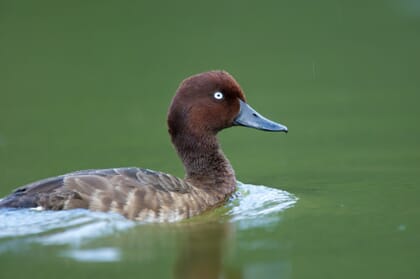 But one of the challenges was to devise a way of re-introducing these captive bred ducks back into the wild.
This resulted in WWT approaching Kames Fish Farming last year about the feasibility of designing and building a release pen for the ducks. Kames came up with a solution based on a traditional circular fish farm pen system, incorporating the widely used 'hamster wheel' top net support which is normally used to prevent the top-nets from sagging down and damaging the fish.
The polyethylene piping and other fittings for the pen were supplied by Fusion Marine, which has a long tradition of working in partnership with Kames.
Key features of the duck pen included a platform for the birds to preen and rest, ramps to enable access to and from the enclosure as well as lightweight construction so that it can be easily transported – an important consideration in a country with few roads and no power, transport or lifting equipment in the villages around the release lake.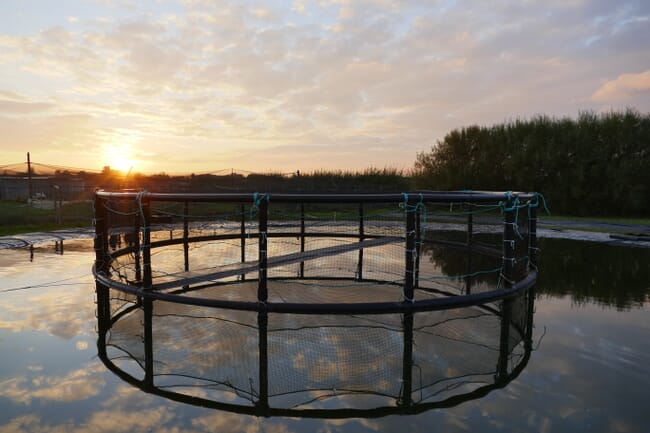 The enclosure for the ducks is made from knotless nylon netting with different mesh sizes to enable the ducks to be easily observed from outside and also ensure they are secure and minimise the likelihood of predation. To enable the ducks to exit the enclosure, heavy duty zip openings were also included in the design.
The floating pen was successfully trialled at the WWT's Slimbridge reserve using a species of duck similar to the Madagascar pochard, and following these encouraging results, WWT has ordered two more pens, which will be shipped to Madagascar later this year for use with the captive bred pochards.
Peter Richardson of Kames Fish Farming said: "We are delighted that we have been able to use our expertise in the design and manufacture of bespoke fish farm systems to be adapted for developing a release pen for these incredibly rare ducks. The Madagascar pochard still has a real fight on its hands, but hopefully this exciting conservation project will now give the birds a good chance for survival."
Stephen Divers of Fusion Marine added: "The Madagascar pochard is a bird living on the brink and it would be a tragedy if it were to be lost for good. We are thrilled to have been able to play our part in aiding its survival."
Leading the pochard project at WWT is Peter Cranswick, who said: "Saving the world's rarest duck constantly throws up new challenges. As the Madagascar pochard dives for its food, we have had to come up with a novel way of re-introducing them into the wild and the result has been to create the world's first known floating aviary. The problems of working in such a remote location often require us to be inventive, and thanks to Kames' and Fusion Marine's expertise, we believe we have a workable solution – we hope the ducks will think the same."