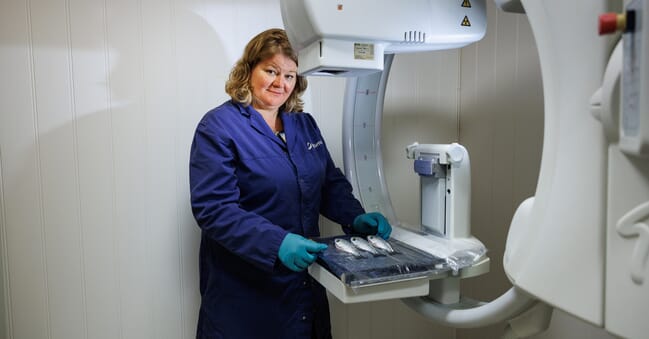 In this year's Fish Health Report from the Norwegian Veterinary Institute, nephrocalcinosis is reported by the Norwegian Food Safety Authority to be an increasing issue, raising mortality rates and potentially severely decreasing fish welfare.
When smolt are released into the sea with defective kidneys, they are less able to withstand the challenges of their new environment. Nephrocalcinosis can therefore affect the mortality and welfare of farmed salmonids. It is uncertain how painful it is, or when it becomes a truly serious condition.
Currently, there is no established technique for field-screening for nephrocalcinosis in Norwegian fish farms, with the disease mostly being diagnosed in dead or abnormally weak and thin fish. However this approach does not reflect the actual prevalence in a population of live fish.
To address this issue, Kirsti Hjelde, a veterinarian at Nofima, has been adapting x-ray screening techniques used for the diagnosis of nephrocalcinosis to be suitable for use in the field and at farm sites.
In a press release, Hjelde commented on the urgent need for the development of a systematic diagnostic method for the disease.
She said: "The fish can look great on the outside, but their kidneys are ruined. Kidneys essentially have considerable extra capacity, so one of the current challenges is to understand how this disease progresses, and how much the kidneys can tolerate before they are beyond repair".
"We believe we have found an intersection where things quickly get much worse, and this is something we hope to be able to follow up on with further research," she added.
Hjelde also commented on the need for researchers and fish farmers to collaborate if any progress in the understanding of the disease is to be made.
She said: "The more equipment you have available, the more it will be used, and the more information you get. The equipment has become relatively affordable and accessible. Now we need people who can use it. That should not be so difficult. If we who use it all speak the same language and join forces, we will gather so much more information than if we just keep doing our own thing in isolation".