European frozen scallop imports hit by weaker French demand
Although import volumes rose modestly last year in markets such as Spain and Italy, these increases were insufficient to balance the drop in imports into France, by far Europe's largest scallop market.

Weaker French demand during 2007 followed a year of record imports in 2006 when volumes exceeded 21 000 tonnes, valued at €216 million. However, with disappointing end of year sales for 2006, inventory levels in France were high going into 2007, a development which adversely affected imports during the course of the year. Final year figures for 2007 are likely to show French frozen scallop imports well below the highs of both 2005 and 2006.

South American exporters increase share of French imports
Notwithstanding the general downturn in French imports, suppliers from Argentina, Peru and Chile significantly increased their share of French scallop imports over the past year accounting for over half of total imports. The three countries combined accounted for 55% of French volume imports during the January – November period last year compared to 42% during the same period in 2006.

Product from the three Latin American countries is exported to France in a variety of forms including meats, with or without roe, and half-shell to retail chains and to processors for use in the production of ready meals. Peru and Chile are, for example, currently supplying hypermarket outlets with roe-on meats (farmed Argopecten purpuratus) under retailer brands with Peru also supplying half shell products. Similarly, meats without roe (Zgochlamys patagonica) are supplied by Argentinean processors also under retail brands.

These products are supplied at a clear price advantage over similar products based on the European species, Pecten maximus. Indicative prices in French hypermarkets during March 2008 point to a range of €14 – 24/kg for South American meats compared to a price range over €30/kg for frozen European meats (French or UK origin).

In terms of import share, Argentina consolidated its number one position increasing its share of French volume imports from just under a quarter to almost a third. Although imports from Peru and Chile were largely stable during 2007, both countries increased their share of imports respectively during the first eleven months from 11.5 and 7.7% in 2006 to 14.7 and 9.7%. The largest jump in import share last year came, however, from North America with Canadian exporters accounting for almost 11% of total French imports compared to just 6% in 2006 (eleven months).

Competition from both South American and Canadian suppliers during 2007 contributed to a significant decline in import share for several countries including the USA, Japan and the UK. French imports from the USA over the January – November period more than halved from 3 300 tonnes in 2006 to 1 200 tonnes, the import share falling from almost 17% to less than 8%. Japan in turn was unable to build on a strong performance in the French market during 2006 when supplies jumped to almost 1 600 tonnes from less than 700 tonnes in 2005. Eleven month figures for 2007 show French imports from Japan, at 800 tonnes, ahead of the 2005 level but well short of the total for 2006. Similarly, UK volumes amounted to over 1 300 tonnes in 2006 but came to less than 900 tonnes for the January – November period last year.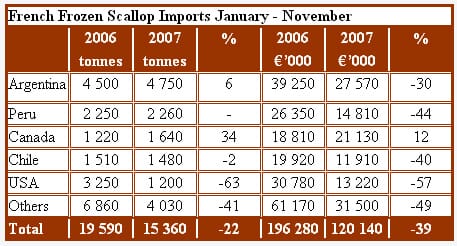 As the table indicates, trends in value terms last year were quite different to volume trends. The stronger value decline suggests weaker import prices during 2007 compared to the previous year. The value decline is evident for most of the leading supplying countries, sales from Argentina falling 30% and Peru down 44%. Although the value of Canadian supplies increased, the rate of increase at 12% was well below its volume increase of 34%.

European suppliers increase sales to Spain
With annual imports at around 5 000 tonnes, Spain is well behind France as an importer of frozen scallop products. Import volumes for 2007 were roughly in line with those of 2006 at 4 300 – 4 400 tonnes for the January – November period. In contrast to France, Spain relies on European suppliers for the bulk of its imports. France, the UK and Italy accounted for 80% of Spanish imports for the eleven month period in 2007 up from 68% for the same period in 2006. France maintained its position as leading supplier, marginally increasing its import share from 31 to 32%. Overall, increases from European suppliers more than balanced a fall in supplies from other countries. The most striking decline concerned Peru, supplies more than halving to 300 tonnes.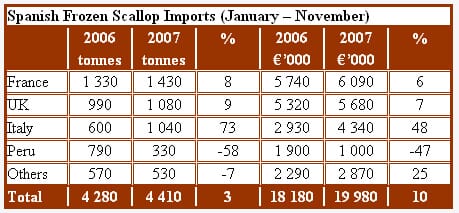 Positive trend in Italian imports continues
The trend for Italian frozen scallop imports last year followed that for Spain with modest increases in both volumes and values. Figures for the January – November period show volumes up 5%, to 3 700 tonnes, and values up 9%, to over €18 million, on the same period the previous year. The Italian trend has been positive in recent years so final year figures for 2007 should provide a new high for imports.

Last year's increase is due to stronger exports from the leading two suppliers, the UK and Spain. The UK accounts for over a third of Italian imports and its leading share was consolidated in 2007 following an 8% volume increase to 1 400 tonnes. The increase from Spain was much stronger, supplies more than doubling to almost 600 tonnes. These increases helped to balance a drop in exports from both Vietnam and France.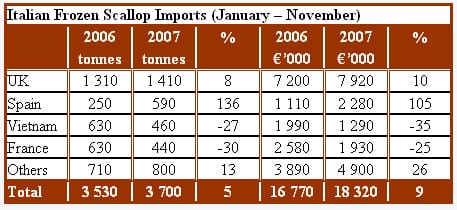 Downward price pressure to continue in France
With a weaker dollar and assuming no major supply difficulties with American suppliers, retail prices in France for frozen scallop meats are likely to remain under downward pressure throughout the remainder of the first half of 2008. French hypermarket outlets have been promoting farmed meats from Peru and Chile during the first quarter with one leading chain offering Peruvian meats under its own brand at less than €10/kg (1 kg pack).

March 2008