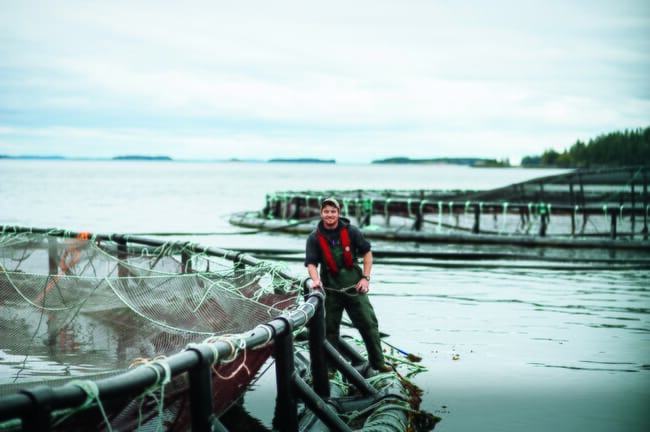 Responding to the announcement, Farquarson wrote: "Canada is the only nation among its major international competitors to not have a stand-alone, modern act to govern aquaculture. Instead, Canada's sector is regulated by multiple federal and provincial agencies, often with overlapping mandates. At the federal level, aquaculture is governed by the 150-year old Fisheries Act, that was created at the time of Confederation when aquaculture did not exist. It does not even mention the word 'aquaculture'. The Act's mandate is 'conservation & management' and does not consider ocean fish farming as an activity. As a result, the Department of Fisheries and Ocean's actions are consistently dominated by regulating the sector rather than enabling the sector for growth.
"We support the development of an Aquaculture Act that respects all current federal, provincial and territorial jurisdictions, while avoiding duplication of processes. Such an act would provide the sector with a modern and coherent regulatory framework that protects the public interest, is evidence-based, efficient, predictable and accountable. While the Department of Fisheries and Oceans must retain its regulatory and constitutional responsibility, Canada must designate an agency that formally has the mandate to support the growth of the seafood farming sector, as with other farming sectors."
CCFAM's announcement was part of a raft of measures to boost sustainable aquaculture, which were proposed by Canada's Department for Fisheries and Oceans this week.
In a press release DFO stated: "Canada's aquaculture industry generates thousands of good middle-class jobs, mostly in coastal, rural and Indigenous communities. The sector provides high quality Canadian products to markets around the world.
"As Canada moves to seize the economic opportunity presented by the aquaculture sector, the Government of Canada, in partnership with provinces and territories, industry, indigenous partners, environmental groups and other stakeholders, must work together to ensure we have an economically viable and environmentally sustainable path forward."
Jonathan Wilkinson, Minister of Fisheries, Oceans and the Canadian Coast Guard added: "The Government of Canada is committed to making aquaculture more effective, efficient and environmentally sustainable. Together, with Indigenous, environmental and industry partners, we will lead the way towards a more prosperous and sustainable aquaculture industry."