Russian Aquaculture currently owns cultivation rights for 30 salmon and trout sites in the Murmansk and Karelia regions. The company has four farms in Murmansk, and plans to increase its assets to between 16 and 18 farms by 2025, according to company representatives.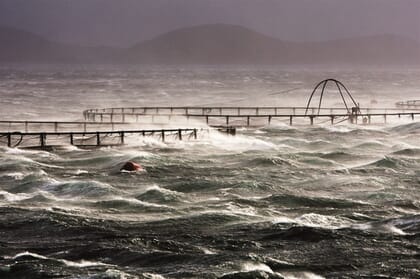 "Preliminary data shows that the volume of fish and fish products produced in Russia increased by 4.1% during the first eight months of 2017, compared to [the same period in] 2016 and amounted to 2.8 million tonnes," Denis Denisov, a spokesperson for Russian Aquaculture, tells The Fish Site. "We have observed an increase in the domestic demand for fish. After a slight decrease due to the weak rouble and higher prices, the domestic demand is returning to growth."
For the first half of 2017, the company reported commercial fish production of 8,400 tonnes, up from only about 1,100 tonnes in the first six months of the previous year. The expansion boosted Russian Aquaculture's financial performance in the first half of this year, as revenues grew to about RUB 3.343 billion (€49.6 million), according to figures from the firm.
Domestic focus
The company's improved financial performance facilitated its expansion abroad. This month, Russian Aquaculture acquired its second smolt production facility in Norway, enabling it to produce up to 2 million salmon and trout juveniles per year. Over the past years, Olden Oppdrettsanlegg has been one of the Russian company's main suppliers, and, following the acquisition, it is expected to deliver the first smolt shipment to Russian Aquaculture in 2018.
"In a relatively short period of time, we have made two important steps towards securing a stable supply [of] our own smolt," Ilya Sosnov, the chief executive of Russian Aquaculture, said following the acquisition.
The takeover, according to the Moscow-based company, marks an important step towards achieving its strategic goal of producing up to 25,000 to 30,000 tonnes of salmonids by 2025. Denisov says that the firm is primarily focused on the domestic market, but it is also mulling over plans to export salmon to China in the long term.
Earlier this year, the Russian government unveiled plans to foster the development of the aquaculture industry in Karelia by establishing an aquaculture cluster. The state-run Federal Agency for Fishery (Rosrybolovstvo) was tasked with performing a feasibility study to build a new fish breeding centre and a fish feed mill in the region. Under the plan, the region's annual fish harvest is to reach more than 35,000 tonnes by 2020. The planned investments are part of the government's scheme to decrease the country's dependency on fish imports.
Wider benefits
Denisov says that the sector's robust growth indicates "it's the right time to be in the aquaculture business", an opinion that is echoed by other seasoned industry professionals who have worked in Russia.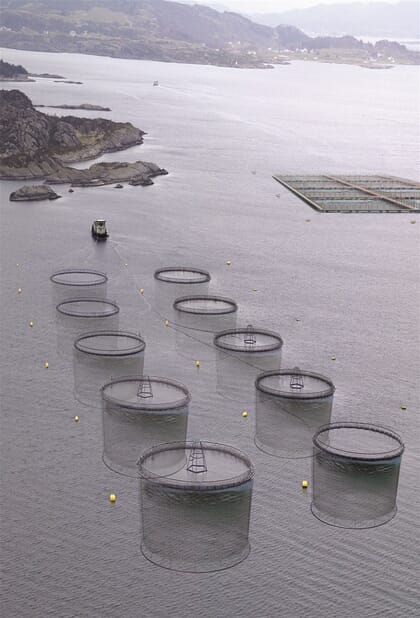 "Russia is without doubt one of our main markets on exports. We had a tremendous development in Russia in the years 2012 to 2014 in which we sold four complete fish farms to Murmansk, but also a lot of other equipment, such as boats, feed systems, cages and more," Christen Mordal, the executive business developer for Russia and CIS countries at AKVA group, tells The Fish Site. "Then, mainly due to outbreaks of diseases, 2015 and 2016 were difficult years, with low sales and low activity. From 2017 we are back on track with projects both in the north-west and in the south of Russia."
Norway-based AKVA group is a provider of technology and services to the global fish farming industry, and its product range comprises software systems, operational equipment and sensor systems, feed systems, cage systems, net cleaning systems, light systems, and recirculation aquaculture systems, among others. The company has been involved in setting up marine sites for salmonids since 2012. The group is also engaged in trout activities in Karelia, and has a track record of sales in Murmansk.
According to Mordal, there is an increased focus on aquaculture in Russia, and the industry's development has been identified as one of the top priorities within the agri-food sector by the country's authorities.
"There has been a steady increase in demand for, and consumption of, salmon and trout in Russia during the last decade. Atlantic salmon and rainbow trout have a very high status in the Russian market and during the years before the introduction of the sanctions on August 7, 2014 – which prohibited imports of salmon and trout from Norway, the EU, the US, Canada and Australia – Russia imported close to 200,000 tonnes of these products," Mordal says. "This, of course, attracted more Russian companies [that wanted] to take part in this development."

The country's financial woes of the years 2015 and 2016 hampered some of the major investments that were expected to be launched, and, with very limited supplies of the same products from abroad, a handful of Russian companies are in a very good financial shape, and are able to expand their market share without significant competition from foreign suppliers, says the manager.
"Having said that, it is still no easy business farming salmon and trout in Russia," Mordal adds.
The introduction of Russia's law on aquaculture in 2013, despite its shortcomings, was considered a breakthrough for the industry's growth, according to the manager.
As a result of the increasing focus on aquaculture, industry professionals have observed "an increased dedication from Russian authorities to support the aquaculture industry financially, and this goes for both central and regional levels. Now Russia is also working on specific veterinary and sanitary regulations for the aquaculture sector, a very important task. Unfortunately, we see few improvements in the import regime for technology and equipment. Russian customs still make our days quite difficult and bureaucratic," Mordal says.