According to Vietnam's development master plan, the Ministry of Agriculture & Rural Development expects an annual growth rate of 9-11 per cent by 2010 for all seafood exports and Pangasius currently accounts for 33 per cent of export turnover.
Table 1 is a breakdown of Pangasius export revenue and clearly shows the EU as a major market, with 34.3 per cent of the volume and 39.2 per cent of the value to the end of August 2008. These values increased by 26.2 per cent and 16.6 per cent respectively compared with the same period in 2007. The total volume exported to the EU from January to August 2008 was 141,444 tonnes, with a total value of $363.98 million.

Within the EU, Spain is the largest market, with a value of $89.82 million, followed by Germany, the Netherlands and Poland. Poland was the only market to show a decrease in volume (-26.7 per cent) and value (-31.8 per cent), while the Netherlands grew the market by 5.1 per cent from January to August compared with 2007, but experienced a fall in value of -4.4 during the year.

Russia and the Ukraine had a combined market share of 31.8 per cent of the volume and 23.6 per cent of the value to August 2008. Russia's individual share grew by 256.6 per cent in volume and 190.2 per cent in value and the Ukraine's by 253.5 per cent in volume and 254.1 per cent in value during this period compared with 2007.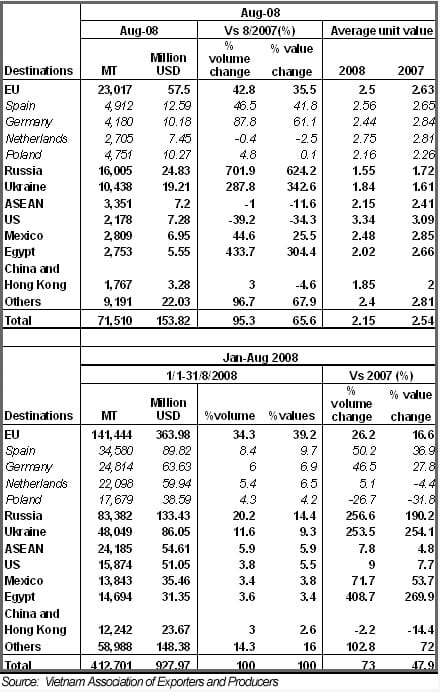 The pangasius industry is aware that it faces key challenges in order to build its market share further in Europe. These include environmental and social sustainability, food safety, traceability and third party accreditation/certification, all of which are increasingly of concern to consumers.

Little is currently being done in Vietnam in the field of added value, but rather European countries import the raw material or semi-finished products with which to undertake their own value addition. However, the scope for adding value at source has been identified and several companies are investigating this further.

At the end of October, information from the Industry and Trade Department of the Mekong Delta province of An Giang showed that catfish has not escaped the effects of global recession. In the week commencing 20th October, the unit value of catfish fell by US$56 per tonne and stagnation was reported in the export sector. This was attributed to banks tightening their credit controls, making it harder for importers and exporters to raise capital. The rising value of the US dollar is also making catfish more expensive in Europe.

The gloomy global market is now putting a question mark over the pangasius industry's targets, making growers and exporters wonder if their ambitious export target can be achieved.
Polish Market
Poland imports 99 per cent of its Pangasius requirement for domestic consumption from Vietnam, according to the Central Statistical Office/Institute of Agriculture and Food Economics National Research Institute.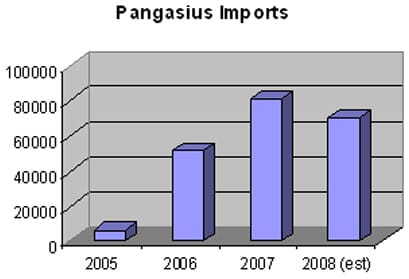 Imports of Pangasius from Vietnam to Poland
Imports of Pangasius began in 2005, to a nation that traditionally prefers oil-rich fish such as herring and mackerel, and quickly jumped to 51,000 in 2006 and 81,000 tonnes in 2007. Estimates for 2008 are for a reduced requirement of just 70,000 tonnes, based on import levels from January – July of 34,570 tonnes.

This breaks down to a per capita Pangasius consumption per year of 0.3kg in 2005, 1.35kg in 2006, 2.13kg in 2007 and an estimated 1.84kg in 2008. In 2007, Pangasius achieved a 22.19 per cent share of the total per capita seafood consumption. Of interest is that Polish seafood consumption is far lower than in Russia where the per capita figure is 10.1kg/year.
December 2008