So believes Rabobank, which has recently published its latest World Seafood Map, describing a global business that's experienced a 4 percent CAGR from 2012 to 2017 to reach an estimated value of US$153 billion.

They also believe that "improved genetics, new husbandry technologies, innovations in aquafeed, and the switch to more efficient and intensive farming technologies" will be integral to the growth of the aquaculture sector.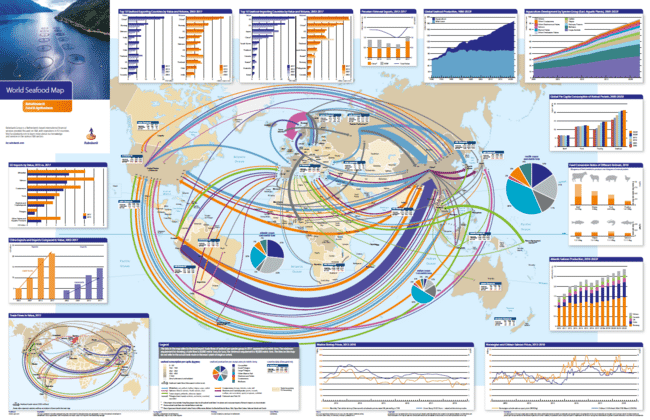 Shrimp and salmon drive value

The report, written by the bank's animal protein analyst, Beyhan de Jong, outlines that, from 2013 to 2017, the US, the EU and China all increased their crustacean imports, with India, Indonesia, Vietnam, Mexico, and Ecuador the main suppliers due to their increases in shrimp production.
Likewise, the salmon trade increased globally, due to demand growth, and all salmon producers, particularly Norway, increased exports to all consumer regions, the report explains.
Whitefish drive volume
The report notes that whitefish – a category that consists of farmed and wild-caught species – still has the largest traded volumes. In comparison to 2013, China's whitefish exports – mainly tilapia – to the US have dropped by 33 percent while Vietnam filled this gap by increasing its pangasius exports to the US.
Fishmeal and fish oil
Due to improved supply conditions in Peru, the fishmeal and fish oil trade has increased in the last four years. Driven by its large aquaculture industry, China remains the largest consumer of fishmeal and fish oils, which are supplied mainly by Peru. Relatively high prices of fishmeal and fish oils have also led to a value increase in trade flows, states the report.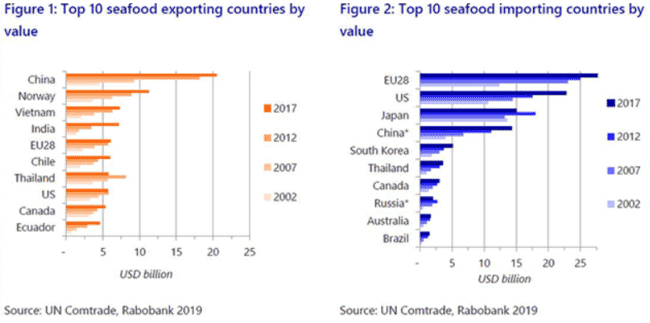 Exports
Both in volume and value terms, China is still by far the biggest exporter of seafood, followed by Norway, and both countries have added more than $2 billion to their seafood exports in the last five years despite only a minor increase in the exported volumes.
Vietnam's seafood exports overtook Thailand's to become the third largest seafood exporters in value terms, mainly due to its whitefish and crustacean trade. India moved from eighth to fourth place, with an increase of $3.7 billion – also driven by increasing shrimp exports.
Imports
The report notes that the top five ranking countries in global seafood imports, both in value and volume terms, have not changed since 2012.
The EU is still the largest importer of fish and shellfish, and it increased its imports by $4 billion from 2012 to 2017. The second largest seafood importer, the US, also imported more seafood in the last five years, with an increase amounting to $5 billion, while China's seafood imports increased by more than $3 billion. This value increase in the EU, the US, and China is predominantly driven by increased salmon and crustacean imports, according to Rabobank.
"In the near future, we expect the EU and the US to remain the leading seafood importers, due to the high demand for seafood in these regions. However, China could overtake Japan sometime soon. The current African swine fever situation in China's pork production is leading to increased seafood consumption. Meanwhile, there is demand growth for imported and, particularly, premium seafood due to increasing purchasing power and food safety concerns over local production in China," explains de Jong.

Conclusions
The report concludes by noting that the increase in seafood trade in recent years has been driven primarily by farmed species, consisting of high-value premium crustaceans and marine species and lower-value whitefish species traded from Southeast Asia to western countries – a trend Rabobank expects to continue.
They also reflect that increasing protectionism, current uncertainties in trade relations among several trade partners – caused by factors such as Brexit and the US-China trade war – the growth of land-based and offshore aquaculture farms, and biological challenges in the animal protein sector, such as African swine fever, "could change seafood trade dynamics and routes in the upcoming years".