Yemi Ogundolire had long held ambitions to become a major catfish farmer and supplier in the Niger Delta. In mid-2016, the 36-year-old ventured into fish farming as a business by establishing eight catfish ponds at Akungba, in Ondo State. He believed he would succeed, although he lacked knowledge of fish farming, but from his first harvest he learned that recovering his capital was not going to be easy.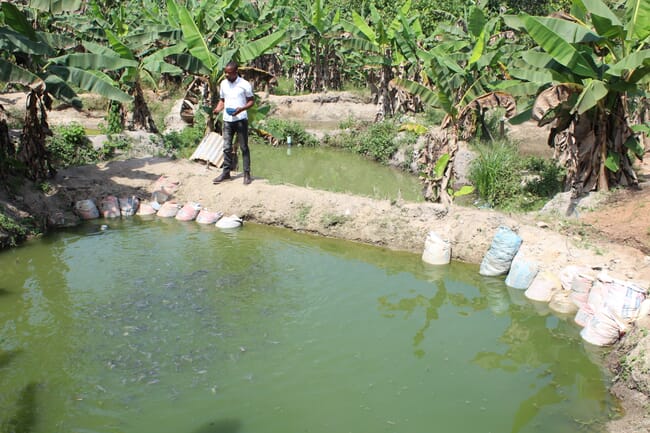 "Many times when I stocked a pond with 1,000 fish, there would be less than 600 at the end of the cycle," said Ogundolire. "I faced numerous problems including grading, which is a process of separating the smaller fish from the bigger ones, because bigger ones would always feed on the smaller ones. There was a time I wanted to sort; I noticed I had lost 200 catfish."

He also admits that he didn't know how to prepare a pond before stocking it. Despite the importance of fish in the Niger Delta, fish farmers are still struggling to meet quantity and quality demands.
Mopelola Owoeye was also struggling – for a number of reasons. "I was facing water-system challenges," she says, "because I just put my fish in the water without testing it. I did not know how to calculate the weight and the feeds that are supposed to be given to them at any point in time either."
In Akwa Ibom State, Sister Lynda Okparaeke is a member of the Daughters of Charity, a Catholic order that has a convent in Uyo, the state capital. She loves animals. Five months ago, she decided to start a fish pond, harvest and sell the fish, and then use the money to help the less privileged.
She invested ₦60,500 (£130, at around 466 Nigerian nairas to £1 sterling) in the project, but before she could harvest the fish, many had died. "One challenge was that I did not know how to feed them and measure their weight. I regretted it because I did not get my capital. Because of my lack of knowledge in how to take care of the fish, most of them died," said Sister Okparaeke.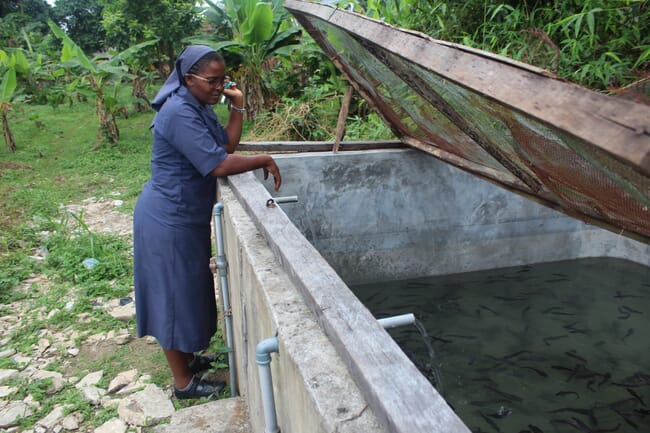 The fisheries sector supports about 7 million Nigerians, of whom 80 percent are from the Niger Delta. The region's small-scale fish farmers supply 82 percent of the country's domestic fish production annually. The sector contributes about 6 percent to the nation's economy while the country depends on imported fish to meet domestic demand, with total fish imports amounting to about $1.2 billion and exports valued at $284 million in 2013. Currently, almost 9 million tonnes of fish are produced domestically, while the annual demand for fish is around 2.7 billion tonnes.
But for the likes of Ogundolire, Owoeye and Okparaeke, their lack of expertise in best practice in management is contributing to their struggle to meet local demand.
Fish farming is like any other kind of business, according to Benedicta Peter-Ugheoke, a fish farmer and an aquaculture service provider. "If you don't know the technical knowhow, you will always run into problems," she says.
Many farmers have invested poorly, says Israel Yusuf, who is known by many as "Dr Fish". According to him, a lot of farmers invested in the business without the necessary knowledge and as a result, they lose their capital. "I also found out that many fish farmers do not understand marketing," says Yusuf, "and the middlemen (known as 'the fish mammies') make more of the profit. So many farmers don't have anything to show for their work."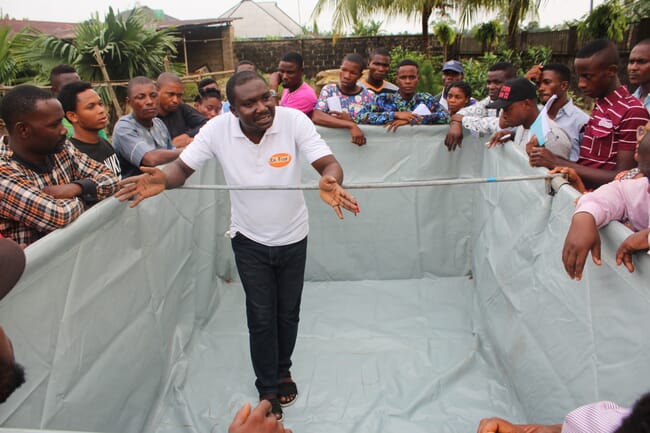 To address these challenges, in 2012 the Foundation for Partnership Initiatives in the Niger Delta (PIND), established the demonstration pond initiative. The United Ufuoma Fish Farmers Association (UUFFA) cluster in Delta State was used for the first pilot study. In 2014, PIND started visiting other fish clusters in Delta State, and from 2015 it expanded the project into other Niger Delta states.
Faith Soya, PIND's market-development advisor for aquaculture, said they identified underlying constraints among fish farmers across the Niger Delta region. "What we found was that there was little awareness about aquaculture. Farmers' cost of production were high, their yields were low and there was no means of accessing information on aquaculture," she says.
In addition, there was no one in the region providing training or advice to farmers. "We had to come up with the demo-pond intervention," she says.
From an initial group of 50 aquaculture service providers whom PIND trained to disperse knowledge and expertise throughout the region, 20 active service providers are now delivering aquaculture services and training to fish farmers across the Niger Delta. The training consists of two parts: the technical part in which fish farmers are trained on the best practice in management, and the Nigeria Agriculture Enterprise Curriculum (NAEC) package, which teaches farmers how to keep records and plan the aquaculture calendar.
Service provider Dr Badejo Ayodeji said the demo pond was established "to create a learning platform for farmers so they will see what we are teaching in classrooms are actually practicable – so it is easier for them to adopt the best management practices as showcased in demo ponds".
Participants go through theoretical training where they are taught everything about fish farming, before putting into practice the things they have learnt.
"First of all, it begins with pond preparation – either with the use of earthen, trampoline or concrete ponds. We teach them stocking, liming to kill harmful bacteria; we teach them how to feed and sort," says Yusuf.
So far fish farmers across the Niger Delta – including Ogundolire, Owoeye and Okparaeke – have received the training and it has since enabled them to increase production and maximise their profits.
"I'd almost quit the business," says Ogundolire, "but in July 2017 PIND informed us about the training and I decided to give it a try. Afterwards I decided not to quit because there are things I learnt from the training that I had not been doing, which I put into practice."
After three days of applying what was taught at the training, he started seeing changes in both the growth of the fish and their positive response to water. "After four months of practising the new method, I made a profit of ₦148,000 [£318]. It was the first profitable cycle I'd had since I started the business. More recently I made ₦348,260 [£747] profits in a cycle," Ogundolire says.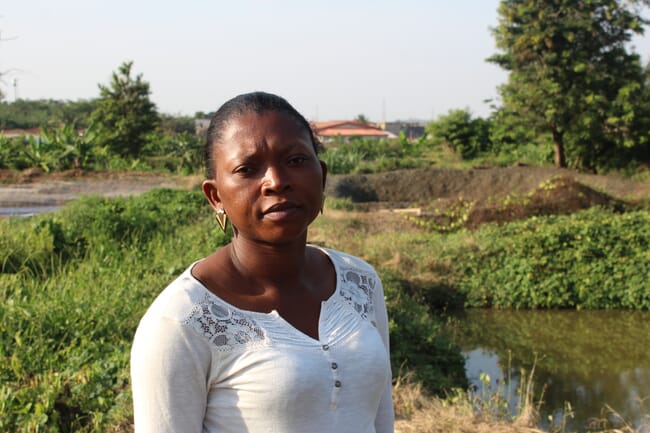 Owoeye also says the training allowed her to generate profits and she now knows how to manage the ponds between cycles. As a result of the demo, she is now getting fingerlings from a reliable source too.
"The first cycle I did after the training, I made an 85 percent profit. At the training, I realised why I didn't make profit previously," she says.
And for Sister Okparaeke training has given her the confidence to persist with her idea. "With this demo pond, I have been courageous enough to start farming again," she says. "I started putting the training into practice. It is helping me to know how to treat the pond."
As the major sponsor of the demo pond, PIND says that, since the intervention started in 2012, it has trained 11,000 fish farmers across the Niger Delta. "We have been able to increase the income of over 7,000 fish farmers by [a total of] ₦1.3 billion [approximately £2.8 million] and facilitated 4,000 jobs," says Soya.
Yemi Ogundolire had been considering leaving Nigeria to look for work, but hopes that the fish farm will prevent this from being necessary. "The truth is this," he says, "if the business continues this way, and I'm able to stock and sell on a monthly basis, I'll not go to Dubai – even if I'm given a free visa."