Even the states with rich marine fisheries resources such as Morocco, Algeria, and Tunisia have started to practice aquaculture in their fresh or marine waters. All Arabian Gulf States (GCC) have established fisheries research centres to conduct research in order to obtain technologies and know-how and also operate pilot projects in aquaculture.

Saudi Arabia has in addition established mega, state-of-the–art marine shrimp farms along its Red Sea coast not only to supply the local market with shrimp but also for the export market. Kuwait, Bahrain and United Arab Emirates are involved with the culture of indigenous commercial species to produce fingerlings for re-stocking depleting stocks in their marine fishing grounds and also to supply fish fry to other states. A tuna fattening project has been established along the Arabian Sea coast of Oman, and Yemen is currently considering such a project.
Challenges
Aquaculture is a major challenge to the Arab states. The two main constraints on aquaculture development are environmental degradation and the availability of land and water for aquaculture. It has not yet fully developed in the Arab states except in Egypt which has an aquaculture production that has in the last two years exceeded its capture fisheries. In order to sufficiently develop aquaculture in a sustainable and responsible manner, relevant governments and research institutions need to constantly increase and improve their research capabilities.

Research in aquaculture must address developments in ecologically sustainable technologies and reduction in production costs. Farming indigenous and popularly demanded species as well as possible introduction of new species should be achieved without endangering the ecological balance.

Some of the challenges facing aquaculture in the Arab states include:

Natural resources: Sound utilisation of water resources is required for fish culture; other problems include loss of ground water, contaminated water, shortage of suitable coastal waters and effects of urbanisation in coastal areas.

Technical shortfalls: Lack of experience in fish culture especially in fish health management and in the culture of local species; shortage of scientific references and literature on the subject.

Management obstacles: Poor management practices and planning.

Economic shortfalls: High cost of operating farms, high initial capital investment, lack of concessional credit financing.

Feed shortages: Shortage of locally produced feeds.

Manpower shortages: Shortage of experts and local consulting firms and well trained manpower.

Legal obstacles: Lack of aquaculture legislation to regulate activities.
Fish from aquaculture
Currently, freshwater and brackish water aquaculture, which may include polyculture, provides about 22 per cent of its fish supply. Supply also comes from mariculture along the coastline of several states. Capturebased aquaculture is the latest form of aquaculture and involves the collection of 'seed' from the wild and its subsequent on growing to marketable size in captivity. In Oman, there are fish-fattening farms where stocks of small size finfish, yellow-fin tuna fish in particular, are collected from the wild and fed in a coastal cage farm to huge sizes for export to lucrative tuna markets, in particular Japan.

Another source of fish supply is aquaponics which combines fish farming with the production of higher plants, mostly vegetables, flowers and herbs particularly suited to closed recirculation systems. Still under consideration is the innovative practice of farming of fish in the high seas that may insure sustainability and avoid pollution threats.
Suitable species for culture
The most suitable culture species in the Arab states are those indigenous to the region in general and to each Arab state in particular. These are well accepted by the consumers, environmentally suitable and marketable not only in the local markets of one Arab state but also in other Arab states. Tilapia is a good example and widely produced in the Arab states (Table 1). In 2007, the total production was 274,596 tonnes. Arab States in North Africa have also recently begun to farm the tilapia.
Table 1. Tilapia production in the Arab States: 2000-2007.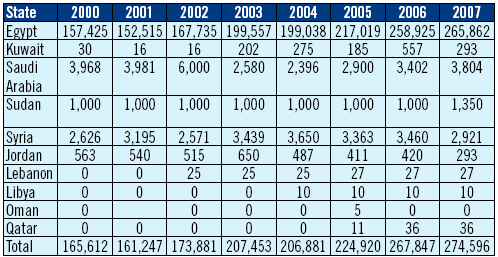 The Gulf States also conduct research in the farming of groupers and breams which are popular indigenous species. Bahrain also farms rabbit fish while Saudi Arabia farms local varieties of the marine shrimp. Projects for rearing the regionally popular sea bass and sea bream in cages along the Mediterranean Sea coast are carried out by Egypt and Tunisia. Some Gulf States are also experimenting on these species in farms along the Arabian Gulf. The introduction of foreign exotic species should be carefully studied before commercial farming is introduced.

Barbus spp. and Carp spp. are currently farmed in Iraq and trout is farmed in Lebanon. Saudi Arabia Fish Farming Centre (FFC) has experimented for several years with the Asian sea bass Lates calcarifer before disseminating its farming techniques to local private fish farms. Farming seafood species other than finfish is also possible especially for the export market where they fetch high prices. Besides shrimp from Saudi Arabia, oysters and pearl culture are practised in the Arabian Gulf waters. High value species like abalone and sea cucumber which are available in local waters and are in high demand especially in China, Japan and other Southeast Asian markets, can be considered in future culture trials.
Expanding aquaculture
Opportunities for expanding aquaculture in the Arab states exist. Therefore, introducing and/or expanding aquaculture activities as a source of increasing production of popular fish species for the local markets and also farming other high value seafood products for the lucrative international markets seems to be a suitable alternative for all Arab states. It should also be noted that selection of species for farming should concentrate on those species which have high growth rate, easy to produce, acceptable to consumers, affordable in price to majority of the people and highly adaptable to various water salinities and temperatures. Tilapia offers such characteristics. The production of sufficient food for the population has many advantages in the short, medium and long term including purposes of food security, creation of employment, preservation of resources, and savings on foreign currency reserves.
Major fish species cultured in Arab States.
English common name
Arabic common name(s)
Scientific name
Where mostly cultured

Fresh, brackish water species

tilapias
bolti, musht,
Oreochromis niloticus; O. Zilli; Galilea; Tilapia spp.
Egypt, Sudan, Syria, Jordan, Saudi Arabia, Kuwait
carps species:
mabrook
Cyprinus carpio; Siluris glannis;
Egypt, Syria, Lebanon, Iraq
trout, rainbow
trout, truite
Salmo gairdneirii
Lebanon
barbus
binni, kattan, shabout, himri
Barbus spp.
Iraq

marine water species

groupers,
hamoor, waqar, manani
Epinephelus tauvina; E.coioides; etc.
Kuwait, Bahrain, Saudi Arabia
rabbit fish
saffy, sigan
Siganus canaliculatus; S.rivulatus
Bahrain, Saudi Arabia
sea bream
murjan, faskar, sobaiti,
Sparidentex hasta;Sparus aurata
Kuwait, Bahrain
european sea bass
qarous
Dicentrachus labrax
Egypt, Tunisia,
gilthead sea bream
dinees, dorade
Sparus sparus, Sparidae
Egypt, Tunisia, Morocco
mullets
bouri, maid, biah
Mugliidae spp. Liza Oligolepis, spp.
Egypt, Iraq
shrimps, prawns
rubian, gambari, quraides
Penaeus indicus; P. semisilcatus; P. monodon
Saudi Arabia, Egypt; U.A.E.
On whether aquaculture can close the fish demand gap, it may be said that while it would not be able to close the gap completely, it certainly can substantially narrow it. Several issues have to be considered: human population growth trends, enhanced production from capture fisheries, availability of more natural resources for aquaculture, greater demand for fish proteins, government policies and legislations, domestication and genetic improvement of cultured species and environmentally sustainable culture technology.
April 2010