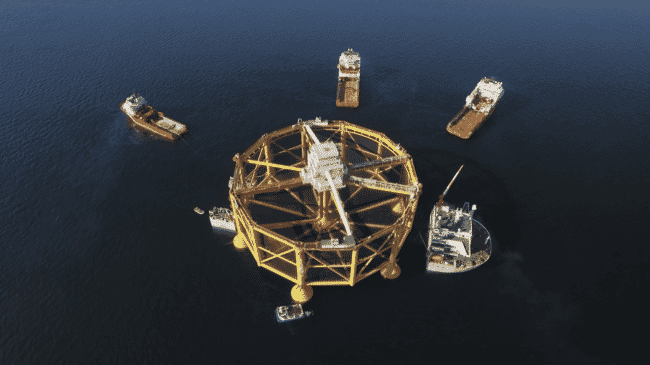 Light Structures, a leading supplier of fibre optic condition monitoring systems for maritime applications, and SalMar have entered into an agreement for delivery of a Fibre Bragg Grating technology (FBG)-based structural monitoring system for installation on the farm, which is currently located in open water near Frohavet, on Norway's west coast.
Ocean Farm 1, which was launched in 2017, is a full-scale pilot facility designed to verify the biological and technological aspects of offshore fish farming. The exposed fish farm concept introduces tangible benefits to the aquaculture workflow, not least with the ability to raise healthier fish due to the continuous flow of water an offshore location enables. Ocean Farm 1 features six huge nets arranged in a circular floating structure, with a total capacity for 1.6 million salmon.
In order to provide more precise structural stress and fatigue data for lifecycle research conducted by Ocean Farm 1 technology partner DNV, SalMar tasked Light Structures to deliver a customised monitoring system using its SENSFIBTM technology as an alternative to traditional electro-mechanical monitoring.
"We have delivered tailored structural stress monitoring solutions using the FBG methodology to over 300 vessels of varying size and type," said Ernad Sehic, senior international sales manager at Light Structures in a press release. "The custom project nature of our work with large ships and specialist vessels demonstrates our ability to adapt SENSFIBTM to unique structures like the Ocean Farm 1. The data will contribute to optimised condition-based maintenance and support further offshore aquaculture developments."
"We're confident that precise structural stress and fatigue measurement by Light Structures will provide a significant contribution to the development of structural modifications and alternative offshore fish farm designs, as well as new processes and workflows that will further strengthen the case for taking aquaculture further from shore," said Bjørn Erik Pedersen, project manager SFF at SalMar.
Light Structures' SENSFIBTM fibre optic stress and fatigue monitoring system will be delivered to Ocean Farm 1 at the end of September. Installation – without the need for any hot works – will start soon after and the system is expected to be operational early in October.