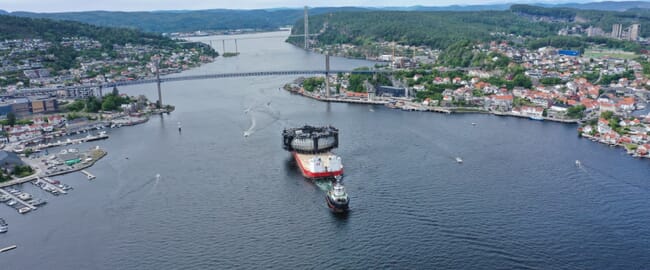 The 600-tonne plastic semi-closed pen will rely on water piped up from a depth below where sea lice are found, in a bid to improve fish health and reduce the need for costly and stressful treatment operations.
The design allows for all organic waste to be collected and the unit has been granted a development permit to hold a maximum of 1,100 tonnes of salmon at any one time. According to Bluegreen, the facility is well suited to the production of both post-smolt and harvest-sized fish.
The novel farm design is expected to arrive in Romsdal Fjord today, depending on the weather, wind, and wave heights. Upon arrival, SalMar will stock it with 200,000 salmon weighing 2.5 kilograms, which will be on-grown to 5.5 kg before they are harvested.
"Now the real fun begins," says Nils Johan Tufte, CEO of Bluegreen. "This is where we verify our hypotheses that Marine Donut promotes fish health, delivers premium fish quality, and ensures profitability for the fish farmer."
Should the design prove successful BlueGreen is looking for opportunities to roll it out in both Norway and western Canada, where net pen production faces being phased out and the company recently set up a subsidiary.