Ghana's Minister of Fisheries and Aquaculture, Elizabeth Afoley Quaye, has announced that the government is introducing a new aquatic-animal policy to deal with nascent challenges in the aquaculture industry which are not covered by the country's current aquaculture development plan. Among the challenges, she said, were the introduction of fish carrying exotic diseases and the high mortality rate on fish farms. Under the new policy, industry operators who import or grow unapproved fish species or strains will be prosecuted.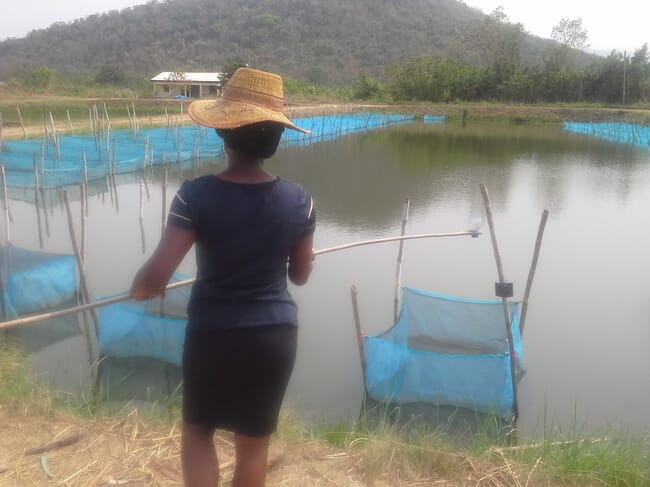 Back in August 2014, however, Quaye had announced that a ban had been placed on tilapia imports in order to protect the burgeoning local industry; she had also said that the enforcement unit of the Ministry of Fisheries would track all fishing vessels and scan cold stores nationwide to ensure compliance. But this ambitious exercise did not come off. The ministry and the Ghana Navy have only conducted periodic joint exercises along the 539km coastline, but these have not deterred illegal importers. The new policy will include procedures for prosecuting people who import or grow "foreign species".
The minister has also inaugurated a 14-member National Committee on Aquaculture. One of the major tasks the committee will undertake is to decide on the controversial issue of whether or not to permit the use of exotic strains of Nile tilapia, such as WorldFish's Genetically Improved Farmed Tilapia (GIFT) strain.
A major bone of contention for Ghana's aquaculture sector is that they are currently restricted to growing the Akosombo strain of Nile tilapia (Oreochromis niloticus). While it's generally accepted that the idea of producing a stable breed suitable for farming is well intentioned, most of the country's 20 hatcheries which produce this strain are located in the vicinity of Lake Volta, close to the cage farmers who produce 90 percent of Ghana's farmed fish. Meanwhile the 1,500-plus pond farmers operating in the Ashanti, Brong-Ahafo and Western Regions complain about the high cost of making their own arrangements to convey fingerlings from the hatcheries to their farms. They also complain about scarcities which force them to buy fingerlings smaller than 2g, which affect the health and performance of the fish. These difficulties compel them to use wild tilapia and other species. Although import bans have been placed on them, foreign fingerlings, especially the GIFT strain, and other species of Chinese origin are being sold on the Ghanaian market.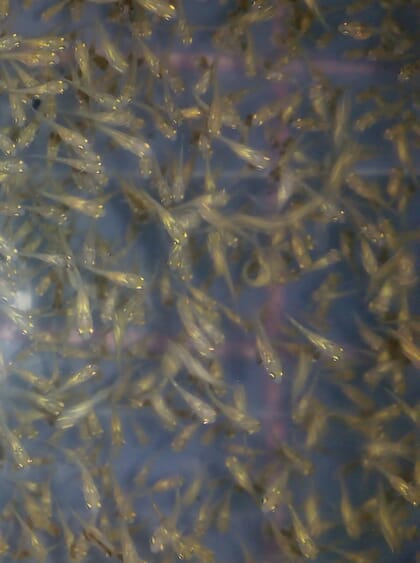 The Akosombo strain was developed by the Aquaculture Research and Development Centre (ARDEC), a unit of the Water Research Institute, in collaboration with WorldFish. WorldFish was also involved in the development of the GIFT strain that is used in Philippines and other Asian countries, and Egypt's Abassa strain. The Akosombo strain was developed after selecting the fastest-growing fish over eight generations. In addition to its bigger size, it reaches market-ready size in five months, faster than the eight months of regular tilapia and it is used by fish farmers in several West African countries.
In addition to restricting tilapia culture to the Akosombo strain, ARDEC is the only provider of broodstock to the hatcheries. According to the Ministry of Aquaculture, this is necessary in order to protect quality, fish health and the aquatic environment. ARDEC produces and supplies only hormonally sex-reversed fingerlings, in order to deal with the problem of uncontrolled spawning and stunted growth. Fish farmers, aquaculture experts and potential investors have been calling for a relaxation of these rules. They argue that ARDEC has limited capacity to fulfil the needs of fish farmers countrywide, while investors with the resources and expertise to raise aquaculture output are being kept at bay. The inauguration of the National Committee on Aquaculture appears to be a response to these demands, and there are expectations that interesting changes will be made soon. According to a reliable source, approval will be given for GIFT and a couple of other "proven" species to be farmed.
The government is seeking to improve aquaculture performance along the value chain via the $53 million West African Fisheries Programme (Ghana) initiative funded by the World Bank, managed by the Ministry of Fisheries and Aquaculture. Among the projects being undertaken are the restocking of 300 dams and dugouts in the northern sector of Ghana, and the upgrading of government hatcheries in the north to enable them to support fish farmers. A vaccination programme is also starting, to tackle Streptococcus agalactiae and other fish diseases that caused mortalities of up to 20 percent on some farms last year. A training programme aimed at improving the skills of cage and pond farmers has started too. At a recent session for pond farmers at Akosombo, emphasis was placed on ensuring fish health and the provision of a biologically sound environment which provides fish with the bulk of their feed (although, farmers were advised, this could be supplemented by commercial feed inputs).
The provision of effective supply channels for pond farmers could significantly increase their output. Panyin Sackey, a pond tilapia farmer, believes that, "Although there are close to 2,000 pond farms in Ghana, our current performance is far below potential. In Egypt, the bulk of tilapia output is generated by pond farmers. We can do the same here. Reliable supplies of Akosombo-strain fingerlings will give us a great relief."
He adds that while they appreciate the risks involved in using wild and foreign fingerlings (such as the introduction of exotic diseases and genetic problems), "they are no worse than stressed, undersized Akosombo-strain fingerlings".
Ghana is the only African country that restricts tilapia production to one strain, and the only one to restrict broodstock production to a single (state-owned) institution, which supplies only hormonally sex reversed fingerlings. In most other African countries, the bulk of broodstock production is done by private hatcheries, and although Oreochromis niloticus is the dominant farmed species across the continent, there are few restrictions on the use of other species. Licensing, certification and authentication systems are used to ensure the quality of hatchery stock.
Unofficially, fisheries authorities are looking forward to being relieved of the headache of policing national borders and fish farms. Foreign fingerlings and market-ready tilapia are available to consumers in spite of the regulations. The industry believes that a relaxation of regulations will bring new technologies that will enhance aquaculture in Ghana. One of the innovations that could soon be introduced in Ghana is the genetically male tilapia (GMT). Currently, aquaculture authorities are prepared to allow its importation for research purposes only, but farmers and experts are hoping that it will be approved for commercial production following the forthcoming review.