MINISTERS FOREWORD
Sustainable aquaculture growth is good for New Zealand
Our primary industries are the engine room of our economy. We need to enable primary industry growth underpinned by strong environmental performance. The Ministry for Primary Industries (MPI) vision for our primary sectors is Growing and Protecting New Zealand.

Within an international market characterised by strong demand for safe and sustainable seafood products, the aquaculture sector has significant growth opportunities. This growth has to be industry-led and the industrys opportunities and aspirations are reflected in their own goal of growing annual sales to NZ$1 billion in value by 2025. The aquaculture industry has established a strategy to deliver that growth. The Government is committed to environmentally sustainable, primary sector-led strengthening of the economy and is committed to enabling the aquaculture industry to reach its goal.

The foundations for growth are already in place. Our aquaculture production is free of many of the issues facing international producers and our environmental and food safety credentials are second to none. New Zealand has good trading conditions and trade agreements with key and emerging markets. Within these markets, we can leverage off our clean green reputation; world-leading environmental, food safety, animal health and welfare standards; and biosecurity management to secure premiums and market share.

While the foundations for growth are strong, the sector faces particular challenges and has unique characteristics that distinguish it from other primary producers and necessitate a specific Government strategy and action plan. The bulk of aquaculture production comes from the use of public water space, which can only occur in a planning and allocation framework that balances and respects other uses of that space. For this reason, the steps necessary to establish aquaculture operations differ from many other primary producers.

Aquaculture is relatively young in New Zealand and has seen significant regulatory change in recent years. The success of the most recent reforms will need central Government support, particularly for local authorities which are looking for Government to assist with their critical role in managing sector growth. The true value of the recent regulatory reforms will only be realised through a co-ordinated plan of action across Government.

This strategy and action plan establishes a whole-of-government pathway to enable the aquaculture sector to grow, be it through the development of new farming space, better use of existing space or getting better value from existing production. Government will:

implement the new aquaculture law and work with councils and the public to plan for sensible and sustainable future aquaculture growth in accordance with the Resource Management Act and the New Zealand Coastal Policy Statement 2010;
ensure the laws and frameworks governing the establishment and operation of marine and land-based aquaculture are effective and responsive, and enable industry investment;
deliver on the Crowns aquaculture settlement obligations to M?ori and identify opportunities for improving M?ori wellbeing though aquaculture development;
build our knowledge of environmental effects and ensure a healthy aquatic environment;
maintain and build our world-leading animal health and welfare, food safety, and biosecurity standards;
encourage investment and adoption of innovation; and
facilitate continued discussion between industry, government, M?ori and the public as to how aquaculture should grow and be managed in New Zealand.
As the Minister responsible for aquaculture, I am excited about the pathway forward and to working with those with an interest in aquaculture to sustainably grow the sector towards its $1 billion goal and beyond.
SETTING THE SCENE FOR GROWTH
Aquaculture has potential to grow as an export industry for New Zealand. As the global supply of seafood from wild fisheries is limited, aquaculture has the opportunity to meet this growing world demand through increased production. Aquaculture is the worlds fastest developing source of animal protein, growing by more than 60 percent over the past decade. The United Nations Food and Agriculture Organization reports that by 2025 over half of all seafood consumed globally will be farm produced. People around the world want to eat more seafood and New Zealand can supply a safe and sustainable product.

Whilst New Zealand cannot compete with low-end producers, we do have some distinct advantages to increase market share into higher-value/premium markets:

Our aquaculture industry has a reputation for high environmental performance and a legislative framework that ensures this is maintained.
We have world-leading food safety, animal health and animal welfare standards. International markets want to do business with us because their people demand safe food.
Our relative geographic isolation and biosecurity measures mean we are free from diseases and pests commonly affecting aquaculture production elsewhere in the world.
We have good water quality needed to grow a healthy and safe product.
We have good trading conditions and proximity to key emerging Asian markets.
Supporting the Growth Pathway
This strategy and action plan sets out the governments intended actions and activities to support growth of the aquaculture industry over the next five years. This document includes:
the context for governments involvement in supporting aquaculture and commitment to enabling the industry achieve its $1 billion goal by 2025;
how this strategy relates to other documents; including the aquaculture industrys own strategy;
a set of values and behaviours that guide how the government acts;
the functions and roles where government can and should act;
the different roles played by various government agencies;
key government actions and activities to support sustainable growth; and
markers for measuring progress and performance.
GOVERNMENTS COMMITMENT
Government supports well-planned and sustainable aquaculture growth in New Zealand and is committed to enabling industry to achieve its goal of $1 billion in annual sales by 2025.

An essential part of this commitment is to ensure aquaculture growth takes place within acceptable environmental limits and respects other uses and values of our waterways and marine environment.

INDUSTRYS ROLE
Sector growth must be industry-led and this strategy links and sits beneath the aquaculture industrys own growth strategy. Government can help enable growth, but industry must identify opportunities, lead development, and invest. The Governments strategy sets a foundation for aquaculture growth and expects Governments role will reduce as industry capacity grows.
GOVERNMENTS ROLE
Government must act in the public interest and ensure an appropriate balance of economic, social, cultural and ecological values. Government must uphold the Crowns obligations under the Treaty of Waitangi. Government should only intervene where we add value and where industry and others cannot act alone. For aquaculture, the Government sees seven strategic areas where we can help enable growth, described in the objectives below: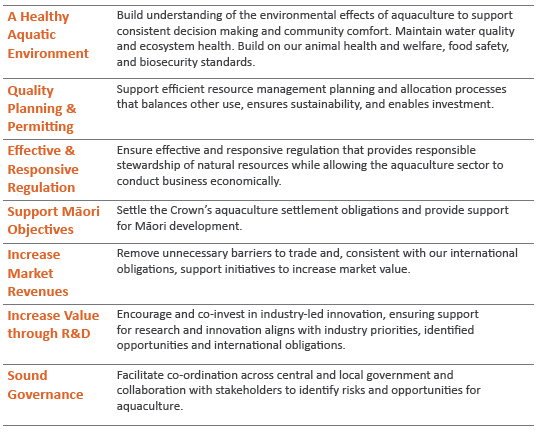 FIT WITH OTHER STRATEGIES AND INITIATIVES
This Aquaculture Strategy and Action Plan has been developed to complement and support the Governments overarching environmental and economic initiatives. This strategy aligns with both the aquaculture industrys strategy and the Ministry for Primary Industries 2030 Strategy, setting out how the government can support the growth pathway established by the sector.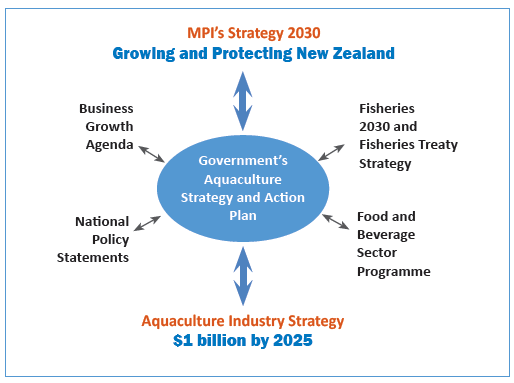 A CO-ORDINATED RESPONSE ACROSS GOVERNMENT

Delivering on the objectives requires a whole-of-government approach. While MPIs Aquaculture Unit is the principal adviser to the Government on aquaculture, other government agencies and local government have core roles and responsibilities that connect with the aquaculture sector.

These agencies work in three key areas: to regulate aquaculture activities, to implement regulatory and non regulatory processes, and to enable sector growth. Whilst certain agencies lead on certain matters, other agencies contribute to each others core responsibilities. This strategy and action plan ensures greater coherence, co-ordination and prioritisation of activities across agencies.

CORE VALUES
INDUSTRY-LED GROWTH: Policy, regulatory and business environment settings are in place to enable the private sector to lead and grasp opportunities for economic growth.
SUSTAINABLE: Aquaculture growth in New Zealand must be environmentally sustainable.
WELL PLANNED: Aquaculture development takes place within regulatory frameworks that recognise the benefits of aquaculture growth and respect other uses and values of our waterways.
PARTNER WITH M?ORI: Deliver on the Crowns aquaculture settlement obligations and recognise M?ori development objectives.
INTERNATIONALLY LEADING: Maintain our position as a global leader in the management of environmentally sustainable aquaculture.
HOW WE WILL WORK
DO WHAT WE DO WELL: Align government resources on those activities where government is best suited and most able to add value.
ENABLING AND PARTNERING: Work alongside stakeholders in areas of mutual interest to maximise the benefits from sustainable economic growth.
RESULTS FOCUSED: Ensure actions are outcome oriented and delivered in a meaningful timeframe.
MAKING INFORMED DECISIONS: Decisions will be based on the best available and credible biological, economic, social and cultural information from a range of sources. Decisions will be risk and intelligence led.
June 2012