New Zealand scientists launch novel flounder farming breeding programme
Plans to investigate the possibility of farming yellowbelly flounder in land-based systems have been launched in New Zealand this month.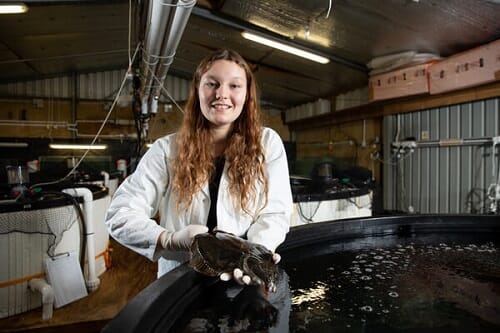 An artificial breeding programme for the flounder (Rhombosolea leporina), known locally as Pātiki, was started by University of Waikato researchers this month. Forty-two Pātiki, netted from the Tauranga Harbour and housed in tanks at Toi Ohomai's aquaculture facility, are its foundation breeding stock.
According to the researchers, farming Pātiki on land could be done in shallow land-based raceways and, as they'd fetch up to $26/kg, this could provide a lucrative business.
"Aquaculture is an industry that is already dominated by corporate businesses because of the generally high set up costs. Rural coastal communities, who have the land, are generally excluded because of the high set-up costs," said University of Waikato MSc student, Brooke Ellis-Smith, in a press release.
"If we're successful we could farm them a lot more economically and sustainably and by turning it into a viable industry, we would also take the pressure off wild stocks and create local jobs. There would also be the potential to restock fish back into the wild. However, this would need careful planning to preserve wild gene pools," she added.
Ellis-Smith has received a William Georgetti Scholarship to research induced reproduction in Pātiki, encouraging them to spawn in captivity using a natural hormone analogue.
Her research is part of an externally funded collaboration between University of Waikato, Toi Ohomai Institute of Technology and research partners from Matakana Island and Whakatōhea, who are exploring the development of small whānau-owned aquaculture farms in coastal communities.
Pātiki do not easily breed in captivity, but researchers plan to use a gonadotropin releasing hormone analogue (GnRHa), to encourage the fish to spawn in tanks during their normal winter breeding season.
$3 billion target
Her research is being overseen by Dr Simon Muncaster, who is leading the wider interdisciplinary project as part of the Government's Sustainable Seas, National Science Challenge, designed to develop New Zealand's Blue Economy, including growing the value of the country's aquaculture industry to $3 billion by 2035.
Within the 42 brood-stock they have identified the male and female Pātiki and will treat both with the hormone. Once the hormone has worked, the female Pātiki develop a large bump on the top side, indicating their eggs are ready.
"At that point we strip the eggs and assess them for quality and quantity, and we also do the same to the males, taking their milt to fertilise the eggs."
It is careful work. The male's milt cannot touch any seawater before being mixed with the eggs otherwise it activates and the whole process is lost.
"While it is delicate work once you have the eggs and the milt it can be as simple as mixing them with some seawater in a bowl to fertilise them," said Ellis-Smith.
According to Ellis-Smith, the type of land-based fish farming they are proposing would also sit well alongside the growing seaweed aquaculture industry.
"Fish aquaculture can put a lot of nutrients in the water, but it could be partnered with a seaweed algal pond that could filter the water and produce a high value organic fertiliser," she said.