"This is the largest development project we have ever planned. AquaStorm moves the fish farms out of the fjords and down into the ocean depths, where the fish are protected from sea lice, disease and the weather," says Mowi's project leader, Henrik Trengereid.
The AquaStorm installations will normally be positioned 15m below the surface of the sea, but they could be sunk to a depth of 50m if weather conditions require. Each installation will be connected to an onshore control centre, which will remotely feed the fish and monitor air, light, power and signals via a branching network of pipes and cables running on the seabed. The installations will be autonomous and unmanned during day-to-day operation.

"This concept is fully automated, and will be monitored from a control centre on shore, which will give us complete control of how the fish are progressing, that they are fed and that all the technology works as it should," says Trengereid.
In the first phase of the project installations will be positioned up to 12km from the coast. However, the technology the company intends to use makes it theoretically possible to site such farms up to 100km from land.
"The aquaculture industry is currently facing a shortage of sites suitable for production. This technology opens up vast new areas for sustainable future aquaculture growth in Norway," says Trengereid.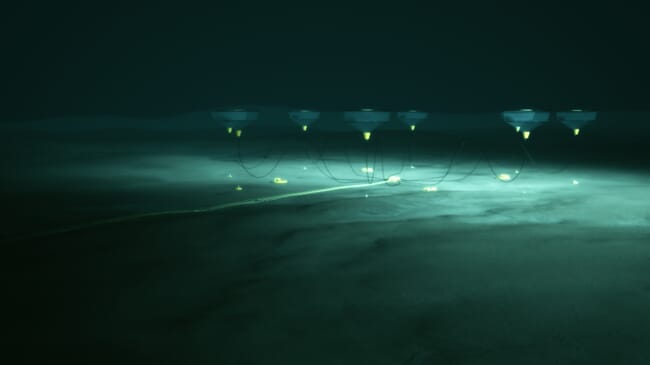 He underlines that the authorities have to grant a sufficient number of licences to make sure the company will go through with the project.
Mowi is joined in the AquaStorm project by a number of leading technology companies from the subsea and oil industries. In addition to R&D partners Nofima and Sintef, the salmon producer is working with Aqualine, Kongsberg, ABB and Stellarman.
Stein Lier-Hansen, who heads the Federation of Norwegian Industries, believes the project is a perfect fit for the Norwegian government's development licences scheme.
"This project represents the best of Norway's maritime expertise. AquaStorm exploits the country's competence in the fields of aquaculture, subsea and offshore oil production to create an even more sustainable and forward-looking industry. It is precisely this kind of project that the Norwegian authorities and policymakers must enable," he says.
Mowi wants the project to be realised in the Roan district of Trøndelag in central Norway, and it is estimated that it could create at least 60 new jobs and have a significant ripple effect on the region's economy. Mowi's application is now being considered by the Norwegian Directorate of Fisheries. It is expected that a decision will be made in the coming months.