The company's Q3 report, which was released today, included a number of references to these challenges. Announcing the results Mowi's CEO, Alf-Helge Aarskog, referred to an algal bloom which caused high mortalities at their site off the Isle of Rum. While issues at other sites were alluded to as well.
As the Q3 report stated: "The biological situation in our Scottish farming operations have become more challenging during the third quarter."
"This development has coincided with significantly increased seawater temperatures. Several farms are facing biological issues. Incident based mortality losses were high in the third quarter, and amounted to €8.8 million related to an algal bloom and fish health issues (€1.2 million in the third quarter of 2018). Sea lice levels at the end of the quarter were higher than at the end of the corresponding quarter of 2018."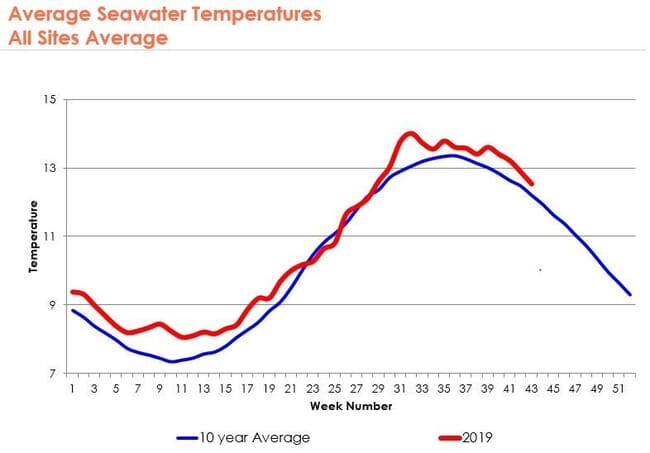 The Q3 report was followed up by a press release from Mowi Scotland, which referred in more detail to algal issues at other sites.

"Warm sea temperatures – the second highest annual average recorded in the last decade – have aided in providing ideal growing conditions for harmful algal blooms and has exacerbated health challenges common to salmon," it explained.
In particular, the company noted challenges at a site in Loch Shuna, just south of Craobh Haven, in Argyll.
"A recent inspection of Mowi's Bagh Dail nan Ceann farm by the Animal and Plant Health Agency (APHA) raised concern that lumpfish health and welfare was not adequately managed during a month that saw the highest average sea temperatures," the statement continued.
However, it adds; "Mowi staff have since met with APHA inspectors to discuss the agency's concerns and to ensure fish welfare remains top priority for the company and its employees."
"Unfortunately some farm locations have suffered higher than normal mortality rates over the past few weeks," stated Gideon Pringle, Mowi Scotland's production director. "Our farmers are devastated to have lost fish after spending months raising them at their farms, and are doing what they can to protect their fish from this prolonged change to their environment."
The tricky conditions led to early harvests, which helps to explain why the company harvested a record 19,634 tonnes in Q3 - over twice the tonnage it harvested in the same quarter of 2018.