With a budget of over £100 million, an ability to produce 800 tonnes of high quality fish feed a day and the capacity to generate 55 full time jobs, it's hard not to be impressed by some of the statistics surrounding Marine Harvest's latest, and largest, UK investment.
But Mick Watts, who is overseeing the build of their new feed mill in Kyleakin, has seen it all before.
"I've built mills in South America, I spent 15 years there in all the places normal people wouldn't go. I was a target for kidnapping, so was working behind heavy security for years, building up a big poultry business in Peru and Western Venezuela, so it's nice not to have to look over your shoulder the whole time here," says the straight-talking Englishman of his 14 months on Skye.
Mick may have 120 people on site to keep tabs on but his cavernous office is notable for its lack of seating.
"I don't want people coming in, sitting down and talking about Eastenders or something else that doesn't interest me. I like building I don't like all of the discussions and all of the talking – I'd prefer to get on with it. As you can tell I'm quite impatient," he explains.
Mick clearly means business and has an impressive track record, most recently leading the construction of Marine Harvest's first foray into feed production, at Bjugn in Norway. It's a project that has exceeded expectations, for the company, for the community… and even for Mick.
"I thought it would take a few years to get it up to capacity [300,000 tonnes a year], but they got up to speed within a matter of months," reflects Mick.
Marine Harvest's decision to diversify into feed production has proved profitable. Ben Hadfield who leads their feed division, as well as being MD of Marine Harvest Scotland, reckons the Bjugn plant made profits of around €8.5 million (£7.3 million) in 2017, despite feed being "a relatively high volume low value" part of the group's business.
The budget for the mill is, however, he recently admitted, a bit of a sore point, having stretched to €120 million (£104.5 million) – up from the £93 million it was initially allocated.
Regulatory hurdles
According to Mick, while construction projects are notoriously tough to keep within budget, the UK's regulatory process is largely to blame for the substantial overspend – the Bjugn plant was only 5% over budget precisely due to the speed of the approval process.
"Norway was fantastic, very straightforward, very pro-business… when you're going through the process of regulatory approval they actually dedicate a resource to you in their office so you're not being bounced back off different people. It took four hours to get approval for the Bjugn site – a bit different to a year or so in Scotland," he reflects.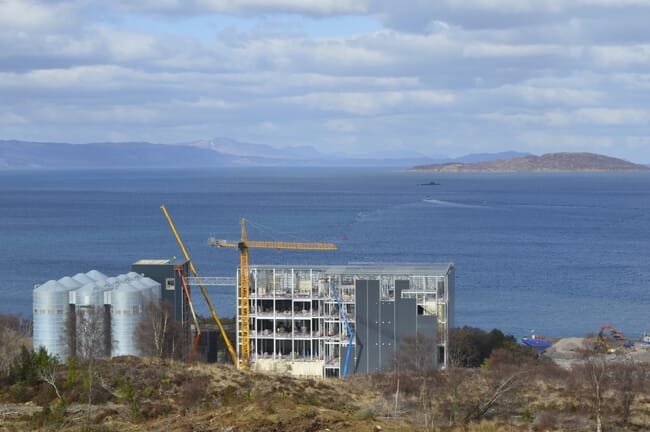 Despite this, if the Bjugn example is anything to go by, the Kyleakin mill, which will have a shelf life of 40-50 years, according to Mick, should still be an excellent investment.
"We decided to build in Scotland because we felt the feed companies were making a lot – maybe too much – money," says Mick, "and I think that the mill in Norway has probably paid for itself already."
Geographical advantages
Moreover, despite Mick's frustration at the reams of red tape, since they were able to break ground in Easter 2017, things have gone pretty much according to plan, with Kyleakin – a mothballed quarry – offering some key benefits as a location.
"For the build we couldn't have had it much better, we're sitting on a quarry – the deposit here is 13 million tonnes of aggregates – so everything we've needed we've taken from the site. We've batched all our own concrete on site – we were doing around 400 cubes of concrete a day when we were building the main factory – so you can imagine all that traffic off the roads has been contained, which is a win-win for the community," says Mick.
It's one of the reasons that the company's relationship with the locals has remained so positive.
"We've got a very good relationship with the community, helped by having an excellent communications and environmental group who attend community meetings in Kyle, Kyleakin and Broadford, so we stay on top of those relationships," says Mick.
This good atmosphere cannot be taken for granted, however and Mick has worked hard to ensure that those involved in the build stay on the right side of the islanders.
"There are rigs for up to 160 people to live on site and we've got about 120 at the moment, but in general they're a good team. You don't want anybody upsetting the local community and that's the issue I'm most sensitive to – we don't want a bad reputation just because someone goes out of their way to be a nuisance," he points out.
When the site was first mooted the company's case was also helped by their Norwegian contacts, who travelled to Skye to share their experiences.
"The mayor of Bjugn came and spoke to the local council about their experience of having a mill," says Mick, "and we also invited the local council out to Norway, so they were able to experience that you don't see, hear or smell anything outside the walls of the factory."
A different kettle of fish feed
While there are a number of parallels between the two mills, there are also a number of differences, and the Kyleakin plant will need to be considerably more flexible in terms of the types of feed it's producing.
"Lots of the handling systems are very similar, if not the same, but this factory has a different specification. Here we'll be supplying a wider range to a wider catchment, if you include Faroes, Ireland, Norway plus Scotland, so we're going to do a much wider range of products, all the way from the smallest freshwater diets right through to the broodstock feeds, whereas Bjugn tends to deal with bulk production for marine sites," Mick explains.
Due to this complexity, whereas Bjugn's two lines produce close to 300,000 tonnes of feed a year, the Kyleakin mill's capacity is around 180,000 tonnes.
"It will normally run at around 170,000 tonnes," says Mick, "but if you really push it – like having a formula one pitstop team in between product changeovers – you can get higher. Your team take a while to come up to that level, but in Norway they came up really fast."
Production will also be flexible, in order to cope with the seasonal variations in the appetites of salmon.
"It can operate 24/7 during June-September when the salmon tend to be eating more," says Mick, "but in the slower months you can do your maintenance and you can also stockpile feeds."
Mick says that the last mill he built in Australia, which produced 1000 tonnes of flour a day, "could be operated on his iPhone from his house on the beach", but thankfully for Skye's employment levels Kyleakin will be somewhat more labour intensive.
However, although it will generate 55 jobs, not all of these will be directly involved in production.
"There will be up to 20 in the building in the daytime, but we'll only have 6-7 people on most shifts," Mick explains.
Logistical benefits
With its proximity to the Skye bridge and excellent access by boat, Kyleakin is well placed for the delivery of raw materials, with most of the bulk ingredients expected to arrive by boat from European ports.
"In Norway everything comes in by ship, here there's access to both ships and a road system because in the UK you have a wide range of the smaller ingredients – like the organics – which tend to come in small parcels, so a shipload is not going to happen – you need that road transport. You have a wider range of ingredients here in the UK, because of the farming system. It's natural. Norway doesn't have that," says Mick.
Perhaps most importantly, the mill is located right in the heart of Marine Harvest Scotland's salmon farming operations, which stretch from the Outer Isles to the Inner Hebrides, so is ideally placed for distributing the finished feeds directly to the marine sites, although Mick hasn't been tasked with designing specific feed transport vessels this time.
"In Norway they have giant farms and giant feed barges – so we built two 3000 tonne capacity ships at the same time we built the factory – but everything here is on a smaller scale, so we'll probably be using the bulk and bag carriers – combi type vessels. Ben and his team are working on the details," says Mick.
Next moves
Mick aims for the mill to be operational in the autumn.
"My target is October 15th – there's still a ways to go, but that is what I'm working on," he says.
And once the site's operational he'll be looking for a new project.
"My job's to get it built and then hand it over to the team who are going to run it, there's nothing that they'd learn from construction," he explains.
If Kyleakin is able to replicate the success of the Bjugn venture, then it seems highly possible that Marine Harvest will look to build their own feed mills in other territories, but Mick refuses to be drawn on the question.
"[What I do next] is up to The Powers that Be. Whether we build another mill depends on whether the appetite is there and, if so, where. It's a question of looking at the overall business strategy and taking it from there. Whatever the company need I'll go with it," he explains.
However, should the company choose to build another mill then Chile must be one of the more likely options. And given Mick's track record, his knowledge of Latin America and his grasp of Spanish… he may well find himself back in South America before too long.
This article was originally published in the Aquaculture UK showguide.