Now in its second year, the 5m Publishing prize was presented to Chloe Davies during Swansea University's graduation ceremony on 27 July. The title of her award-winning dissertation was 'Cultivation of Ulva intestinalis (Chlorophyta) in an Aquaculture Effluent: growth and bioremediation potential'.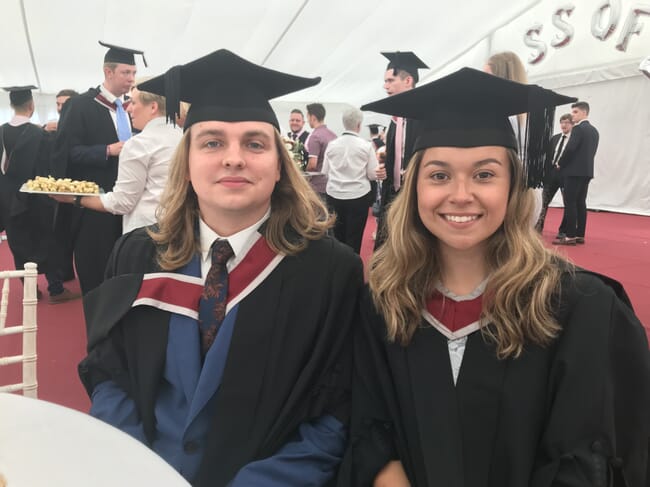 Her interest in finding solutions on how to increase sustainable world food production led her to choose to investigate the efficiency of U. intestinalis as a component of a land-based integrated multi-trophic aquaculture (IMTA) system. IMTA systems use by-products from the culture of one species (in this case lumpfish) to enhance the growth in another (here U. intestinalis, which is also being used as the effluent remediation species). Chloe compared the efficiency of U. intestinalis as a biofilter in four different culture media including solutions of effluent from lumpfish aquaculture. The results suggest that U. intestinalis could potentially be a suitable species as a biofilter, with further research required to understand the full potential of this species as an IMTA component in a land-based recirculating aquaculture system (RAS).
Meanwhile the runner-up award went to Connor Markham, whose research was entitled: 'Effects of Photoperiod and Current on the Growth Rates of Juvenile Lumpfish (Cyclopterus lumpus)'.
Despite the current focus on lumpfish as an eco-friendly delousing technique, their efficiency tends to decrease with their increasing size. Connor's interest in this topic was rooted in his wish to find ways to reduce the reliance on the use of chemical treatments in the aquaculture industry. And his findings provide evidence that photoperiod regimes could be developed and implemented to allow lumpfish to remain smaller for longer when transferred into sea pens with salmon, and hence improve delousing by extending the period that lumpfish consume sea lice. Future research, he concluded, should investigate the most effective photoperiod regimes which have minimal impacts on welfare, and also look at other novel techniques to slow lumpfish growth.
The prizes were developed through Swansea's Centre for Sustainable Aquatic Research (CSAR). Both Chloe and Connor carried out their cutting-edge research projects as part of work in the aquaculture module within Swansea University's Marine Biology Degree. Research from their dissertations will form part of SMARTAQUA, a £2 million ERDF project which is being conducted at CSAR. SMARTAQUA focuses on advanced and ground-breaking technology methods for cleaner fish production, fish for biomedical research and the aquarium trade, with the aim of introducing new products and processes to the market and to help businesses grow and expand Wales' aquaculture industry.
Nigel Balmforth of 5m Publishing, who presented the awards, commented: "It is clear that the level of work, and potential for the aquaculture industry, of both Chloe's and Connor's research is first class and 5m are delighted to sponsor these very worthy awards, and to support the excellent work being carried out at Swansea University's CSAR."