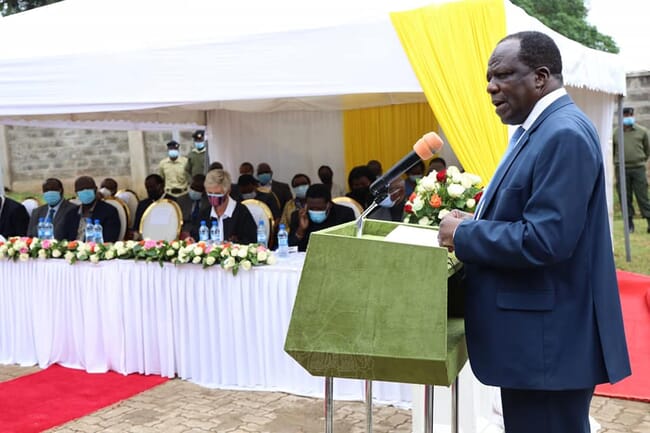 The Kakamega Fish Processing Factory, a joint venture between the local government and the DAS Group of Sweden, was initially due to be built under the Fish Stimulus Plan that was launched in 2009, but the government later handed it to Kakamega County, which has now found an investment partner, and it has now been officially opened.
The plant has the capacity to process 30 tonnes of fish per day, which will be sourced from fish farmers in Kakamega and neighbouring counties. At the opening, local governor, Wycliffe Oparanya, expressed his appreciation to the DAS Group Kenya "for investing $40 million to upgrade the facility to meet all the requirements to export fish to the much coveted European Union market. This factory will address the challenges fish farmers have had in marketing their fish."
He added that the regional government is providing further assistance to fish farmers in the form of a 50 percent feed subsidy.
The governor of neighbouring Kisii County, James Ongwae, declared that "we can no longer accept fish that is coming from 10,0000 kilometres away. We are no longer accepting fish from China. That is completely unacceptable."
The Swedish Ambassador to Kenya, Caroline Vicini, who was also at the opening, said: "The EU has very stringent criteria for what it imports when it comes to food and agricultural products. It is a huge market, with 27 countries, but we all have the same rules and regulations for the import of foodstuffs. This factory is up to standard for export to this enormous market, which means that if you are successful in expanding fish farming here… you have the possibility of exporting fish instead of importing it."
Kenya's fish imports from China dropped in the last nine months, after eight years of consistent increases. In this period Kenya imported 8,900 tonnes of fresh chilled fish, worth Sh 993.62 million – down from 18,074 tonnes, worth Sh 2.02 billion, in the same period last year. Kenya bought Sh 2.32 billion of fish from China in 2018. Local fishers and farmers have regularly complained that the Chinese imports, which they say are of low quality, have flooded the market and made it difficult for them to sell their fish.
Meanwhile, the commissioning of the Kakamega plant has attracted attention from the aquaculture industry in Ghana and Nigeria. Fish farmers in Nigeria have been expecting the US government to reverse the ban imposed on the export of smoked fish to the US on 1 March 2018 for failure to comply with documentation procedures.
As Matilda Sackey, a Nigerian fish farmer, reflects: "We should try the Kenyan alternative, by finding European and American partners who will be able to secure the certification before we start. We have been unable to get the ban reversed since March 2018. Will it take another three years to get certified? Perhaps we can find foreign partners who can help us out of this situation".
According to officials of the Ghana Standards Authority, Ghanaian fish farmers and processors must ensure that documentation procedures, especially those on traceability, are secured. In addition, Ghana needs a well-equipped laboratory facility with the capability to certify farmed fish products for export.