Sponsor message
Are you trying to break into aquaculture industry or already working in the field and looking to gain additional expertise for career development?
JIRCAS: Japan's Fisheries Technology Makes its Mark
JAPAN - The Japan International Research Center for Agricultural Sciences, or JIRCAS, is a national institute in Japan working to develop technology for the agriculture, forestry and fisheries sectors. Bonnie Waycott provides a general overview of the institute, as well as its latest research on shrimp farming.
Established in October 1993, JIRCAS in Tsukuba near Tokyo develops a range of technology that aims to address problems with international food supplies and the environment. The institute is also working towards providing a stable supply of agricultural, forestry and fishery products and resources.
Known as a "National Research and Development Corporation" under Japan's Ministry of Agriculture, Forestry and Fisheries, it plays an important part in international collaborations in Japan, and works to grasp the latest trends in agriculture, forestry, fisheries and farming systems worldwide.
JIRCAS's main work in aquaculture is to develop technologies that produce aquatic products in a more sustainable and equitable way in tropical coastal areas. Southeast Asia is one such region the institute is focusing on, with a particular emphasis on research into how aquatic resources can be used more sustainably, the cultivation and development of technology that has a positive impact on biological diversity, and studies into the marketing techniques and distribution of aquatic products.
In areas like Southeast Asia, environmental deterioration, such as water eutrophication and sediment accumulation, is a serious problem. By developing safe and sustainable aquaculture technologies, JIRCAS hopes to improve the aquatic environment through local fishery resources.
Any information obtained during its work is then put toward the development and adaptation of technology such as re-circulating production systems in developing areas. JIRCAS's ultimate goal is to continuously produce aquatic products by ensuring that aquatic environments are kept in good condition.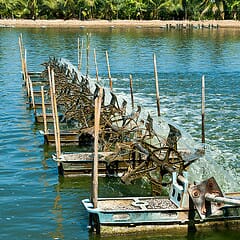 To achieve this, various research efforts are underway into fields such as biological diversity and environmental capacity. The institute also hopes to improve the livelihoods of those involved in the aquaculture industry and increase employment opportunities.
Shrimp Farming
One area the institute is currently involved in is shrimp farming. FAO statistics back in 2007 showed that the total annual production of marine shrimp amounted to over 3 million tonnes, with around 75 per cent of it occurring in Asia.
However, this high growth brings with it a range of environmental problems such as the destruction of mangrove forests or the deterioration of coastal environments caused by waste products from nearby shrimp farms.
Despite this, shrimp farming remains a significant industry in Southeast Asia and the rest of the world, where production continues to increase in order to meet greater demand.
Dr Marcy Wilder, a senior research scientist at JIRCAS, is working on a range of areas related to shrimp farming, such as Vietnam's freshwater prawn culture, the development and transfer of seed production technology, eye structure and function of the giant freshwater prawn (Macrobrachium rosenbergii), light perception capability of the whiteleg shrimp (Litopenaeus vannamei) and the reproductive mechanisms in Macrobrachium rosenbergii and Penaeus japonicus.
This work is all the more important because P. japonicus is a significant target of artificial seed production operations for the restocking of coastal areas, so female moulting and reproduction must be suitably controlled under artificial conditions in order to guarantee a sustainable means of artificial seed production.
In all prawn species, the effective control of moulting and reproduction under artificial conditions is important in order to produce larval seed for grow-out.
In the area of aquaculture technology, Dr Wilder is currently involved in the development of land-based recirculating systems. JIRCAS formed a research consortium in 2004 with an aquaculture engineering firm (International Mariculture Technology Engineering Inc. (IMTE), the National Research Institute of Aquaculture of Japan's Fisheries Research Agency and an aquaculture feed company (Higashimaru Co. Ltd.,) to start an integrated research project into land-based recirculating aquaculture systems for the domestic production of whiteleg shrimp Litopenaeus vannamei (the culture of L. vannamei is increasing rapidly and replacing that of the black tiger prawn Penaeus monodon).
Some key areas of the project include the collection of data on osmoregulation, oxygen demand and ammonia excretion levels of L. vannamei under conditions of re-circulating culture, and the optimization of shrimp growth based on the control of water temperature, salinity and flow rates.
The project has found that in hard water with low salinity, shrimp grow just as much as, if not more than, full-strength seawater, leading to the development and application of low-salinity rearing methods to commercial large-scale production at IMTE's shrimp production facility in Myoko City, Niigata Prefecture near the well-known Mt. Myoko.
The facility is capable of producing 40 tonnes of shrimp a year and the product is being marketed under the trade name "Myoko Snow Shrimp™." Today the developed technology, known as the "Indoor Shrimp Production System," operates on a commercial basis.
The advantages of such a facility is that because the system only makes use of recirculating water, there is virtually no negative impact on the environment. Such facilities can also be established inland, in any geographical location, without the need to depend on the use of fresh seawater. It is expected that the implementation of this technology in developing regions where shrimp farming is a major industry should contribute to the sustainability of aquaculture production in Southeast Asia and to environmental improvements.
Sponsor message
UMass Sustainable Aquaculture Online Courses Aquaculture is an increasingly important source of safe, nutritious, and sustainable seafood for people worldwide. Globally, aquaculture production must double by 2030 to keep pace with demand. These increases in demand for aquaculture products, food security considerations, and job creation have generated an increased need for skilled workers.
Discover how you can be part of this rapidly expanding industry.