"The oyster deaths are the largest challenge I have ever had to face in my 43 years in the industry. It is a nightmare!"

These were the words of Alex Clifford of Kororareka Oysters Ltd after OsHV-1 (Ostreid herpesvirus-1) stripped his oyster farm in the Bay of Islands. Mr Clifford has worked in Orongo Bay since the 1960s, when he started commercially picking kerosene tins of wild rock oysters (Saccostrea commercialis). He still remembers getting paid 70 cents a tin by the processors.

In 1974 Mr Clifford started work on the first Ministry of Agriculture and Fisheries rock oyster farm in Orongo Bay. Like other Northland oyster farms it eventually changed to Pacific oysters (Crassostrea gigas) after the invasive species arrived by mistake in New Zealand waters. They grew faster and more prolifically than our native rock oysters and quickly won the competition for marine space.

Like all land and sea farmers, Mr Clifford has weathered a number of problems, some caused by Mother Nature and some due to Man's folly. After the invasion of Pacific oysters there was the first biotoxin event in 1993 resulting in long-term, expensive monitoring systems. The spread of residential housing brought new problems, including environmental pollution from overloaded sewage treatment plants and septic tanks.

However, the arrival of OsHV-1 might be the largest hurdle of all. The January/February 2011 edition of New Zealand Aquaculture broke the news that a virus was devastating Pacific oysters, a $30 million industry for New Zealand.

In 2009-2010 the virus wiped out most of the juvenile oysters in Europe and parts of Australia. We have no idea where and how the virus arrived in New Zealand, but since last summer it has nearly wiped out many oyster farms, highlighting again our vulnerability to the invasion of new marine species. MAF Biosecurity has long recognised problems with introduced pests affecting land farming operations, but it has yet to get a good handle on how to protect our valuable marine areas.

OsHV-1 is not a food safety problem. Only healthy oysters are processed and sold, so oyster lovers should have no hesitation in savouring tasty mouthfuls. Make the most of them though, as they are likely to become a rare delicacy. By December last year, Mr Clifford had lost 80 per cent of his original crop and since then he has tried several times to restock the farm with new seed. He is not alone, and farmers around the North Island have suffered the same fate. Given the pending disaster, the New Zealand Oyster Farmers' Association and MAF have worked together to seek solutions. Mr Clifford says he is grateful to Aoteoroa Fisheries, which helped him access new seed supplies. But after restocking his farm, all this seed died, causing even more work to remove 80,000 dozen dead oysters.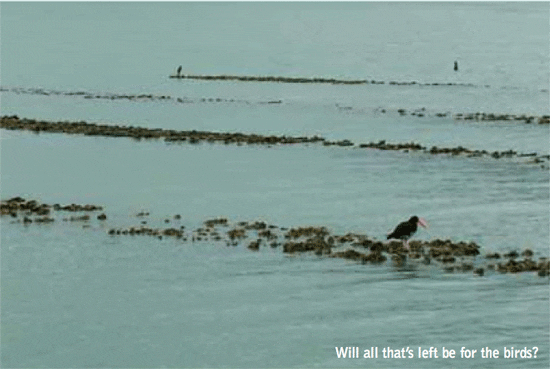 It was hard, physical work shifting trailer loads of dead oysters, but even harder for Mr Clifford is the mental torture of not knowing what the future holds for Kororareka Oysters. The market is crying out for quality oysters, but frustratingly empty oyster trays lie idle on the shore, with no viable stock.

MAF and the oyster industry are still trying to understand the scientific answers, but at this stage it seems the only solution is to breed superior resistant oysters. Breeding better oysters takes time, and in the meantime farmers and processors are laying off staff as they face economic doom, as it is impossible to pay staff when there are no oysters to process.

Unemployment is a problem for anyone, but the oyster industry is the major employer in some small communities, so there will be signifi cant social effects. As a public health specialist I am well aware that employment is one of the most significant factors affecting health status. Unemployment sadly means higher health risks for the entire household.

Numerous recent adverse events in New Zealand, including a mining disaster, a cyclone, earthquakes and increasing fuel and food prices, would make it seem easy for the looming problems facing the oyster industry to go unnoticed.

However, it is important this does not happen, and the government and public recognise the tough times ahead for oyster farmers and their communities.

Even those who do survive may need to farm differently and will need a helping hand to do so. Pacific oysters have been affected this time, but the "glamour girl" of New Zealand aquaculture, the Greenshell mussel, is equally exposed to similar risks and the consequences of poor biosecurity management. Unless we learn the lessons from this disaster quickly, the same problems will simply be repeated.
July 2011
Further Reading