Among technological strategies utilised for microdiet production, microencapsulation has shown great potential for nutrient delivery (Chiellini et al., 2008). However, knowledge about the capacity of fish larvae to breakdown microencapsulated feeds along the digestive tract is scarce (Fernández-Díaz and Yúfera, 1995).

Fulfilling this knowledge gap would be extremely important to understand digestion of microencapsulated feeds by marine fish larvae, introducing a step forward for a posterior design of an inert microdiet suitable to replace live-prey in marine fish aquaculture.

This work aimed to evaluate the capacity of Senegalese sole (Solea senegalensis) to ingest and digest microencapsulated diets formed by carrageenan and alginate matrixes during the early developmental stages. To this end, a short in vivo trial was conducted in which Senegalese sole post-larvae were fed blue-coloured microencapsulated diets, and dietary capsule cleavage was visually assessed along the digestive tract of fish.

Materials and methods
Microencapsulated diets were prepared by the emulsion technique using two natural polymers: carrageenan and alginate. Carrageenan microdiets were prepared by thermal gelation, as described by Ellis and Jacquier (2009). Alginate microdiets were prepared by internal gelation, following procedures by Yúfera et al. (2005). During production, both types of microcapsules were dyed in blue using an innocuous food colourant.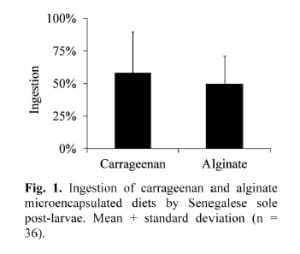 Senegalese sole post-larvae were initially acclimatized to six white plastic trays prepared with clean seawater and aeration. At 36 days after hatching (DAH), three experimental treatments were randomly distributed in duplicate by the rearing trays.

In these treatments, Senegalese sole post-larvae fed upon frozen Artemia, carrageenan or alginate microcapsules. At 51 DAH, fish were sampled to assess growth and survival in all treatments. In treatments where Senegalese sole post-larvae only fed upon microdiets, ingestion and capsule breakdown was visually assessed in three sections of the digestive tract: foregut, midgut and hindgut.

Results

At the end of the trial, Senegalese sole post-larvae fed upon Artemia had a significantly higher dry weight (DW) and survival than larvae fed upon carrageenan or alginate microdiets. At this stage, no significant differences were found for the DW of larvae fed upon microdiets. In addition, no significant differences were found between the initial and final DW of larvae fed upon microdiets.

Results also showed only 50 per cent of Senegalese sole post-larvae ingested carrageenan and alginate microcapsules (Figure 1). No significant differences were found among these treatments for post-larval ingestion.

Results concerning microdiet digestion showed that only 50 per cent of the eating Senegalese sole post-larvae were able to digest carrageenan microparticles. Around 37 per cent of these fish showed digested capsules in the foregut, while the remaining 63 per cent fish showed digested capsules in the midgut area.

In addition, about 44 per cent of Senegalese sole post-larvae were able to perform digestion of alginate microdiets. Around 71 per cent of these fish showed digested microcapsules in the midgut, while the remaining 29 per cent fish showed digested capsules in the hindgut area.

Conclusion

This study showed that the growth performance and survival of Senegalese sole post-larvae fed upon the current microdiets is still far beyond the results obtained with live-feeds. The lack of microdiet acceptance and reduced breakdown along the digestive tract of Senegalese sole post-larvae seem to be crucial factors contributing for this reduced performance.

In addition, microencapsulated diets formed by carrageenan and alginate matrixes seem to result in a similar growth performance and ingestion by Senegalese sole. Although differences were found for the ability of fish to digest these microdiets, results still suggest that more digestible natural polymers should be considered for production of microencapsulated feeds for Senegalese sole during the early developmental stages. November 2011
December 2011