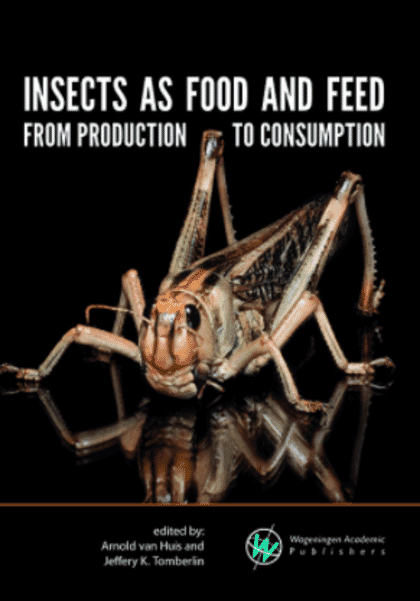 It is presented as an anthology of peer reviewed articles yet accessibly covers the whole process of insect production - from rearing, facility design and genetics to ethics, marketing and health risks.
Fifty-seven percent more meat needs to be produced by 2050 to meet growing populations and the increasing consumption of meat per capita. Aquaculture is set to play an increasingly important role in fulfilling this growing demand because the production of terrestrial meat is slowing and fisheries production is static. How to provide a renewable source of feed for a growing aquaculture industry is one of the key challenges for the sector.

Insects are one of a handful of alternatives as a source of protein for fish food. The recent EU policy reforms which have authorised the use of insect protein for fish feed has created momentum in the industry and removed one of the key blockers for investment and innovation.
The book challenges the typical Western reader to reconsider their own embedded perception of insects as alien, threatening, dangerous and disgusting and consider the idea of insects as food and feed. It demonstrates how the cultivation of insects as food is centuries old, globally spread and entirely normal. With over 2000 species of edible insects recorded and representing a solution to many challenges faced in meeting protein demand the book advocates the embrace and utilisation of the six-legged saviours.
Whilst the book methodically covers every aspect of the production of insects on a commercial scale for human consumption as well as for animal feed there is much essential reading for aquaculture stakeholders. Chapters of particular interest include 'Nutrient content of insects' and Nutrient processing' which give good insight into the compatibility of certain species and products as protein replacement sources for fish feed. Similarly the chapters on regulation, ethics and promotion are a prerequisite read for potential investors and prospective producers to critically evaluate joining what is set to be a multi-billion-dollar industry. It will give the reader a strong platform to ask the right questions and make informed business decisions.
For those looking to simply acquaint themselves with the topic generating a lot of buzz in the aquaculture industry, it is a digestible and reliable reference text that can give you a 15-minute introduction to any topic in this sector.
Demand for feed innovation
In 2014, 15.8 million tonnes of fish oil and fishmeal was produced predominantly from bony fish not suitable for human consumption. Whilst a small proportion of this comes from bones and offal from fish production the majority is from small, wild caught, marine fish with Anchoveta being the main species group.
Fishmeal is rich in nutrient and ideal for feed for poultry, pigs and farmed fish and between 1987 and 2006 priced at ~$1000 per tonne. However, after 2012 due to increased demand and declining wild fish stocks prices have risen to over $2000 per tonne and there has been great diversification to source complementary sources of protein for aquaculture feed. Insects are considered by many to be a viable complementary or alternative protein source to fishmeal in animal feeds.
The market for insect products has increased significantly in the past 5 years in Western Europe and North America. The book features a list of 300 or so 'entopreneurs' (companies specialising in insect feed products) already established to capitalise on this market including Next Protein from France who produce insect-based protein for animal feed stocks.
Editors: Arnold van Huis and Jeffery K. Tomberlin
Dr Arnold van Huis is an emeritus professor of the Laboratory of Entomology of Wagningen University in the Netherlands and chief editor of the Journal of Insects as Food and Feed. In 2013 he published with the FAO the book 'Edible insects: future prospects for food and feed security' which has been downloaded 7 million times.
Dr Jeffery K Tomberlin is an associate professor and AgriLife research fellow in the Department of Entomology at Texas A&M University. He is also the director of the Forensic & Investigative Sciences Program and Principle investigator of the Forensic Laboratory for Investigative Entomological Sciences (FLIES) at Texas A&M University.
Published: 2017 Pages: 448
eISBN: 978-90-8686-849-0 | ISBN: 978-90-8686-296-2