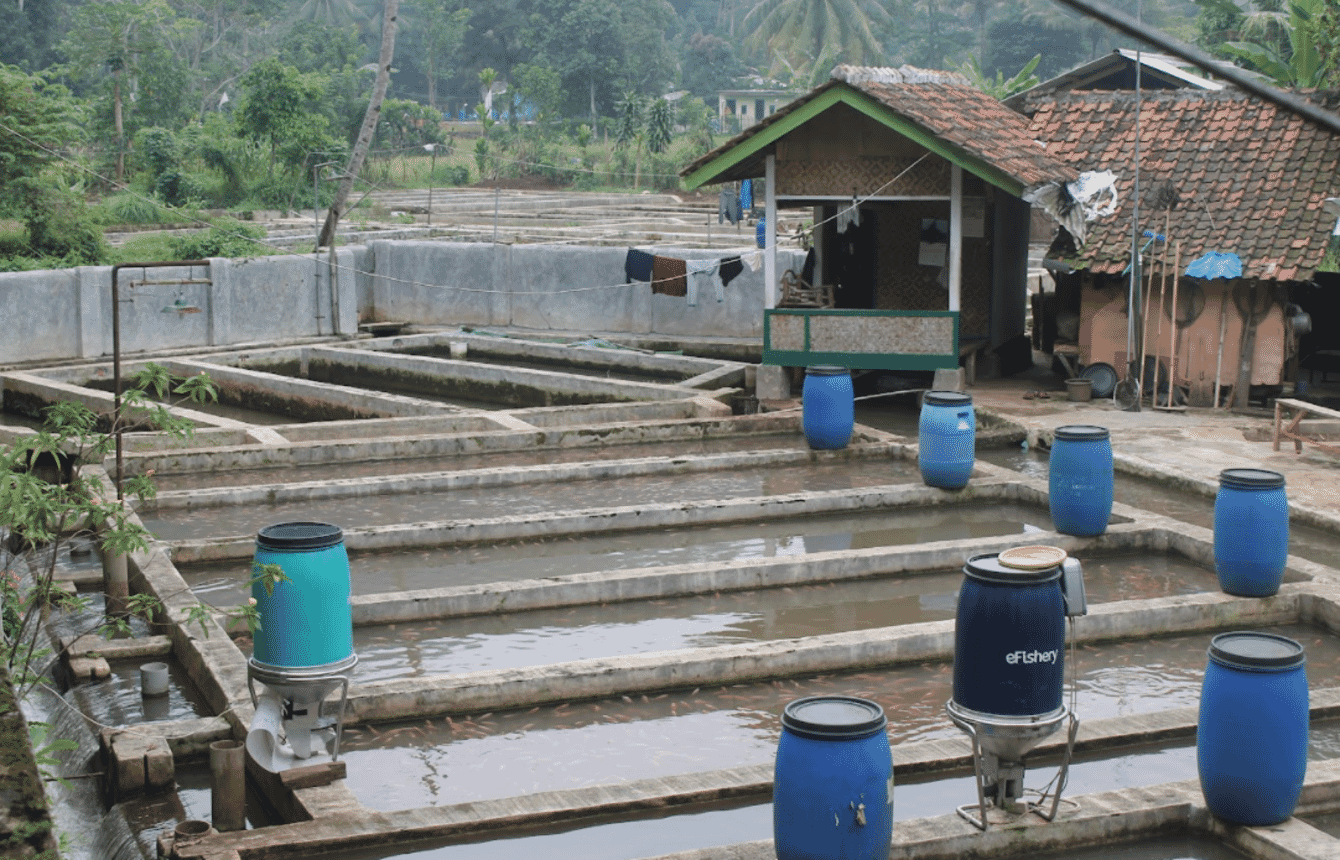 The wave of digitisation that has been sweeping across various industries in the last decade has reached Indonesia's aquaculture sector. These innovations, many of which have been made by millennials, have produced a variety of products, services, and business models that have never existed before in the industry.
As stakeholders often mention, Indonesia has huge potential for aquaculture due to its geographical advantages, which is why the sector has often been referred to as a sleeping giant. However, Indonesia's production is still the third in the world after China and India. In 2018, aquaculture production reached 5.4 million tonnes, worth USD 11.9 billion in value (FAO 2020).
Despite this, challenges remain – ranging from issues such as access to capital and production inputs; production problems, such as feeding inefficiency, diseases, seed quality and cultivation technology; and post-production problems, such as low farm gate prices due to long supply chains. Other things, such as infrastructure and inappropriate policies are also becoming a challenge.
Nevertheless, aquaculture remains an attractive sector, as demand for protein rises, and many startups are trying to unravel the various problems that exist in each segment. These startups have joined the industry with great enthusiasm, even though many of their founders' backgrounds were not in aquaculture, and they are making fish farming more predictable and easier.
The very early aquaculture startup, eFishery was established in Bandung, West Java, in 2013. The CEO and founder of eFishery, Gibran Huzaifah, saw that manual feed management is often inefficient and can increase production costs. As a result, he developed an internet of things-based digital auto feeder which can be operated via a farmer's smartphone and adjusted to the needs of the species being produced, so that feeding can be more efficient. Huzaifah claims that his products have now been installed by thousands of farmers in various regions in Indonesia.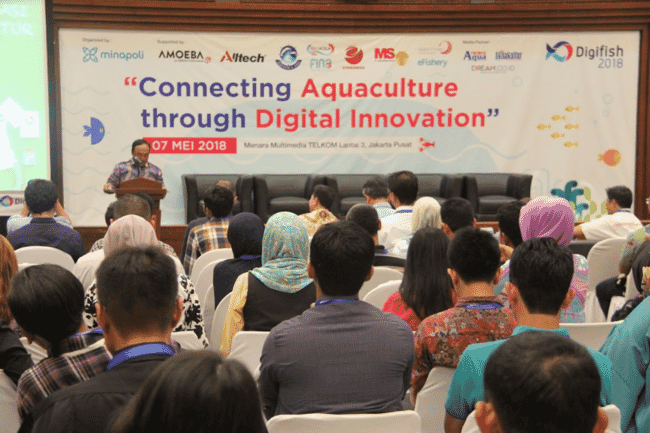 Bringing startups together
2017 marked a watershed for Indonesian aquaculture startups, with over 10 new ones emerging, prompting the formation of the Digifish Network – a startup hub for integrated aquaculture business and information networks – in 2018 by Rully Setya Purnama, CEO and founder of Minapoli.
The network has a vision "to become the leading ecosystem of digital innovation for marine and fisheries in Indonesia" by inspiring innovation and collaboration, as well as becoming an ecosystem to encourage further innovation.
To date, more than 30 startups in aquaculture and fisheries have joined the Digifish Network. Although these cover the entire supply chain, water management and financing are the two issues that are covered the most.
Examples of those companies that focus on sensor and IoT-based devices to check water parameters quickly and precisely include Jala*, FisTx, AquaEasy, Pictafish and AquaReader. In addition, there are also those who focus on water treatment such as nanobubble.id, Venambak, and Banoo, which provide machines for optimizing dissolved oxygen (DO).
With these devices water quality parameters can be presented in real time or as a data series, making it possible to predict water quality more precisely and to take action if there is an unusual trend. This breakthrough makes fish and shrimp farming more predictable and easier to practice for beginners. It also makes the aquaculture sector more attractive for millennials.
However, according to the CEO of FisTx, Rico Wibisono, the most challenging element in providing water quality checking devices, apart from ensuring fast and accurate data, is also how to give the proper suggestions to farmers about what steps to take from the results of measurements. He says that gathering the data of water quality is one thing, but using the data correctly is another.
Apart from on-farm issues such as water quality, a key off-farm problem is poor access to finance. Fish and shrimp farming in Indonesia is dominated by small-scale farmers. Aquaculture, which is technically high risk because of low technology and other issues, makes banks and other formal financing institutions reluctant to enter. This is like a vicious circle for small farmers, who find it difficult to thrive due to strict cash flow. Meanwhile, the government loan institutions that specialise in fisheries are hard to access and require a long application process.
A number of startups are therefore using financial technology (fintech) to connect business actors who need a source of capital with investors who want to invest in the sector.
The financing offered by startups is quite attractive for farmers because it is easy to access, has a fast application process, and has a relatively large loan ceiling, which can reach IDR 1 billion for a cycle of a farming project. These advantages fit with the farmers' needs, even though the interest rate is two to four times higher than bank loans for small and medium enterprises (SMEs), which can be up to 2 percent per month.
Although fintech has a simple business model, the issues in this business area are no less challenging. Especially those who rely on a peer-to-peer (p2p) lending system by managing funds from crowd investors. This absolutely requires transparency and good communication between fintech startups and investors.
In addition, another challenge in financing farmers is the technical issue itself. Therefore, besides giving a loan, the fintechs also provide technical assistance to farmers, in a bid to minimise human error during production. The startups involved in fintech and farming management including Growpal, inFishta, Mina Ceria, Sgara, Sipanen and Alune*.
A more efficient supply chain
As well as access to financing, accessing a fair market that offers good prices is also one of the systematic challenges for farmers and fishermen. Small farmers usually have a poor bargaining position when dealing with the traders. The supply chain from producer to end-consumer is still very long and can include two to four middlemen. In the process, the freshness and quality of fish can be reduced because most transport methods lack a proper cold chain.
In this segment, there are startups such as Fishlog and Aruna. The role of both is to simplify the supply chain and improve the farm gate prices. Fishlog tends to aggregate cold storage through an online platform to increase its utility and offers the farmers' fish directly to the processing unit, potentially allowing farmers and fishermen to sell their fish at a better price. Meanwhile, Aruna allows farmers to market their products widely, including for exports, through its e-commerce platform.
The presence of startups in the aquaculture sector has brought new optimism to the industry. Although they have not solved all problems, their potential is huge. With the new enthusiasm and fresh ideas of millennials behind them, these startups could take Indonesian aquaculture to the next level in the years to come.
*Jala and Alune are both part of Hatch's investment portfolio, but The Fish Site retains editorial independence.