Impaired mineralisation in A. salmon? - Blue whiting (Micromesistius poutassou) is a small, lean cod fish of high importance as raw material for fish meal production in Norway. Fish meal produced from blue whiting generates lower growth and feed efficiency in salmon, halibut and mink as compared to fish meal produced from other industrial fish species.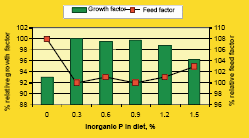 Fig. 1. Relative % growth and feed conversion ratio in salmon fed graded supplementation of inorganic P in the diet. Maximum growth (TGC = 3.44) and feed conversion ratio (FCR = 0.77) at 0.3 % inorganic P.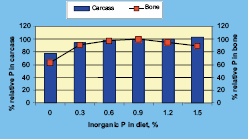 Fig. 2. Relative % P in carcass and bone in salmon fed graded supplementation of inorganic P in the diet. Maximum P status in carcass and bone at 0.9% inorganic P (4000 mg P/kg fi sh; 9.1 g P/100 g dm. bone).
The Norwegian fish meal industry has for many years supported research to improve the biological value of blue whiting. Feeding trials with Atlantic salmon have recently shown that the digestibility of phosphorus from blue whiting meal under certain conditions may be too low to support adequate amounts of available phosphorus for growth and normal development in post smolt fish.
Atlantic salmon (120 g) fed a high dietary level of blue whiting meal (1.5% total phosphorus in the diet) developed classical signs of phosphorus deficiency, including reduced growth and feed efficiency, lipid deposition in the body and reduced mineralisation (calcium and phosphorus) in carcass and bone. Supplementation of soluble phosphorus salts in the diet (0.3%) significantly improved growth and feed efficiency (Fig.1). A supplemental level of minimum 0.6% inorganic phosphorus was required for optimal mineralisation in carcass and bone (Fig. 2).
High dietary levels of phosphorus had negative impacts on growth and bone mineralisation. Results suggest that the requirement for phosphorus supplementation in feed for Atlantic salmon must be reconsidered with respect to variable phosphorus digestibility of feed ingredients and to different feed compositions.
Carcass phosphorus content was reduced to a level previously associated with development of bone deformities in salmon. Further, reduced body lengths and increased condition factors of fish suggest that the low availability of phosphorus from blue whiting might be limiting for normal skeletal development. Possible interactions in availability of phosphorus from marine and vegetable feed ingredients and impacts on skeletal development and bone strength in fast-growing Atlantic salmon will be further studied.
TheFishSite News Desk