The second day of the Salmotrip+ and ARCH-UK-organised workshop contained presentations on the latest research on methods such as such as gene silencing, gene knock out and primordial germ cell ablation as emerging methods to induce sterility in finfish. These were delivered by a host of eminent researchers – including Anna Wargelius from IMR, Yonathan Zohar from the University of Maryland and Debbie Plouffe from the Centre for Aquaculture Technologies (CAT).
The first day, which focused on triploids, included presentations from the Institute of Aquaculture's Herve Migaud, Tom Hansen from IMR Norway, Tillmann Benfey from UNB Canada and a number of key industry players, including AquaGen from Norway, BioMar, Pharmaq and Dawnfresh from the UK, CAT from Canada and Petuna from Tasmania.

The event ended with an open discussion about the key issues that need to be overcome in order to promote the use of sterile fish. Regulations and politics, as well as practical concerns from growers relating to the performance of sterile fish, were seen, more than scientific difficulties, as being the main barriers to the commercial uptake of sterile fish.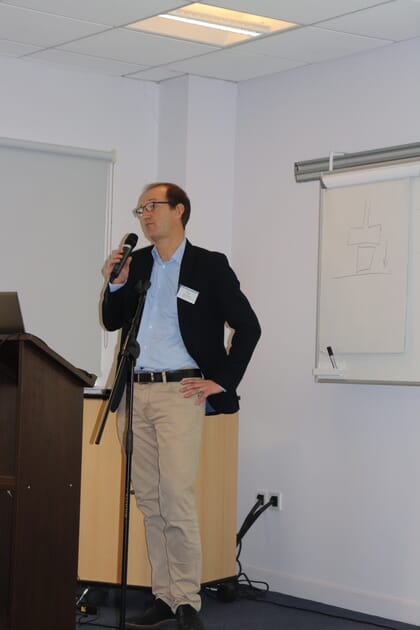 Introducing the discussion, Herve Migaud said: "We know there are a lot of bottlenecks to come, there are a lot of regulations that have to be cleared… which are preventing the commercialisation of these new technologies."
He reflected that, while triploidy was being used in many agrifood species, some issues with the reliable performance of triploids mean it is currently seen as a stop-gap solution to sterility.
"I know a lot of people consider triploids as maybe being a transition rather than being the solution, before moving towards one of these new methods of sterilisation," he explained.
Calling on the input of the breeding companies present in the room, he asked how they, and their customers, perceive the raft of new technologies.
AquaGen's Maren Mommens reflected that: "I think a lot depends on the future legislation of these methods discussed today – how is gene editing going to be regulated in the future or not and also knock-out technologies, which have to go through a different kind of certification than we have seen for triploids, it will be more like certifying a new pharmaceutical product, so will be time-consuming. We are having activities in these areas, but in the long run it's going to take a lot of time to develop them and meanwhile the triploid is an alternative for us which we're working with."
Migaud noted that the next time the meeting takes place, reservations about using alternatives to triploidy might have changed.
"The other techniques are still not at a stage where I feel they can be implemented commercially, but things are moving very fast – this workshop has been discussed for the last three years, because we really need to bring people together. There are now so many different alternative means [to achieve sterility] and it moves really, really fast – we must do it again, probably every two years, because given all the ongoing research that's going on around the world at the moment, in two years' time there will be a lot of progress," he said.
The subject of regulation was high on many participants' agendas.
"The point is to engage with the FDA and whatever your equivalent is in Europe because they do listen to a certain extent and they understand the need for these platforms to make it to the industry," said Zohar.
"Based on the case of AquaAdvantage salmon in the United States the big challenge is to really separate the politics from the science, because the agencies like the FDA are really influenced by politicians, and by senators and congress people saying 'Frankenstein'… it's our role to talk to the policy makers and make sure they feel good about these techniques," he observed.
Wargelius argued that not just the politicians needed to be educated on the issue and that the next generation were proving more receptive to the idea.
"One of the things we've learned from the RRI [responsible research and innovation] is that it's very important to be visible, you cannot just do the science, we have a responsibility as scientists to be visible. Young students are so interested in what we're doing – they have open minds, much more than the regulatory agencies and they are the future," she pointed out.
However, Migaud noted that it might be some time before such techniques are permitted for commercial use in Scotland.
"In Scotland we have some difficulties in trying to convince high level regulators that these technologies are a good thing – maybe not for today, but we need them to be ready because they are coming, yet their position is 'no, no, no' and there's no real reason for this," he observed.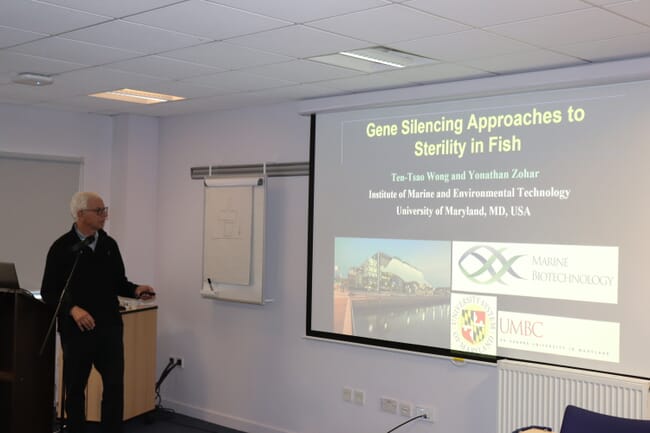 Commercial priorities
Meanwhile the views of the breeding companies, and their customers – the finfish producers – were reported by Mommens.
"Our customers are very interested in this product but if you want to be able to sell it to them it has to perform well. As long as we cannot prove it they will not be interested – at the moment the fish farmers have other areas of focus… we still have to do some work to convince them why it would be a good product," she said.
"To increase production of sterile fish we may depend on legislation like the green concessions that have been given – if it's the only way for the industry to grow, it will increase the market for this kind of product," she added.
Her views were echoed by Serap Gonen, a geneticist with Mowi, who expressed the farmers' concerns about triploids.
"It was said a few times yesterday [at the conference] that triploid salmon are seen as almost a different species. We're producing diploid salmon and know how to farm them really well, they need specific conditions and we have a system that's quite routine, so if we're going to put the triploids in we need a new system and need to think about how to incorporate that easily within the production system. If the fish are fragile, as we've seen with the triploids, and if we go and treat the fish for sea lice and they all die, what's the point in having the triploids?"
She also pointed out that genome editing might help to answer some fundamental questions about the biology of salmon.
"With the genome editing the end goal would be to have edited fish in our system if they're going to be resistant to disease for example, but it's a bit narrow minded to think of genome editing just as an end point, it's also a toolbox for us to understand what's happening in the genome of the animal and what's underlying the QTL and all the different traits we're interested in," she explained.
Despite reservations of the producers, it was clear from the event that research into producing sterile fish is coming on in leaps and bounds and that there is certainly an appetite to perfect a range of techniques to achieve this goal.
"There are still problems to be solved but there are a lot of things that have been improved enormously (such as welfare, nutrition, husbandry regimes, robustness of triploids). More research is required before full implementation but we are getting very close. I really believe it should be done as soon as possible, through triploidy first as it is the closest to market and then new technologies when they become available, and should be applied to most fish species farmed in the world, not only salmon as a safeguard to wild stocks," concluded Migaud.

Acknowledgments
The International Finfish Sterility Workshop, which was sponsored by AquaGen, was supported by the Salmotrip project, which has been running for the last four years and was co-funded by BBSRC, Innovate UK, Mowi, BioMar and Pharmaq.