Hatchery-reared lumpfish are extensively used to control sea lice in the salmon farming industry as an alternative to medicines. Demand for cleaner fish has increased exponentially over the last few years and has been predicted to reach 50 million fish annually by 2020. However, the lumpfish industry still relies on eggs and milt from wild broodstock.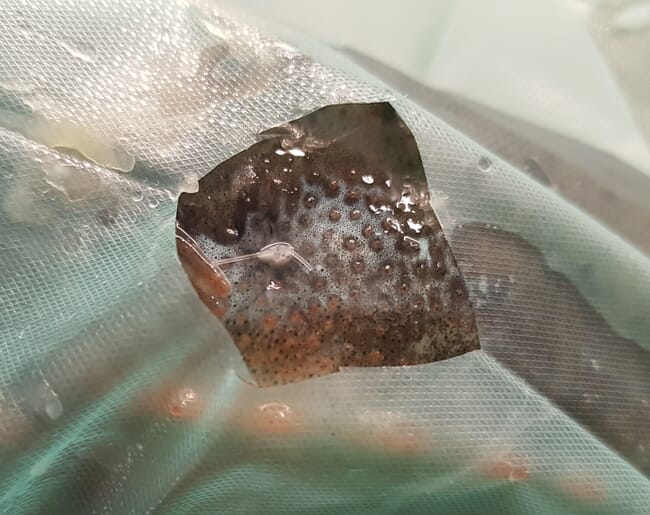 Currently, standard lumpfish broodstock health screening involves PCR of kidney and gonad samples against a range of lumpfish and salmon pathogens. Obtaining these samples unfortunately requires the fish to be euthanised at the time of gamete collection – with subsequent positive results from either parent resulting in the destruction of fertilised egg batches, which is wasteful and uneconomic.
As part of its lumpfish breeding programme, funded by the WEFO-ERDF SmartAqua Operation, the Centre for Sustainable Aquatic Research (CSAR) at Swansea University has developed a protocol for screening lumpfish spawners which does not involve culling the fish and is now being used commercially on wild-caught males to support the UK lumpfish industry.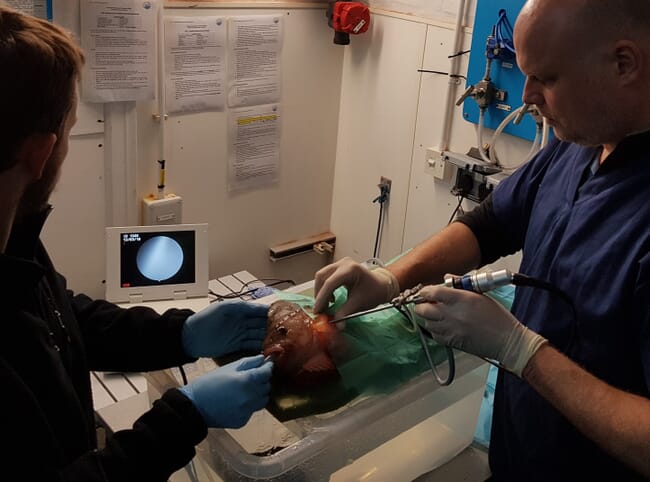 Utilising his experience with ornamental fish in public aquaria, CSAR's consultant veterinarian, Dr Richard Lloyd, has adapted the use of laparoscopy (keyhole surgery) to obtain kidney and gonad biopsies from all their male lumpfish over the last two broodstock seasons. This has allowed advanced health assessment, direct visualisation of reproductive status and PCR screening for selected pathogens to pre-assess their suitability as broodstock.
As Dr Lloyd explains: "The procedure is minimally invasive, takes around 15 minutes once the fish is anaesthetised and involves inserting a laparoscope into the coelom via a tiny incision in the flank - which is closed with a single stitch. The organs can be visualised for any gross pathology and small 1 - 2mm renal and gonad samples are taken using specialised biopsy forceps. The fish recover promptly and are then returned to their holding tanks within 5-10 minutes of the procedure. Only fish that pass the health pre-screening are used in the breeding programme or in the sperm bank.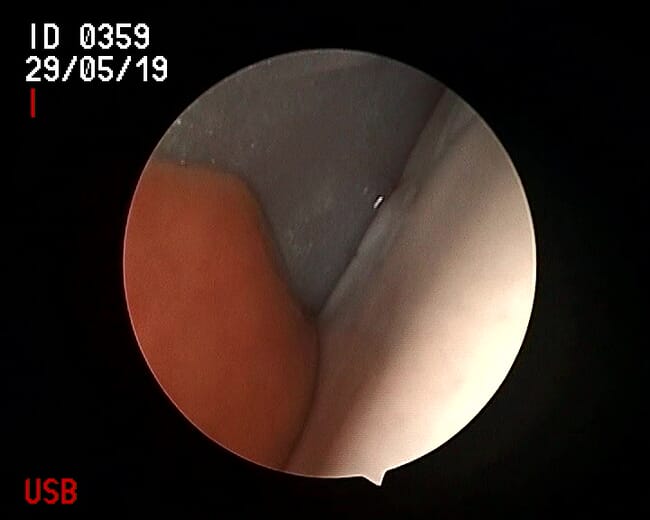 "The use of laparoscopy makes it possible to obtain fresh milt from locally-sourced fish, held onsite, that have already been disease-screened. Such non-destructive techniques are proving invaluable for selecting healthy broodstock in support of the UK lumpfish industry and may facilitate the future development of a sustainable domestication programme, reducing the reliance on wild-caught fish."