Scientists and the international world are not the only ones calling for action on climate change these days. Farmers in Uganda are observing changes in rainfall, temperature and other patterns in weather that have spurred them into shifting their farming methods.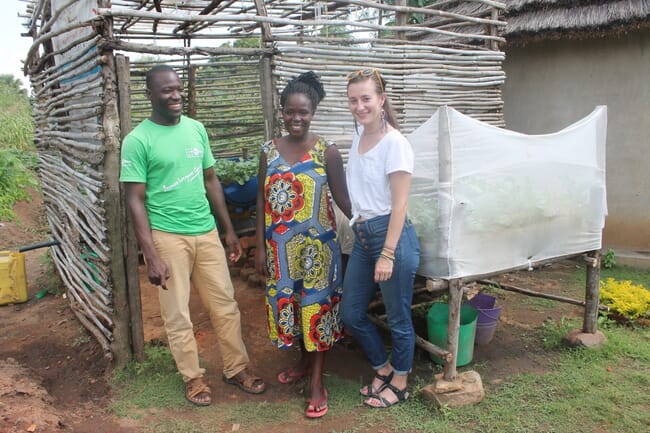 The Water Governance Institute, a Ugandan NGO which has been looking into a number of ways to improve agricultural efficiency in the face of these climate challenges, has found that aquaponics is one of the most promising options. Combining the culture of fish and plants in a closed-loop water-recycling system, it allows for the year-round production of protein and vegetables.
Through a Securing Water for Food grant, the institute has been focused on the use of multiple-grow bed, semi-commercial fish-tank systems – a method which is resistant to fluctuations in the weather. Farmers in the Adjumani district of northern Uganda started adopting aquaponics due to the high market demand for both fish and crops in the area. Long droughts and high temperatures, coupled with soil infertility, had rendered the area less crop productive, and the Nile – from which most of their fish have traditionally been captured – was also proving less fruitful. As a result, levels of malnutrition and poverty escalated in the area, compelling many to enter refugee camps where they would be assured of at least a meal a day.

However, the advent of aquaponics has improved child nutrition, food security, land quality and family cash access.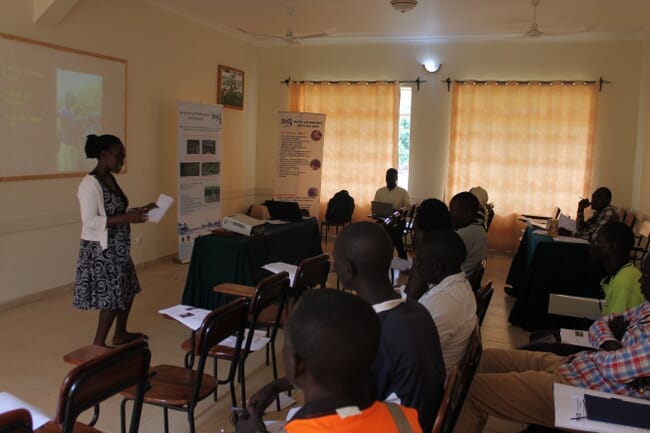 Kareo Clara is one farmer who opted for aquaponics. Two years ago, while waiting for her motorcycle to be repaired, she overheard two men discussing a new farming technology that was providing them with fish and horticultural crops.
Given the long drought affecting northern Uganda at the time – many of her neighbours' crops had failed and the cost of food was spiraling – she was astonished to hear that people in the region were successfully cultivating produce.
Kareo decided to visit one of the demonstration farms and signed up for community training with a Water Governance partner, Care and Assistance for Forced Migrants, and began to use the system herself. She began with a one-cubic-metre unit that was stocked with 200 fingerlings and 40 collard greens, mixing them with beans in the gravel-sand growbed.
She used innovative farming techniques to raise catfish to 800g and had three seasons of collard greens, followed by tomatoes, and later greens locally known as malakwanga. Her hard work reduced family expenses on greens, which allowed her to save on her income and subsequently – after increasing the number of growbeds – she started producing a wider diversity of crops, year round. As a result, she was even able to sell the excess to her neighbours – three of whom have since established their own aquaponics units in their homesteads.
Challenges
Despite the success stories, there have been many challenges. Continuous production means a farmer needs greater access to seedlings, fish feeds, fingerlings, water and knowledge about how to maintain and market the produce.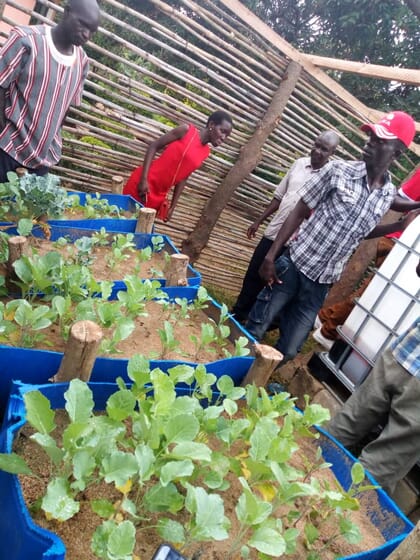 Aquaponics can also be more labour-intensive – for example, it's vital to change the water in each tank every 10 days to manage the ammonia in the fish tank.
In order to ensure that aquaponics is not just increasing women's workload, and in turn reducing their time for other important activities, such as childcare, Water Governance is examining the use of solar-powered fountain pumps to continuously circulate water in the tanks and reduce the need to change the water. We have also established educational meetings in each district, which have been important for sharing knowledge and encouraging all household members to get involved.

Kareo joined at a time when her family was not practising any farming during the dry season. There was low food supply in the district, and her children were malnourished. She experimented with growing crops without soil and using fish waste water as fertiliser. But she is now an aquaponics leader, teaching other villagers what she has learned.
"I talk continuously about the need to save family cash expenses on food and the need for a reliable nutrient supply to our homesteads," she says. "Slowly but surely, the attitude is changing after many people witness how my family is succeeding with an all-year production of crops and fish."
Thanks to her and other farmers, the Adjumani community now has a far better understanding of how aquaponics can be successful in climate-change-ravaged areas.
Indeed, farmer-led experimentation – having them learn on the ground what works in their fields – has been an important part of the project's success. Farmer-to-farmer teaching is another key ingredient, along with community strategies to address social inequalities such as gender discrimination, that prevent these farming benefits from reaching the most vulnerable groups.
It is not too late – and certainly not too soon – to take heed of Kareo Clara's example, and to support this innovative, farmer-led approach to adapting to climate-change-smart agriculture innovations, while working to reduce our own impacts on our shared planet.