After five years of research, and one year to review the findings, a report has been released suggesting that higher levels of two hormones in the female broodstock would increase the likelihood of hatching back to 80 percent.
Dr Heather Hamlin, assistant professor at the University of Maine, who was the senior author of the report, proposed the study after learning farmers were concerned about the increased mortality of salmon embryos.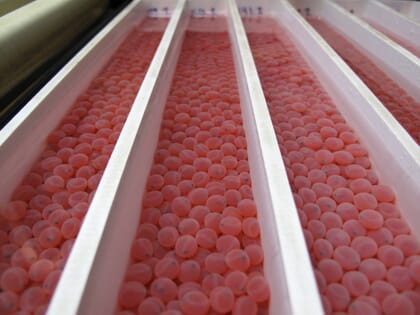 Working with other researchers at the University of Maine, in conjunction with the United States Department of Agriculture (USDA) and Cooke Aquaculture, Dr Hamlin tested five key areas she thought were most likely to impact eye-up rates. Eye-up is used to describe the growth of eyes on the embryo. The development of eyes is a positive sign that the embryo will hatch.
The study, Investigating factors contributing to reduced embryo survival in farm-raised Atlantic salmon, which was published in Aquaculture Research, focused on female broodstock from three different salmon farms in Maine. The samples collected at time of spawning were tested for testosterone, calcium, maternal hepatic ethoxyresorufin-0-deethylase (EROD), 11-ketotestosterone (11-KT), and 17ß-estradiol (E2).The data collected showed higher embryo survival rates when higher concentrations of E2 and 11-KT were found in the maternal plasma concentrations.
Salmon samples were collected from two Cooke farms and one USDA farm. This variety gave Dr Hamlin access to data about freshwater, saltwater and combination husbandry practices. The three farms had the same issue at the same time, indicating the problem was not directly environmental.
Dr Hamlin tested the hormones in part because she wanted to start with broad issues and it fit with her specialty. She wasn't sure they would find anything, but hormones play a large part in typical embryo development. Identifying 11-KT and E2 was just the first step in the process, she said. She is now testing what the typical cycle of hormones is for Atlantic salmon. The original report showed what the hormone levels were at spawning, but not what the levels were when the eggs were forming. At what point do the hormone levels shift and get released?
Next steps
The next step aims to help producers adjust their breeding programs in order to take hormone levels into account. Adding hormones to fish directly is not popular with consumers or regulators, but there might be ways to encourage the fish to produce more of these key hormones or breed fish with higher levels of them.
Greg Lambert, Cooke Aquaculture's Freshwater Production Manager in Maine, said the company tracks the genetic lines of fish and some families do have higher hatching rates than others. It is one of the traits considered when Cooke assigns breeding values to individual families. This method has been shown to have a positive effect on the eye-up rates.
Breeders are taken from the highest-ranked families. From within those families, the best-performing fish are selected. When choosing breeders, Cooke also tracks and considers growth rates and feed conversion, colour, fat content and survival of eggs and survival to harvest size.
Cooke's records showed the decrease in eye-up rates took place about 20 years ago, which coincided with a change in the company's husbandry practices – moving from holding their broodstock in ocean net pens to land-based freshwater farms. The fish were previously held in saltwater until about one month prior to spawning, but now the broodstock remain on land-based facilities, in freshwater, for the duration.
Lambert says that the new farming method is more expensive but has increased biosecurity and provides a solid supply of eggs spread over a greater length of time than saltwater eggs.
After the initial drop in hatch rates, Cooke has documented they have since gradually increased.
Hatching eggs is time intensive, Lambert says. The eggs and sperm are collected and mixed. It takes a month to hatch the eggs and another month for the alevins to absorb the yolk sac, a process that is temperature dependent.
Lambert said the study confirmed that the fish need to spawn when they are ripe, a time-frame that seems to be a matter of days. Cooke spends more money ensuring the fish are ripe than they previously did and that this alone has helped the egg eye-up considerably.