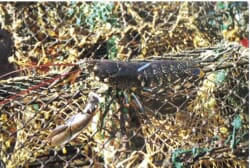 A tagged lobster
AquaReg - an Interreg IIIC project - involves co-operation between the regions of Galicia in Spain represented by the CETMAR Foundation, the Border, Midland and Western (BMW) in Ireland represented by The Marine Institute and Trøndelag in Norway represented by joint forces of the South Trøndelag and North Trøndelag counties. The overall objective of AquaReg is to provide opportunities and design strategies for sustainable development of peripheral coastal communities by promotion of interregional co-operation in aquaculture and fisheries.

An illustrated guide, produced by the research team of Ronan Browne, Gonzalo Perez Benavente, Ingebrigt Uglem and José Carlos Mariño Balsa, as a practical manual describing the production methodologies and the technical aquaculture considerations involved in the lobster larval rearing processes.

These techniques are also applicable to other mariculture endeavors and may be used to demonstrate to students the considerations involved in marine larval culture.

The fundamental strategies for producing postlarvae are that cleanliness and disease prevention are prioritized, and that the nutritional requirements for optimal larval survival are met.

Egg bearing female lobsters can be obtained from a variety of sources, for example lobster merchants, fishermen and even restaurants.

Thereafter these lobsters can be held in individual containers within ponds which have a constant flow of seawater. During this period the lobsters are fed periodically.

Subsequently, the broodstock lobsters whose eggs were close to hatching are not fed for several weeks to ensure that their waste products do not contaminate the freshly hatching larvae when they are transferred into the hatching vessels.

Prior to the introduction of lobsters into hatching vessels these lobsters with ripe eggs (about to hatch within 24 hours) are bathed in an iodine solution in an effort to remove external parasites and potential pathogens.

The volume of the hatching vessels used was up to 500 liters; they were aerated and filled with 1ìm filtered and UV-irradiated seawater. Hatching vessels with broodstock were cleaned and refilled on a daily basis.

The refilled vessels were allowed to acclimatise to room temperature and the same temperature as the vessels containing hatching females. This action reduced the possibility of temperature shock and prematurely hatched larvae.

At the time of hatching (night) the resultant larvae were collected using a hand net and weighed.

To estimate larval numbers a linear relationship between the number of larvae and their weight was established. This was then used to estimate the number of freshly hatched Stage I larvae transferred into the larval culture hoppers.

The larval culture structure utilised can be any type of clean insulated building (with air temperature control) or even a mobile portacabin as was modified during this Aquareg study into a hatchery.

The fundamental hatchery operation described in detail later in this report was based on a system of 90 litre (total volume) MDPE food grade hoppers, which were vigorously aerated from their base.

Ideally, two species of live phytoplankton (Chatocerous muleri and Isochrysis galbana) and Artemia with a known high level of PUFA's (Polyunsaturated fatty acids) were provided in each hopper.

This combination provided adequate food, separation of lobster larvae and maintenance of water quality.

Every second day larvae were transferred to freshly prepared hoppers. This was repeated until the lobsters reached Stage IV postlarvae (day 12 to 14 post hatch).

This methodology provided a simple cost effective system for routine bulk production of these postlarval animals in their normal hatching season.When approximately 70 per cent of the larvae had reached the IV Stage, all of the larvae were scooped out of the hopper and transferred into a static seawater tank vessel (e.g. 500 litre circular vessel with a flat base) in the nursery area (outside of the hatchery).

This acted as a separation device with the Stage IV swimming to the surface and Stage III lobsters sinking to the base of the vessel allowing the easy collection of the Stage IV's with a hand net. Many of the techniques and structures described evolved over the period of this research.

Observations on aspects of lobster biology pertinent for hatchery consideration are also presented in this report.
Further Reading
October 2009