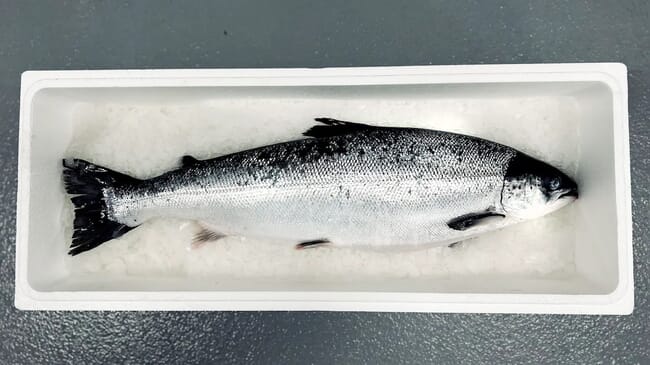 Last week, the first salmon were harvested and packed for sale in the North American market at Quinlan Brothers's processing plant in Bay de Verde in Newfoundland.
Andreas Kvame, CEO of Grieg Seafood stated in a press release: "This first, successful generation shows what enormous potential Placentia Bay in Newfoundland holds for sustainable salmon farming. We will continue to develop our production in Newfoundland gradually and responsibly during the years to come."
The first generation spent around a year in Grieg Seafood's freshwater and smolt facility in Marystown and were transferred to two ocean farms in Placentia Bay in 2022.
The company reports the first generation of salmon has grown well throughout the year. Grieg's Seafood also noted that the good welfare of their fish is a result of their use of deep pens, lack of need for treatments of any form, as well as transfer of best practices from similar conditions in other Grieg Seafood regions.
It was also stated that the first generation has a survival rate of 92 percent, with the annual survival rate of 96 percent for their entire livestock of ocean farmed fish, with plans to harvest the second generation in 2024.
It was also noted that the fish have been farmed with no sea lice issues.
The salmon farmed in Newfoundland will be transported to the growing North American market without the need of air freight, making it a local alternative with low carbon emissions.
"Since 2014, we have been working towards this day, when we are finally able to send salmon grown in Placentia Bay to our customers and consumers. I am pleased with the biological performance of the first generation, including the survival rate as well as strong sea lice control," said Knut Skeidsvoll, managing director of Grieg Seafood Newfoundland.