The Draft GSRMAP's intent is to facilitate ecologically sustainable development of aquaculture in the context of existing legislation. It identifies proposed sites for rack, surface and subsurface lines, and ranching.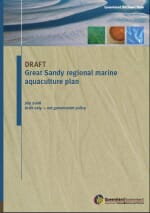 The proposed sites were chosen so as to avoid adverse impacts to the environment and conflicts with other user groups, in accordance with planning principles that were endorsed by a state government Inter-Agency Working Group. The draft GSRMAP is consistent with the entry and use provisions of the Great Sandy Marine Park.

Management controls that are sufficient to reduce any residual risks associated with these aquaculture activities are detailed in the draft GSRMAP and the Implementation guidelines for the Great Sandy regional marine aquaculture plan (GSRMAP implementation guidelines). Management controls for each proposed site include development boundaries, infrastructure design specifications, the requirement for an environmental bond, environmental monitoring program and reporting mechanisms for wildlife interactions, as well as general biosecurity issues.
Benefits of planning
The benefits of planning are that decisions will not be made on individual sites in isolation, regional needs can be developed for each site and stakeholders have input 'up-front' on aquaculture development in the region. Planning will also make sure that consistent standards are set for selection of sites, assessment criteria, and management controls. An additional benefit will be that the return to the Queensland Government for use of public resources is maximised.
The GSRMAP will benefit industry by:
Identifying sites for aquaculture subject to meeting relevant conditions


Reducing red tape through streamlining processes


Providing a higher level of certainty to potential investors and the community regarding aquaculture development within the region.
The Value of the plan to the region
The Great Sandy region has many exceptional natural attributes, including World-Heritage listed natural assets, which have intrinsic and commercial value and host a wide range of activities (including whale watching, diving, and toursim ventures). Hervey Bay and the Great Sandy Strait are nationally and internationally recognised for their outstanding environmental significance. The coastal and marine waters of the region are an important natural resource for commercial tourism and are subject to high levels of commercial and recreational fishing and recreational boating. The area also supports important farmland.

Strategic planning can be an important tool in protecting these values and managing potential impacts on them. Many types of development are managed through regional plans, including:
Marine parks (Great Sandy) zoning plan 2006
— (Environmental Protection Agency (EPA)).
Inshore fin fish management plan
— being developed (DPI&F).
Wide Bay–Burnett regional plan 2006–2026
— being developed (Department of Local Government, Planning, Sport and Recreation).
A review of the ecological character description of the Great Sandy Strait Ramsar Site — being undertaken by Wetlands International in conjunction with EPA.
Country to coast: a healthy sustainable future — being developed (Burnett–Mary Regional Group).
Until now, however, there has been no forward planning for aquaculture development in Queensland, says the Queensland authority. Applications for new aquaculture developments are assessed on a caseby- case basis, with limited opportunity for stakeholder input at an early stage. This gap needs to be addressed.

The Commonwealth Department of Transport and Regional Services has identified the Great Sandy region as a focus for regional economic development. The area is described as a disadvantaged region from a socio- economic viewpoint ('income poor/asset rich amenity-based region'),8 and is therefore a focus for regional development.

The development of a regional marine aquaculture plan benefits the Hervey Bay and Great Sandy region by providing opportunities for interested members of the community to offer comments and valuable input. Planning will give certainty to the aquaculture industry and the community by defining the location, type and scale of aquaculture development in the area.
Support for aquaculture planning in the Great Sandy region
The Draft GSRMAP implements existing policy decisions, and will not involve changes to broad policy decisions.

The Queensland Government has provided for rack, line and sea ranching types of aquaculture (but not sea cages) within the Great Sandy Marine Park. The purpose of the GSRMAP is to determine how best to undertake this future aquaculture development so that it is suitably located and managed.

The subject area for the GSRMAP includes all marine areas within the Great Sandy Marine Park boundaries — Rules Beach in the north to Double Island Point in the south, including 3 nautical miles around Fraser Island.

The Queensland Government is committed to the continued, ecologically sustainable development of aquaculture and has identified aquaculture as a priority sector for the state. It is internationally accepted that the increasing demand for seafood will be met primarily through aquaculture. Queensland aquaculture presently provides only a small proportion of the domestic fresh seafood market and this is globally insignificant. Opportunities exist for aquaculture to fulfil the predicted demand for seafood in the domestic market as well as providing significant potential to develop export markets for high value products.

The Great Sandy region has been identified as a region that, subject to appropriate environmental safeguards, may be highly suitable for marine aquaculture. It has a desirable combination of relatively sheltered — but deep — waters, close proximity to service ports and domestic and international transport centres, and a regional skills base in the marine and seafood processing industries.

In recognition of the value to be gained from aquaculture planning, and complementary to the declaration and zoning of the Great Sandy Marine Park, the Queensland Government decided to prioritise a marine aquaculture planning program for the Great Sandy region.
Further Reading
July 2008