Grape expectations: novel superfood seaweed farm launched in Singapore
A joint venture to farm sea grapes as sustainable superfoods and plant-based proteins has been launched by Blue Aqua International and Stemcell United.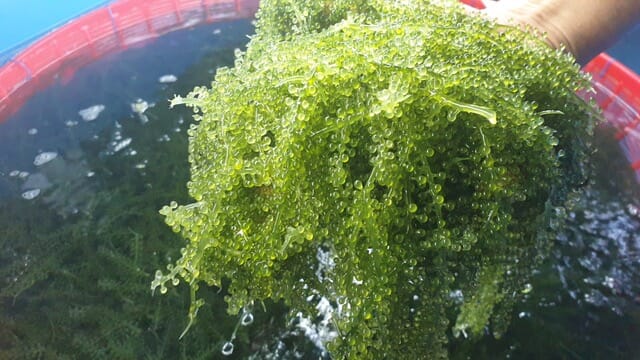 The JV aims to cultivate Caulerpa Lentillifera in Singapore on a commercial scale via the jointly incorporated company SCU Green Aqua Farm.
Stemcell United (SCU), is an Australia mainboard-listed biotechnology and pharmaceutical company which focuses on the development, reproduction, culture and extraction of plant stem cells. It has successfully trialled the application of plant stem cell technology on sea grape cultivation at its research base located in the Marine Aquaculture Centre on St John Island, Singapore. SCU is now moving towards commercial cultivation through the creation of the joint venture with Blue Aqua. The joint venture aims to create an integrated aquaculture farming system, with plans to promote the ocean vegetable's unique qualities as a sustainable superfood and plant-based protein.
On the joint venture with Blue Aqua, Philip Gu, SCU CEO/executive chairman commented: "Since 2009, Blue Aqua has been supporting the aquaculture industry with sustainable and environmentally friendly technologies, and is seeking to ensure sustainable food resources are available for future generation. SCU is honoured to be able to partner with Blue Aqua in making Sea Grapes available to the growing population on a commercial scale, and with the strong belief that Sea Grapes will become part of a recognised balanced diet mix. This partnership will further progress our efforts to make a substantial contribution to the Singapore Government's '30 by 30' initiative, which aims to increase Singapore's local food production from its current level of 10 percent to 30 percent by 2030. The Covid-19 pandemic has added additional urgency to Singapore's food security concerns, which makes this joint venture even more compelling."
Dr Farshad Shishehchian, founder and CEO of Blue Aqua International, commented: "SCU is an established technology company in the plant-based stem-cell business, having experience in traditional Chinese herbs and in hemp. Mr Gu has been a consultant to the United Nations' Food and Agriculture Organisation (FAO), specialising in aquaculture. The synergy with SCU is palpable. Passion and a strong technological partnership is a good recipe for sustainable growth. The joint incorporation of SCU Green Aqua Farm embodies our continual efforts to build a circular economy in aquaculture, starting with our own production systems towards the development of sustainable nutrition globally."