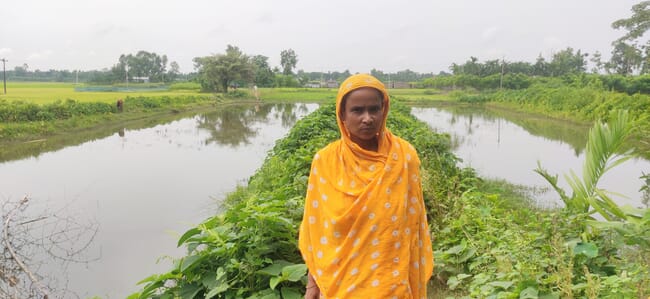 Fazila Begum is a busy woman. She spends most of her time guarding her pond where she has released over 10,000 carp fingerlings – half rohu and half catla – for on-growing.
The 37-year-old, who lives in Pukhuripar village in Kamrup district, had been a homemaker for nearly two decades before becoming a fish farmer in 2018.
She thanks the state government for the transformation.
"It was almost impossible for a poor household like us to think of digging a pond and cultivating fish. My husband works as a labourer and hardly earned enough to run our livelihood. But the welfare schemes initiated by the government for the fishing community have helped me to transform from a homemaker to a farmer and also an entrepreneur."
"The produce is sold to the local wholesalers or the retail market, depending upon the demand and whoever pays the better price. The production cost is around INR 30-35 ($0.47) per kilogram, while the fish are sold at around INR 110-115 ($1.55) per kilogram, bringing good returns. Fish farming has helped me to fund the education of my two children," she says with a sense of pride.

Begum is not alone. Over 10,000 fish farmers in Assam are now making the state self-sufficient in fish, thanks to different schemes run by the state government, coupled with their own hard work.
Assam previously depended heavily on imports from other states, like West Bengal and Andhra Pradesh, but is now exporting fish from its water bodies to other north-eastern states, including Mizoram, Manipur, Nagaland and Meghalaya.
The state has seen strong growth in fish production since 2016, when the new government began to upscale the aquaculture sector.
The major species in the state are silver, common and grass carp, rohu (Labeo rohita), koi (Anabus testudineus), catla (Labeo catla), magur (Clarias gariepinus) and mrigul (Cirrhinus cirrhosus).

At present, annual fish production in Assam stands at 393,000 tonnes, up from 294,000 tonnes in 2016-17.
"We have an overall demand of around 4 lakh [400,000] tonnes in the state, which leaves us with a gap of just 0.7 percent that would soon be bridged. We have also brought around 2,000 hectares of land into fish farming up from just 900 hectares five years ago," said Pratul Deka, a fisheries development officer for the government of Assam.
"The per capita fish consumption in the state has also increased, from 8.5 kg per annum to 11.88 kg per annum in the past five years. Around 95 percent of the population of the state consumes fish regularly," he adds.
India is already the second largest fish-producing nation in the world, contributing about 5.7 percent of global fish production.
In 2019-20, India produced around 14.2 million tonnes of fish which was 13.6 million tonnes in the preceding year, an increase of around 4.35 percent.
Government grants
Government schemes like the Rural Infrastructure Development Fund (RIDF), Rashtriya Krishi Vikash Yojana (RKVY),and Samagra GramyaUnnayan Yojana (CMSGUY) have played a major role in enhancing farmers' incomes and fish production levels in Assam.
Under the RIDF scheme, the farmers are paid Rs 98,000 INR ($1,319) towards covering the costs of digging their ponds and establishing their farms.
As part of the scheme, Rs 22,500 INR ($303) is paid before the start of construction work and the rest is given in phases, as the work progresses.
"The scheme greatly benefitted small and marginal farmers, as it gave them the necessary financial resources to start digging the pond. The rest of the payment is cleared after the officials visit the spot and give a satisfactory report about the ongoing work," said Debnath Medok, another Fisheries Development Officer (FDO) in Assam.
"The government has also developed hatcheries which provide the seeds and feeds to farmers at a subsidy of 80 percent. The rest of the cost is borne by the farmers. There are now 521 fish hatcheries in the state, compared to 450 five years ago. They [the farmers] are also asked to use organic feeds like rice bran, maize waste and others. This not only helps to provide a healthy diet for the fish but also keeps the water clean and maintains its oxygen levels. Besides, the dangers of diseases are also minimised.
"The farmers are asked to use chemical herbal treatment, by mixing lime and turmeric powder in case of the spread of diseases. In one bigha (0.25 hectares) around 10 kg lime and 1kg turmeric is used. The lime is dissolved in water then mixed with the turmeric and spread over the surface of the pond. We face around a 10 percent mortality rate."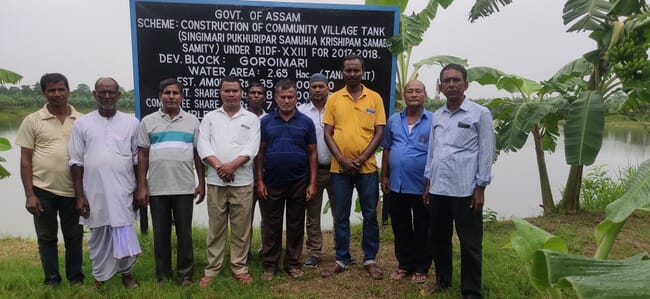 Community farming initiatives
As well as individual farmers, the state government is also working with local community farming projects.
Jaydeb Kalita, who is president of a community tank farming operation in Pukhuripar village, says that his organisation has achieved impressive profits in the past two years.
"We have been doing community fish farming in the local pond for several years. But most of the money obtained from the sales was spent in the upkeep of the pond, its maintenance and payment for security guards. The fish was mostly used for consumption by the farmers and their families, as the production level was not very high."
"But a radical change came after the government started training the farmers. We were also provided feeds and seeds at a subsidised price. It helped us to minimize cost and increase income. We have generated revenue of INR 14 lakh ($18,875) from four tanks in 2019-20 which was just INR 5 lakhs ($6,741) in 2017-18. The income has been diversified to buy land to start banana farming."
The state has around 12,610 individual ponds, covering 1,523 hectares; 4,029 community ponds, spread over 468 hectares; and 1,824 rearing tanks, covering 229 hectares.
Assam has also done a commendable job in seed production– producing around 9.9 billion fry in 2020-21, compared to 5.7 billion in 2016-17. The government has also been promoting cage culture and biofloc farming.
Assam faces severe floods every year, due to changing climatic conditions and soil erosion caused by the River Brahmaputra, which is also known as "the sorrow of Assam". The farmers have been practising innovative methods to continue fish farming by practising cage culture and other forms of farming in the flood prone areas. The state has 51 cage culture arrays, with 10 cages in each array – up from two arrays five years ago.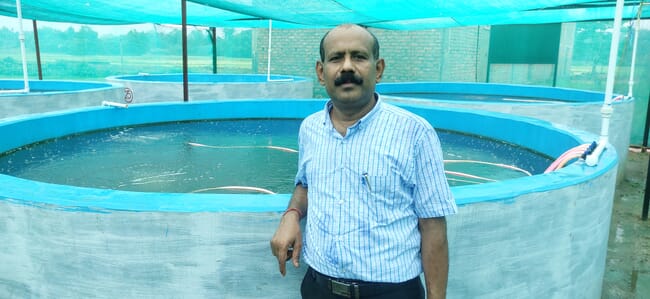 As well as the government, the non-profits have played a significant role in enhancing fish production.
"We have trained over 1,500 farmers in the past three years and have also provided them with seeds and feeds. We distributed around 7.5 lakh (0.75 million) seedlings to farmer this year. The fish are normally harvested after they reach at least 1 kg, which normally takes 8-10 months, to help farmers fetch a better price," said Sarat Chandra Das, secretary of Grameen Sahara, a non-profit working for the sustainable livelihood of farmers.
"The farmers face some issues in winter due to the low water levels in the ponds, but cello pumps have been installed to ensure the steady supply of water. We also provide with them with market linkages and connect them to buyers. There is no danger of poaching here," he adds.
Marketing focus
The government has also paid equal attention in marketing the produce by connecting with technology.
"We have 292 farmer co-operative societies which are being provided technical support and other expertise. They are also being facilitated to sell the fish in Guwahati, the state capital, and its suburbs. We have also started modern retail outlets. Besides, mobile apps have also been developed for people to order online since the Covid outbreak. Home delivery services arranged through phone calls are also available," said DJ Sharma, managing director of FISHFED, the state's apex co-operative marketing agency.
"Besides, complete hygiene is maintained in the cutting of fish and its packaging and selling. We have registered a growth of around 30-40 percent in sales since last year, since the use of this technology."
Despite the overall success, there are still challenges to overcome.
Senior officials have conceded that they are often duped into giving the $303 advances to bogus farmers under the RIDF scheme.
"The government has made a major mistake by paying farmers in advance. This gives an opportunity to fraudsters who take the money but didn't start the work, causing losses to the government. Over 100 cases have been reported where people have run off with the money. This has to be stopped and the money should only be paid after starting the work," said an official who wishes to remain anonymous.
Deka, who concedes that this is a major issue, says they have identified farmers who have not started the work, despite receiving the payment, and are now making an effort to recoup the money from them.