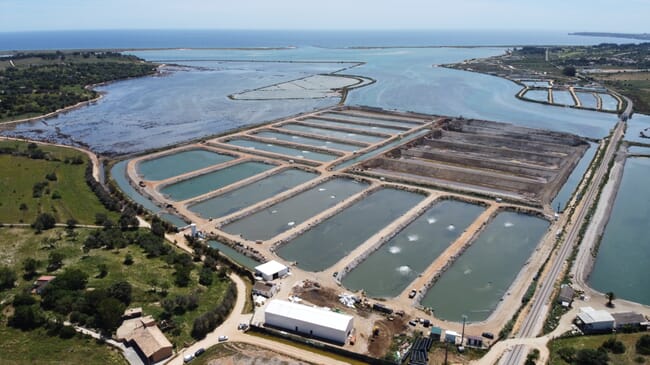 Nearly four years in the making, results from the pilot platform, which has been deployed at a land-based sea bream farm in Portugal, have been encouraging, and its creators are looking forward to bringing more users to the system.
"We've been getting excellent reports from the farmer who's been trialling the system and are now looking at both pond-based and RAS facilities to use the dashboards. The more tech they have, the more they're set to benefit, and RAS is an excellent place to test machine-learning algorithms," reflects Afonso Ferreira.
Ferreira was a newcomer to aquaculture when he founded Sensaway in 2016, but the launch of Blue Edge follows a four-year immersion in the sector and also benefits from the technical savvy he picked up in a former career as an aerospace engineer, as well as the business sense acquired during a stint in private equity.
Ferreira's family owned a sea bream farm near Faro and his introduction to aquaculture came when he moved home to help raise funds for its expansion.
"It was my first real insight into the aquaculture sector and I soon realised that it was a quick-growing industry, but had lots of challenges – there was a huge opportunity for applying more sophisticated technology," he says.
He soon convinced fellow aerospace engineer André Abreu of the needs to be addressed. And the pair, who had met as engineering undergrads, began to talk to local farmers. Much of Portugal's sea bream farming sector is based in flow-through pond systems and Ferreira was quick to note one of the key farm-management challenges that had yet to be addressed.
"No one had a way of calculating the rate of water renewal in the ponds. As the primary mechanism you have for keeping good water quality, we decided to use hydraulics to model how the water was flowing and advise companies where they could improve," he reflects.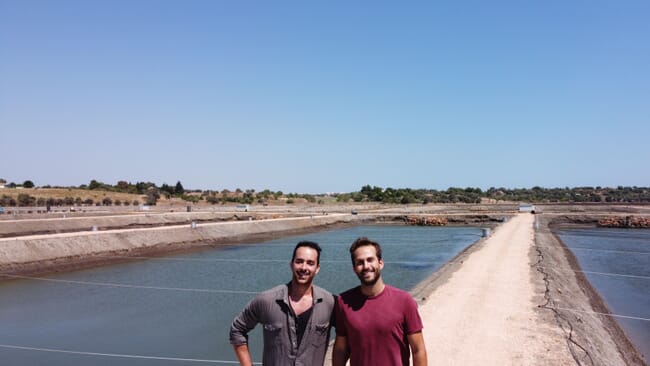 Their early work soon landed them jobs consulting on new farming projects in the region, which reinforced their belief in the need to dramatically step up how data was used in the sector.
"We found it impossible to get good data from existing farms. Even data on the ponds' water levels, which we needed to run our hydraulic models, was really bad, so we decided to develop our own device which we could both use as a product and as a way to get access to data," says Abreu.
As a result they developed a Wi-Fi solar-powered device capable of measuring water-quality parameters – including DO, pH and conductivity – and was launched on the market in 2018. Their first customer was Yalelo – Zambia's largest tilapia producer.
It was while they were developing this product that they were accepted onto the first cohort of Hatch Blue's aquaculture accelerator programme.
"It was a big change in pace. Previously we had only seen pond-based aquaculture, but being part of the programme allowed us to understand how aquaculture works around the world," says Abreu.
It also helped persuade them to move from the development of sensors to software, which was where they wanted to head.
"Halfway through the Hatch programme, we landed a deal to supply our sensors to a company in Zambia, but they had no system to see and analyse the data, so we had two weeks to assemble a cloud-based platform for them," Ferreira recalls.
And while the available tech in Zambia may have been a challenge, they found that fish farmers closer to home were also operating fairly basic systems.
"Many were using tech that looked like it had been made in the '90s – it wasn't cloud-based, it was before the Internet of Things and the era of Industry 4.0, which made the systems not very easy to use, not scalable and hard to access and share your own company's data," says Ferreira.
As a result they decided to develop their own software system. Called Blue Edge, it was piloted at a local sea bream farm in Portugal, where it received very promising reviews.
"They were using two different automation systems, which made them the perfect tester for our platform. We easily implemented Blue Edge in parallel with the current systems, got the data and controlled the farm directly from their electric cabinets with little need for new equipment and no need to reprogram PLCs. They say our system is exactly what they're looking for – it's easy to use, gathers the information you need and can be operated by smartphone," explains Ferreira.
"If a big company wants to change its feeding schedule, under old systems they need to reprogram each feeder – and there can be 40 feeders – feeder by feeder. Changing them all individually takes time and there's margin for human error – there's no easy way you can check if they've all been programmed correctly. With our system it can all be done quickly, accurately and easily with your phone," he adds.
The Covid-19 lockdown has forced them to put their ambitions for a rapid roll-out on ice, as it has prevented them from setting up their system more widely.
"We talk to people about how they want the data to be presented – every farm has its own way of doing things. We want to work with them, adapt to their needs on how to process the data, calculate KPIs and ensure it can all be translated into good management practices," says Abreu.
The concept has met with the different needs of farmers, depending on their set-ups.
"Some farmers have no sensors, some have been adding sensors, some have been investing in automation for more than 10 years. We made a system that works with any data source and is agnostic to the brand of the equipment you already have. We wanted to make it easy to install Blue Edge, minimising the transition cost," Ferreira explains.
The next step for Abreu and Ferreira, once lockdown has been sufficiently lifted, is to have the Blue Edge platform trialled by as many famers as possible.
"We're now looking to improve the commercial side and we want to increase performance and filter ideas from farmers – if they have a necessity that improves our system, we'll do it for free as a means to add to our product. Once we deploy it at a larger scale, we will focus on improving our solution further, taking advantage of the data to improve our machine-learning models and provide even better insights to our customers," says Abreu.
And their ideal triallists will be companies with plenty of technology that Blue Edge can sort through and analyse.
"We want companies that have the tech and the data but are frustrated because they want to do more with them. We make the data easily accessible and shared with other tech companies at our clients' discretion. After all, it is their data and we want to help them unlock its potential," says Ferreira.
"We really want to assess actions and reactions so we see how the water quality, biomass and control variables interact. Once you can predict, you can implement an optimal control solution. We see that as the future for producing fish," adds Abreu.