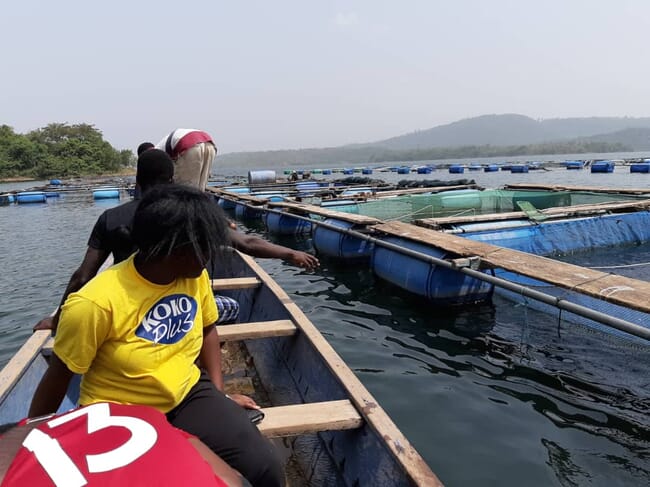 Sales across fish farms went down by over 50 percent, with many farmers accumulating high feed bills due to unsold stocks resulting from the closure of restaurants, hotels, chop bars and food markets. With the recent relaxation of restrictions on movement and business, operators across the value chain are hopeful that things will return to normal in the shortest possible time. Interestingly, there are indications that some businesses managed to do well under Covid-19, and the pandemic may turn out to act as a catalyst for aquaculture development.
With the hospitality industry and food markets closed, a major income source of fish farmers froze. Proprietor of the normally busy Top Restaurant in Accra Central, Alice Attah, explains: "I can't tell you how bad the situation has been. We did some take-away business, but we lost all the numerous customers who flocked in daily."
Naomi Gyasi, a catfish distributor, says: "Personally I didn't do too badly, because I managed to send my stock to the outlying towns, where the restrictions on market activity weren't so strict. But I sympathise with the farmers, because, like several other distributors, I didn't take any fish from them, so they were stuck with large amounts of unsold fish."
Nana Blay Asanco, president of the 100 member Catfish Farmers Association at Asankragua in the Western Region, says: "We've had a stockpile of 20 tonnes over the last three months. We've only just started locating buyers, thanks to the partial opening of business. Our members are small farmers, so the spending on feed has hit them quite hard."
The ban on social activities froze another major source of income. Weddings and funerals are celebratory events in Ghana, Nigeria and most other West African nations, with tilapia and catfish the major items on the menu. Peggy Amoah, a Tema-based caterer, found herself almost idle for the first time in several years.
"This has been a bad experience. I've had to shed 10 of my 12 workers. With the recent relaxation of the restrictions, I am beginning to get a little business. Social activities have been restricted to a maximum of 100 people. I normally serve food to hundreds, with the majority of guests going for grilled tilapia or catfish."
In May, President Akuffo-Addo launched a 600 million cedi ($103 million) Coronavirus Alleviation Programme for small and medium businesses which were negatively affected by the pandemic. Fish farmers are hoping to draw funds from this and a couple of support funds in the pipeline.
Tilapia and catfish prices are yet to recover after declining significantly. The farm gate price of tilapia is currently 12 cedis per kilo, down from the previous 18 cedis, and catfish is now going for 14 cedis, down from the previous 18 cedis. Emmanuel Apeku, head of marketing at Lojaanor – an online fish market – believes that "this situation will exist for a little while as the backlog of fish is cleared. But I expect prices to recover within a couple of months."
He believes that a tilapia shortage is imminent.
"Quite a number of farmers did not start production due to the pandemic, so supply will be limited. Prices will certainly recover during this time," he reflected.
Wisdom Abodakpi, chairman of Cycle Farms, says that the availability of wild tilapia on the market has contributed to the apparent tilapia glut.
"This is the wild tilapia season. Although they are not as abundant in the rivers and lakes as before, they are in season. However, by December, both supply and demand would have evened out. Farmers usually time production to coincide with the huge Christmas demand, when customers will pay decent prices," he said.
There is confidence that the industry will make a quick recovery. Operations across the value chain are picking up and most respondents believe that – overall – the sector hasn't done too badly, and that 2020 could well be the year in which it gains momentum.
Tackling ISKNV
Tilapia production on Lake Volta, which has accounted for over 90 percent of Ghana's aquaculture output for several years, suffered badly as a result of the disease outbreak. From the latter part of 2018 till the close of 2019, farms on the lake were hit with the ISKN virus, leading to the closure of over 50 farms, the loss of over 400 jobs and disruption of production across the value chain, and of the livelihoods of people in the many communities along the lake.
The Government forecast a doubling of aquaculture production to 100,000 tonnes in 2019, but actual production reached only an estimated 50,000 tonnes. The figure would had been lower, were it not for the increasing prominence of catfish production.
On 30 December 2019, government launched a 12 million cedi ($2.2 million) National Tilapia Vaccination Programme, which is being implemented across farms on Lake Volta over a three-year period to deal with the problem.
Some farmers have used heat treatment to deal with the effects of the virus, with some positive results. They believe that hyperthermia gave the immune system of the fish in the lake a badly needed boost. By the outbreak of Covid-19, many farms had restored production beyond 50 percent, and it was expected that production would approach normal levels as the vaccination programme progressed.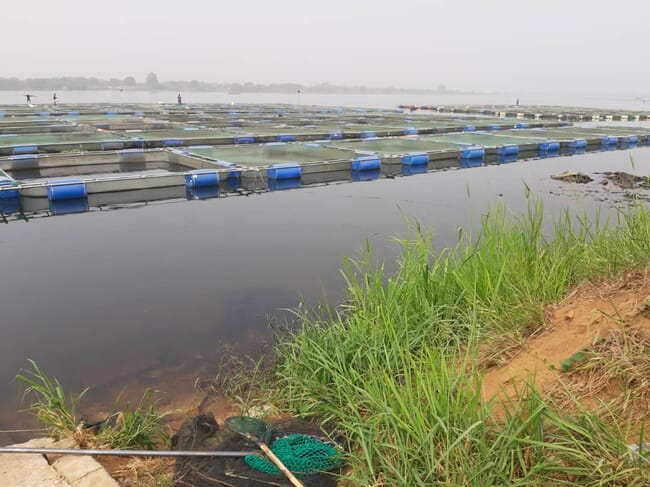 Online entrepreneurs
In spite of the general gloom created by Covid-19, it appears that the pandemic encouraged creative business ideas. Lojaanor's Emmanuel Apeku says that his company saw a significant increase in business during the lockdown.
"We did some good business, and I'm confident that this trend will continue even when things get normal. Online purchasing will become a regular part of the fish marketing system".
Other recent entrants in the online business are also doing well, with attractive flyers very common on social media, offering interesting tilapia and catfish packages. Many restaurants are doing increased home deliveries.
Jennifer Sodji, CEO of Worlding Farms and president of the Ghana Aquaculture Association, is confident about the future.
"A number of enterprises in the online market business have sought to sign contracts with us. We haven't been able to do previously. That is certainly an indication of where business is heading," she says.