In response to this SkyFox, which operates in several West African countries, recently held a consultation with industry stakeholders on strategies for marketing and processing at its head office in Accra. Attendees included the directors of Cluster Farming, a Dutch-owned Ghana-based farming hub; officials from SNV, a Dutch aid agency which is promoting improved fish smoking technologies; personnel from Pro Fish, an online fish marketing company; and representatives of Aquatic Foods, a tilapia processing company. This consultation was followed by a visit to Cluster Farming's operations HQ at Ekumfi Ekrawfo on 6 December.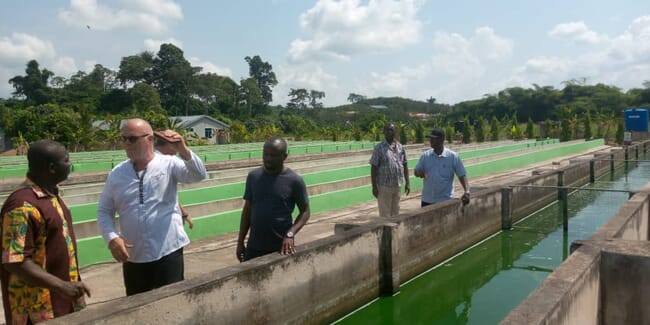 Patrick Apoya, CEO of SkyFox, said that the consultation was necessitated by the increasing volumes of farmed fish being produced in Ghana.

"We need to find and maintain markets for the fish we are processing. We need to link up with the industry operators who are already doing remarkable work in processing and marketing. There's a lot of scope for increasing local patronage of farmed fish, and we must work together to promote the export of aquaculture products," he said.
Emmanuel Kwarteng said that in the last few years SNV had been promoting the use of two fish smoking technologies – the FT Thiaroye oven developed by the FAO; and the Ahotor oven, developed by SNV with funding from USAID. These two methods were promoted because traditional methods require a substantial amount of wood fuel and end up embedding a substantial amount of carbon in the fish.
"Crucially, the use of traditional ovens involves the release of high levels of polycyclic aromatic hydrocarbons (PAHs), which make them unacceptable for sale in the international market. The FT Thiaroye and Ahotor ovens satisfy the guidelines of the Codex Alimentarius Commission, so they can be used to smoke fish for export."
Kwarteng said that with the increasing production volumes of farmed fish in Ghana, SNV is seeking to work with fish farmers and processors.
"Currently, artisanal fish catches are quite low, but aquaculture production is quite promising. We want to help ensure that tilapia and catfish are smoked with these newer technologies. Ghanaians and Africans eat more smoked fish than fresh, so it's important that their fish is processed in the most healthy and tasty fashion. And crucially, Ghanaian fish farmers and entrepreneurs are targeting the export market. These two smoking technologies will facilitate that effort. As we did with the artisanal sector, we will be organising programmes to encourage fish farmers and processors to use them".
Pro Fish and Aquatic Foods both believe that there is substantial potential for adding value to aquaculture products. Through its online platform Lojaanor (fish market), Pro Fish supplies fresh and processed tilapia and other types of seafood.
Emmanuel Apeku, director of Pro Fish, says: "We are receiving increasing, substantial orders. It is therefore important that we strike appropriate relationships with fish farmers and other operators in the value chain".
Aquatic Foods have been processing tilapia into sausages, kebabs, pate and "koobi", a salted delicacy that is present in most West African soups and stews.
Mabel Quarshie, CEO, says: "We would like to work closely with others in the industry. We have been buying raw materials from Cluster Farming and we have discussed a joint processing project with SkyFox. But our big target is the export market. There are many Ghanaians and Africans in Europe and America who would like to enjoy smoked tilapia and catfish. We also have our eyes on the fillet market. We are doing well on the domestic market. We now need partners to enable us expand'.
Gerrit Valkenburg, CEO of Cluster Farming, said that Ghana provides a good production base for exporting aquaculture products. "We did an export trial of smoked catfish, and it was successful. We are gearing up to engage our satellite farmers in full scale production. We are in the process of installing state-of-the-art equipment to do fillet processing for export. Again, our initial enquiries have been positive. We are also targeting the Nigerian market, where there's a sizeable supply gap."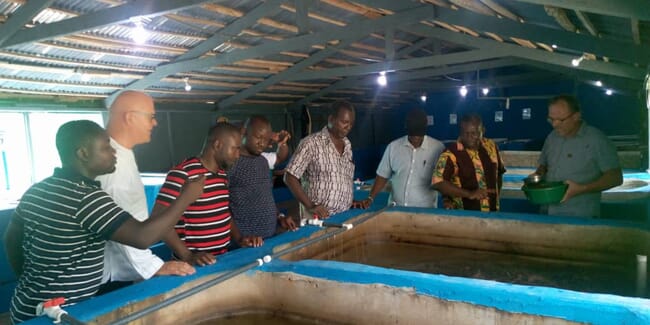 Interestingly, Valkenburg believes that Ghanaians must be encouraged to enjoy more fresh farmed fish, especially catfish. Traditionally, Ghanaians eat a lot of smoked catfish, but only a small segment eat it fresh.
"Fresh catfish is very tasty. We must encourage Ghanaians to enjoy it. I believe that if the catfish production sector comes together, we can have a positive impact on customers' habits, which will be good for the business," he reflects.
Point and kill
In the last few years, Ghanaian diners have been enjoying Nigerian catfish delicacies, thanks to the introduction of "point and kill" joints, where customers can select a live fish from a tank, which is then grilled or cooked in hot pepper soup and served with a choice of rice, yam or garri and vegetables. Previously, these joints were mainly patronised by the large Nigerian community in the urban areas, but increasing numbers of Ghanaians are going to, and operating, places like these.
After the tour of Cluster Farming's facilities, Apoya said that the technologies being deployed there provided a good framework for collaboration in the near future.
"We have discussed joint social intervention projects which will improve nutritional standards and create income generation opportunities in rural areas. We are also discussing integrating Cluster Farming's technologies in our projects across West Africa. I can tell you, we are going to be very busy from now on," he said.