The farm, which is one of Ghana's best-known tilapia hatcheries – providing fingerling to farmers in Ghana, Nigeria and South Africa – has been running training courses for fish farmers for some time, and also provides practical training for aquaculture students at a number of universities.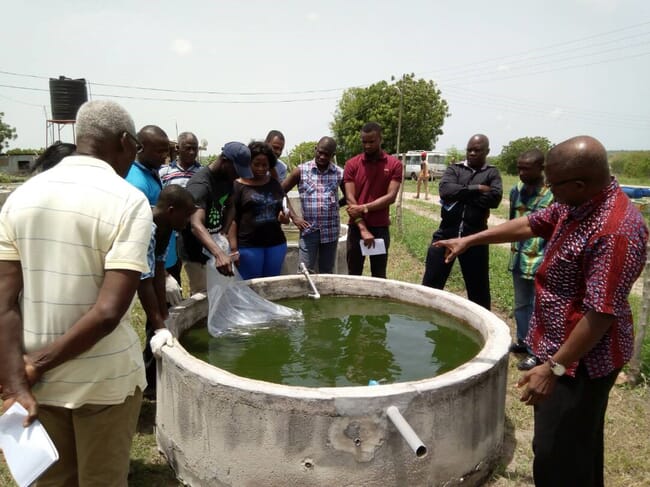 Jacob Ainoo-Ansah, CEO of Ainoo-Ansah Farms, says that the course is expected to fill a yawning gap in knowledge and skills transfer to the fast-growing aquaculture sector in Ghana and beyond.

"But we believe it is time to increase the depth and quality of our programmes. Moreover, we would like to cover the many farmers and fish farm personnel who are unable to attend courses and upgrade their skills," he explains.
Aquaculture is becoming increasingly crucial to African economies in recent times. Fish catches in Africa have declined substantially over the years, and most nations import huge amounts of fish. Nigeria produces only 1.2 million tonnes of an annual demand of 3.2 million tonnes; Ghana produces only 400,000 tonnes of the 1 million tonnes needed; Kenya produces 150,000 tonnes per year, leaving a supply gap of 800,000 tonnes. And Tanzania only produces 336,000 tonnes out of the annual demand of 730,000 tonnes. Most African countries are therefore implementing strategies to promote aquaculture.
Whilst most fish farmers complain that the main hindrance to their increased production is the high cost of feed, many experts believe that the low level of skills among farmers is the real culprit. Ainoo-Ansah believes that it is time to change this situation.
"Commendably, governments and farmers are interested in improving the performance of aquaculture. More young people are entering the industry. But the level of skills is very low. That is why we are starting this programme. Fortunately, we have a reputable partners with world class experience and facilities to train our fish farmers online," he says.
The programme will start with a certificate course with certification from Council for Technical and Vocational Education and Training (COTVET), Ghana. It is flexible and participants can complete the course in their own time. In addition to learning online, participants will also be able to take part in practical training on partner fish farms.
"There should be a fish farm with good quality facilities close to participants, from where they can gain practical knowledge," Ainoo-Ansah says.
He is looking forward to extending the course to other African countries in the near future through collaborations with selected farmers and universities.