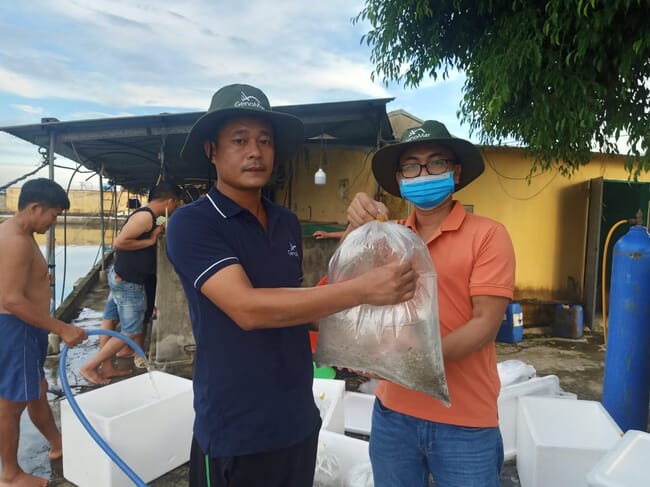 GenoMar Genetics Vietnam (GGV) recently established a new production base in the Tay Ninh province and has hailed the debut delivery from the facility as a significant milestone.
"We are very impressed by the agility and execution capabilities of our Vietnamese team, despite the challenges brought by Covid-19," said Alejandro Tola Alvarez, CEO at GenoMar Genetics Group in a press release.
"We imported specific pathogen-free (SPF) tilapia larvae parent stock from our nucleus facility in the Philippines in March 2021 and delivered the first fingerlings from the new site in August 2021. Having products in the market in such a short period of time reflects the tremendous effort the team has made to carry out our plans," he added.
The hatchery boasts biosecurity, all year-round production, and superior genetics to support the development of a sustainable tilapia industry, according to GenoMar.
"The facility is strategically located and designed to maintain a steady supply of SPF eggs, larvae, and fingerlings throughout the year. This is two of our most important values for successful farming," said Nguyen Van Trung, general manager at GGV.
Most of the fingerlings in the market now are either produced in northern Vietnam or imported from China. The supply from these areas is seasonal, as the climatic conditions inhibit tilapia reproduction and production of eggs for part of the year. Furthermore, with most of the tilapia fingerlings being imported from China, GenoMar argues, securing disease-free starting material is a real challenge and an area where GGV intends to make strong contributions.
"As a primary breeder at the top of the value chain, we take health management very seriously," Trung explains. "The Vietnamese parent stocks are SPF, the facility is designed with biosecurity principles, and we are implementing comprehensive health management plans and metrics."
The fingerlings have been produced from the 30th generation of GenoMar's broodstock in Asia.
"The fish has been bred for fast growth and general robustness from the early beginning and is also specifically selected for resistance to Streptococcosis and fillet yield," says Anders Skaarud, who works as a senior researcher at Genomar's labs in Norway.
"We are noticing strong interest in the market for our products, to a point where all our expected production for the next months is already sold out. The focus now will be to follow up the performance of the fish under Vietnamese farming conditions and open a second hatchery farm in the Red River area in northern Vietnam," Trung reveals.