When he decided to set up a tilapia and catfish farm for his troops Captain Isaac Frimpong, coordinator of Ghana's 66 Artillery Regiment, first and foremost had his soldiers in mind.

Most of his military colleagues were earning modest incomes and lacked marketable skills, and in providing them with experience on a fish farm, he hoped to ensure they would be able to earn decent incomes on retiring from the armed forces. However, from such modest objectives, the project is now set to evolve into one of Ghana's largest aquaculture ventures, and the site is to become a major national centre for training young people in fish farming.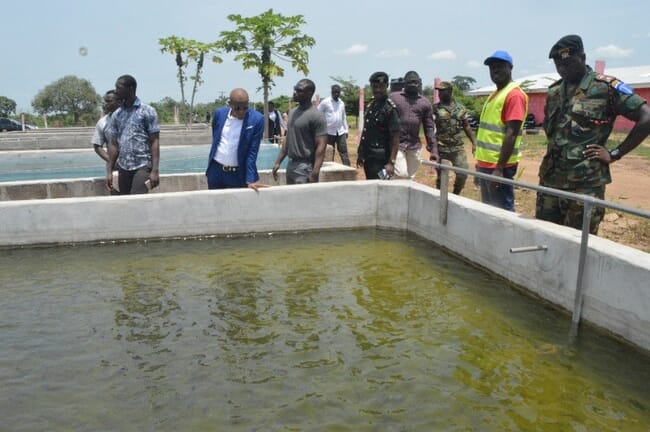 The 12.5-hectare site currently consists of 116 5-by-10m intra cooler sandcrete ponds, a modern hatchery, sedimentation tanks, boreholes and storage tanks. But Captain Frimpong now says that he aims to construct 525 ponds, "which would make us one of the largest fish farms in Ghana". The farm is being managed under a public-private partnership arrangement by IC Agritech SEDEP.
Vertical integration
Far from sitting back and consolidating what has been achieved so far, the captain has plans for the farm to become more vertically integrated – expanding into feed production and on-site value-added processing of the fish.
"We are positioning ourselves to become self-sufficient in feed production and adding value to the fish we produce so we can target the export market. Our aim is to become a game-changer in Ghana's aquaculture scene, in the shortest possible time," he says.
Modern equipment for processing tilapia for local and foreign markets is currently being installed. But, while he appreciates the substantial size of the developing market for tilapia in Ghana, Captain Frimpong believes that catfish could be the real game-changer in aquaculture.
"Traditionally, catfish has been a major component of African diets. We eat it smoked, dried, salted... We are using modern equipment to produce good-quality, processed fish so we can target the huge markets in the US and Nigeria. And we should start exporting substantial quantities very soon."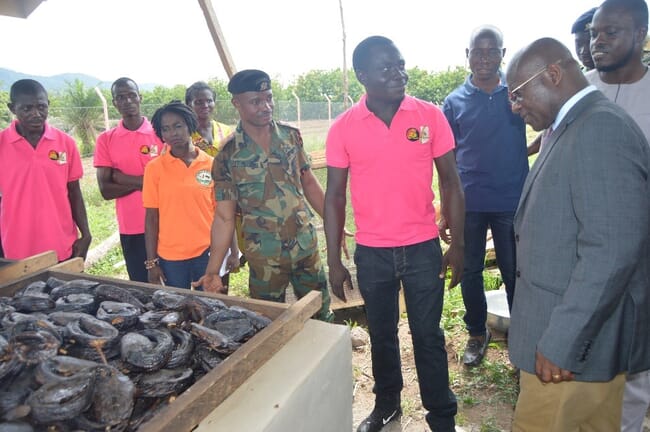 Presently, the farm buys commercial feed, but a new feed mill is undergoing a test run. Work has started on a 500-acre plot for the cultivation of maize and soya to provide raw materials for the feeds – importing these is hugely expensive – and water containing nutrients from the fish farm will help irrigate these crops.
The regiment has also signed an agreement with Ghana's Youth Employment Agency (YEA) – in exchange for funding, the regiment has pledged to provide an initial 1,000 young people annually with training in aquaculture, followed by funding to start their own aquaculture projects. The CEO of the YEA, Justin Kodua, believes that the provision of quality training and start-up capital to a critical mass of Ghanaians will boost fish farming in Ghana.
The project also provides a valuable template for implementing similar projects across the armed forces. Low wages among non-technical soldiers, who comprise the bulk of the military, has been an issue of concern, a situation further complicated by the fact that soldiers normally retire earlier than people in other professions.
Captain Frimpong believes that his original aim of providing income support for soldiers in the 66 Artillery Regiment has been taken care of.
"Our project has given them hope: they can acquire training in mainstream aquaculture, or in providing support services. We are also training their children and other dependants," he says.
But the project is looking much further ahead.
"Very soon, hundreds of young people will pass out from here to start successful fish farms, to make Ghana self-sufficient in fish production," he explains, "as well as earn valuable income from exports to the US, Nigeria and other markets."
Taking off
More recently the Nigerian Air Force (NAF) launched its own programmes to train the dependants of air-force personnel in aquaculture in Kaduna and Lagos on 24 and 25 April respectively. The Base Youths Empowerment Through Agriculture (BYETA), started by the Chief of Air Staff, Air Marshal Sadique Baba Abubakar, aims to provide employment for the large number of unemployed youths who hang out at the barracks.
At the Kaduna launch, Air Commodore Ismaila Yahaya, commander of the 453 Base Command, said that the programme was being expanded to include wives of air force personnel who were interested in fish farming. He said that the trainees had formed a cooperative society to enable access to federal-government loans to start their farms. And at the Lagos launch, the air force's Officer Commanding, Logistics Command, Air Vice Marshal Nnamdi Ekeh, said that aquaculture training was a rewarding engagement that would help curb social vices among unemployed youth at military barracks.
Tokunbo Emokpae, Ghana's director of fisheries, commended the air force for the initiative, and said the state government would offer similar training to other young men and women.