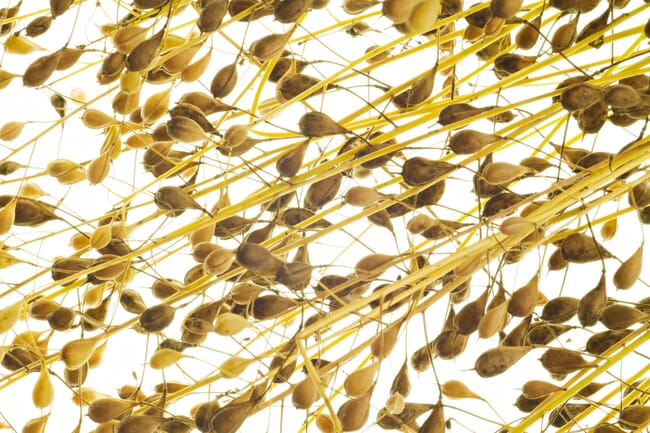 The strain of Camelina sativa has been developed by Rothamsted Research and hopes for commercial production have been ramped up following a collaboration agreement between the UK-biotech institute and Yield10 Bioscience.
Containing high levels of both DHA and EPA - key long chain omega-3 fatty acids - the strain has been developed in order to closely mimic the composition of fish oil. Under the agreement, Yield10 will provide support to Rothamsted's ongoing research, including further DHA and EPA trait improvement, field testing and nutritional studies. As part of the agreement, Yield10 has an exclusive two-year option to sign a global, exclusive or non-exclusive licence agreement to the omega-3 technology.
"We are very pleased to have recently announced our collaboration with Rothamsted Research for the advancement of technology that enables the land-based, sustainable production of omega-3 (DHA +EPA) oils for use in aquaculture. There is a significant market opportunity for the development of plant-based feeding solutions for the production of fish, particularly salmon, for human consumption," said Dr Oliver Peoples, president and CEO of Yield10 Bioscience, in its recent Q3 report.
"The technology has demonstrated the DHA + EPA omega-3 trait in Camelina and is highly complementary to our own Camelina Platform. The key objective is to support Rothamsted's continued research as they further optimize the DHA + EPA omega-3 trait as a drop-in replacement for southern hemisphere fish oil and conduct field tests and feeding studies. Yield10 will develop a strategic business plan with an initial focus on South America," he added.