Delivered my Professor Mannfred Weidmann from Stirling University his warnings of how rapidly viruses can evolve were hard to take lightly were leant more than a small certain degree of gravitas by the fact he had worked tackling Ebola in Guinea prior to moving into fish research four years ago.
One of his key themes was how stress in fish not only makes them more susceptible to viral infection, but also allows virus to evolve, and he covered the latest updates on viruses including how the evolution of IPN in salmonids was being sped up by the use of vaccines and breeding programmes that selected for salmon with QTLs that made them more resistant to the current prevalent strain and how nodaviruses in sea bass in the Western Mediterranean had evolved to infect sea bream in the Adriatic.
He also mentioned the emergence of and two new orthomyxoviruses, including pilchard orthomyxovirus (POMV), which can be transmitted to farmed fish from wild pilchard, an outbreak of which led to cull of 100,000 juvenile salmon in Tasmania in December 2017.
Other warnings consisted of "a whole new troop of PRV viruses which are emerging and are bound to cause challenges in the future" and the continued spread of tilapia lake virus (TLV), now called tilapia tilapinevirus, which has now been found in tilapia in Ecuador, Columbia and Egypt, US, Peru, China, India, Thailand amongst other countries and was detected in Peru for the first time two weeks ago. He also warned that the intensification of carp cultivation in China is likely to lead to huge increase in Carp Herpesvirus 2.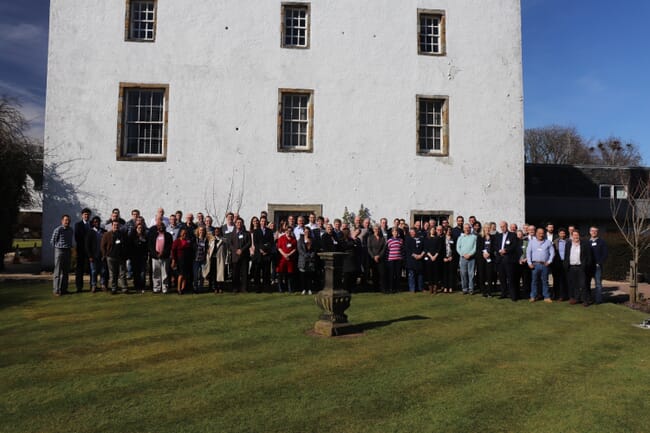 The two-day FVS conference, held just outside Edinburgh, offered a number of valuable insights into ways to improve a range of fish welfare issues and attracted a full house.
Most of the talks considered innovative ways to reduce stress, minimise disease and improve the survival rates of farmed fish. Highlights from yesterday included a talk on Benchmark's pioneering CleanTreat system, which can deliver bath treatments without releasing any chemical residues into the sea, and talks from the head vets of Norway and the Faroes, who compared ways to try to minimise the threats posed by infectious salmon anaemia (ISA) in their respective states.
Another session of note was devoted to helping to ensure the welfare of fish at the point of harvest – in other words trying to ensure that fish farmed for human consumption are killed as humanely as possible. Compared to the slaughter of pigs, sheep and cattle the killing of farmed fish has received less attention from consumers and animal activists, despite an estimated 147 billion being killed globally each year. And this session highlighted how imperative it is to minimise the stress of slaughtering – not just from a welfare perspective but also, for piscivores and fish processors, to ensure that the quality of the final product is as high as possible. Many forms of aquaculture are still in their relative infancy, but thankfully a range of humane slaughtering machines – that use either percussive stunning or electrical currents to stun the fish prior to slaughtering – are now available. However, as Krzysztof Wojtas from Compassion in World Farming observed, more fish harvesters need to adopt these methods – too often the legislation, even in the EU, is ignored.