Feed efficiency system lands VC funding
Aqua-Spark, the pioneer investment fund focused exclusively on sustainable aquaculture, today announced its investment in the Norwegian technology company CageEye. With the funds, CageEye will invest in R&D, grow its team and expand its customer support network.
As a software and hardware developer focused on farm management, CageEye is known for its echo-sounder technology – which uses acoustic data and machine learning to measure and analyze biomass movements. This enables farmers to make informed decisions about the welfare of their fish, and automate and optimize common procedures, such as feeding.

The current iteration of CageEye's echo-sounder is focused on improving the salmon industry's feeding practices, as feed is the single biggest cost input for any aquaculture operation. Inexact feeding regimes result in over or under feeding, which leads to: significant feed losses, higher feed conversion ratios (FCRs), and slower growth. Even though the Norwegian salmon industry has some of the most advanced feeding practices, there is still a significant potential for improvement.
Long-term, CageEye aims for its innovations to reach more species and the aquaculture industry at-large.
"Current market practice is to use optical underwater cameras, which cover a very limited field of view and lead to highly subjective decisions," explains Bendik S Søvegjarto, CEO of CageEye. "Our acoustical system covers the whole feeding zone and makes consistent decisions meal after meal, which improve as we continue to train our models on growing datasets of salmon behavior and accompanying feed operator decisions."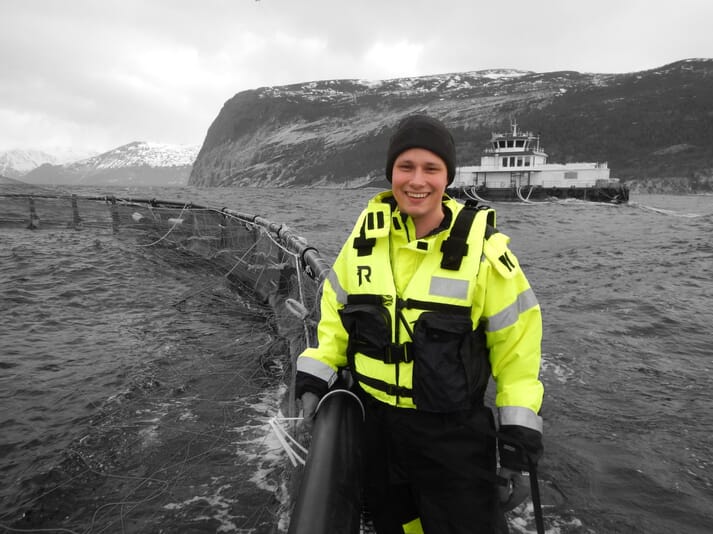 "Aqua-Spark provides long-term equity with no defined exit horizon, and the funding enables us to scale our team even faster, increase the customer value we deliver and allow on-boarding of new selected customers," comments Ivar Strand, chairman of CageEye.
"We are very excited to have Aqua-Spark on our team with their vast network and expertise within seafood, beyond salmon which is our current focus," Søvegjarto adds. "Aqua-Spark also aligns very well with our core value of sustainability and shares our vision on how to feed a growing population without sacrificing our planet or the environment"
"Improving feed and addressing feed loss have been a priority within our portfolio from Aqua-Spark's inception, as it's the greatest challenge for any fish farm," said Mike Velings and Amy Novogratz, co-founders of Aqua-Spark. "With CageEye, we're able to support improvements in cage farm management, including how feed is distributed. Beyond this, we're excited to see how their behavior assessment technology will impact other areas of farming as the company matures."
With this round, CageEye has raised a total of €5.3 million in funding and grants since 2016, when it first began to offer its products for commercial use. This includes a recent investment from Breed Reply. The company has also already secured a total of €2.5 million in funding for 2019.
Since 2015, Aqua-Spark has made 16 investments in 13 complementary SMEs including SognAqua, Calysta, eFishery, Chicoa Fish Farms, Matorka, Indian Ocean Trepang, Hatch and XpertSea.
The fund currently has €49.2 million under management, dedicated to investments in elements of the aquaculture industry that will make fish farming sustainable. The goal of the fund is to grow to €1.5 billion by 2025.