Fears over mass tilapia mortality incident
Tilapia farming was a hot topic in Ghana last week after photos and videos of large numbers of dead tilapia at the Asutsuare farm of a Chinese company, China Fujian, went viral on social media.
Carl Fiati, a Director of Ghana's Environmental Protection Agency (EPA), received a report from Fujian they were recording substantial moralities which, they believed, was the result of the discharge of poisonous effluents by factories in the Asutuare Area. Fujian said that their mortalities amounted to 40 tonnes.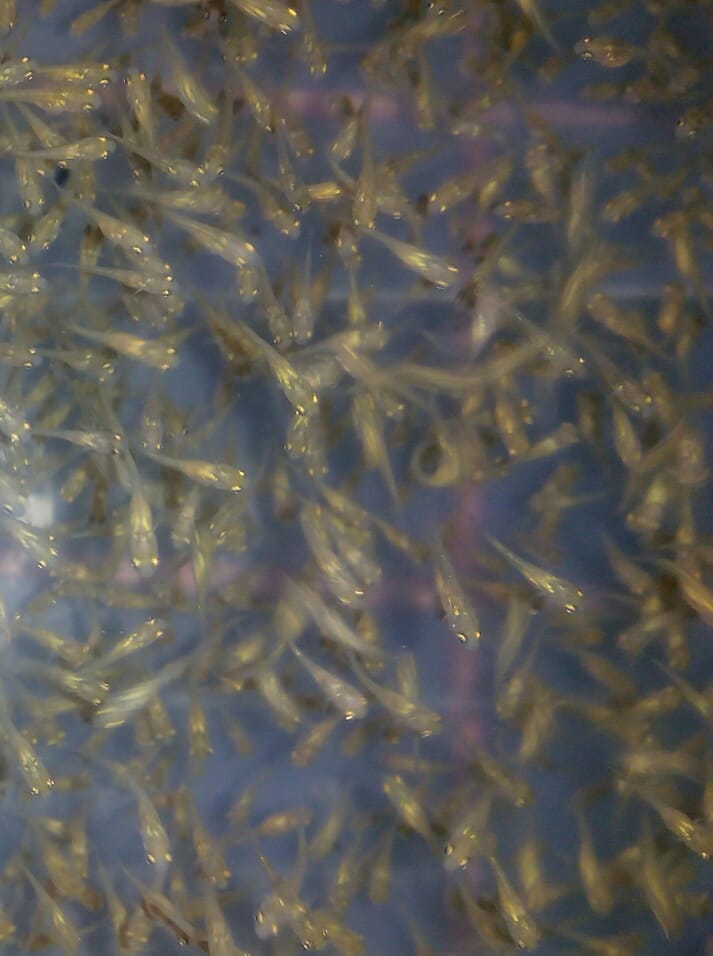 Acting on this report, the EPA placed a ban on products of Fujian, supervised the destruction of the dead fish and took samples of the fish and water. The Ministry of Fisheries and Aquaculture, the Aquaculture Research and Development Centre (ARDEC) also took samples. Apart from tests in local laboratories, some of the samples were taken to laboratories in Singapore and Europe for analysis. Officials of the National Disaster Management Organization (NADMO) moved to secure the factory area. There were rumours that some residents of nearby communities had uplifted quantities of the fish, with the intent on smoking or salting them for sale, but officials of NADMO say that insignificant numbers went missing.
Mr Fiati, however, ruled out the possibility of poisoning, because an inspection of Lake Volta did not show any sign of dead fish.
"If it was poisoning, there would have been dead fishes floating in the water. So straightaway we rule out poisoning," he said, adding that the mortalities "could be the result of pollution, shortage of oxygen, intensive stocking and high temperature or poor housekeeping."
Dr Seth Agyakwa, Director of the Aquaculture Research and Development Centre (a Unit of the Water Research Institute of the Council for Scientific and Industrial Research), is of the same view. ARDEC, he said, is also carrying out tests to find out the cause of the deaths. But he believed that "massive investment in limited space" was a likely cause.
The news of the dead fish has affected consumption of tilapia, usually a very popular Ghanaian delicacy. At the Tema tilapia market, a major distribution centre for the fish farmers, sales were very low. Marian Dodoo, a retailer, called on all stakeholders to help restore calm on the market.
"If this continues, it will cause havoc on the market. The fish farmers, the distributors and retailers, the catering industry, will all be affected. This is one incident that happened on only one farm. Why must we be punished for it?," she said.
The panic may be related to earlier reports of poor quality tilapia being imported mainly from China. In recent times, fish farmers have complained about the presence of some of their colleagues harvesting tilapia of "strange origin" in three months. Dr Peter Ziddah, Director of Fish Health at the Ministry of Fisheries and Aquaculture, complained that even though importing tilapia was banned, significant quantities were finding their way onto the market. He said that some customs officials were not able to differentiate between local tilapia and other types of fish. He was even more worried that fingerlings were being smuggled into Ghana in oxygenated bottles.
Jennifer Sodji, President of the Ghana Aquaculture Association, whose members produce 90 percent of Ghana's farmed fish from their cage farms on the Volta Lake, assures the public: "Ghana's tilapia is completely wholesome, continue to enjoy it".