Over 100 tonnes of tilapia have been lost by cage farmers since mid-November, and there are signs that this may continue, which could put a dent in government ambitions to double the country's aquaculture production to 100,000 tonnes a year.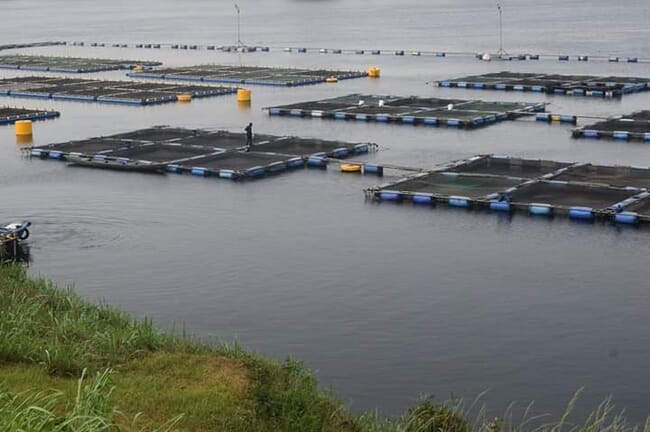 Previous reports have focused on the presence of Streptococcus agalactiae as the cause of these mortalities. However, Ridgeway Biologicals, a UK-based vaccine producer, has identified over seven additional pathogens on Lake Volta known to cause mortality in tilapia. There is certainly alarm across the aquaculture value chain, and urgent steps will have to be taken.
On December 12 Kwame Safo of the Ghana Aquaculture Association called on the government to provide vaccines urgently to deal with high mortality levels. He also asked for government intervention to deal with the "dodgy practices of some farmers" on the lake, which could be causing this problem – with some farms recording moralities as high as 30 per cent. They feared that if urgent action was not taken, the problem would spread to other farms.
National vaccination strategy
The Ministry of Fisheries and Aquaculture is preparing to mount a National Tilapia Vaccination Programme to deal with the fish diseases. Peter Akpaglo, aquaculture consultant at the Association of Church-Based Development NGOs, which is implementing a $12 million aquaculture programme in the Upper West and Upper East Regions, says: "We are monitoring the situation on the Volta Lake. Our cage farms are doing very well, and we cannot afford any derailment of our efforts. We are taking steps to prevent the infiltration of foreign breeds on our projects, which we believe is causing part of the problem on the Volta."
Officials of the Akosombo-based Aquaculture Research and Development Centre, a unit of the Council For Scientific and Industrial Research, have expressed concern about the situation. They welcome the rolling out of the national tilapia vaccination programme, which would deal with the disease problem. But they believe that the real cause of the problem is the illegal import of disease-carrying tilapia seed.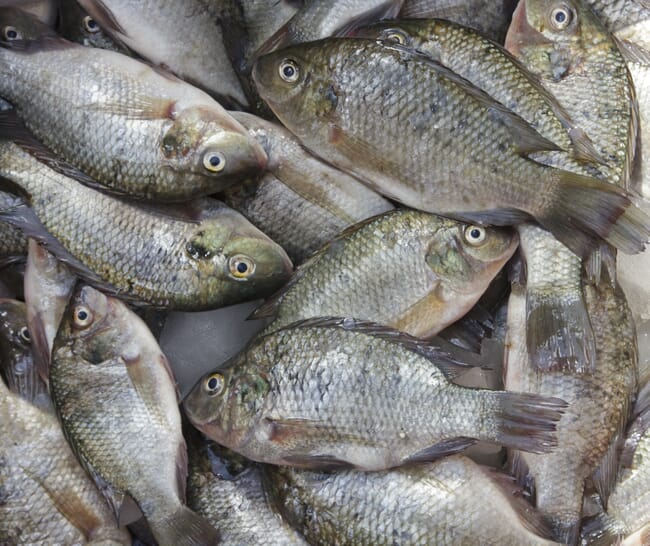 Ghana's laws restrict tilapia farming to the Akosombo strain, which was developed by the Aquaculture Research and Development Centre (ARDEC) in collaboration with some foreign partners. Hatcheries can only keep Akosombo strain brood stock, and ARDEC also produces fingerlings for the market.
Some fish farmers have been calling for deregulation to enable them import tilapia strains which they believe are more productive. Sam Mensah, a cage farmer, says: "Whilst we are producing tilapia [from fingerling to harvest size] in seven months, I know some farmers who are doing it at least twice a year [ie growing fish to market size in six months]. This shows that the regulations are not working, so government should change the rules, and enable us all to compete fairly."
Dr Peter Ziddah, Head of Fish Health at the Ministry of Fisheries and Aquaculture, has complained that laxity at the ports of entry have made it possible for foreign tilapia strains to enter Ghana. He said that foreign fingerlings are imported in oxygenated bottles small enough to fit in suitcases.
Dr Francis Anani of ARDEC believes that it very essential that the Akosombo strain be protected.
"We hear calls for the liberalization of the industry to allow other species to come in. It must be pointed out that the genetically improved farmed tilapia (GIFT) species, which is believed to be superior to the Akosombo species, was developed over 20 years. The Akosombo species has recorded significant success in less than ten years. It must be assisted to develop. Moreover, some of the purported advantages of GIFT are not real. The Akosombo strain produces more fingerlings, and has a higher survival rate. And, significantly, it is particularly suited for our environment. Foreign breeds are not suited to this environment. They carry a high disease risk. Tilapia diseases have wiped out whole tilapia populations elsewhere, and we shouldn't allow that to happen here."
Early this year, the Ministry of Fisheries and Aquaculture established a committee of experts to review the issue of whether to allow imports of foreign tilapia strains. It is yet to present a report.
There is general concern among consumers about foreign tilapia breeds. Apart from the use of foreign tilapia breeds on some farms, fish farmers also complain about the import of table-ready Chinese tilapia. Although most consumers find the local tilapia tastier, some favour the cheaper Chinese fish.