Farming replacing hunting
With only a proportion of the total seafood available being currently certified as sustainable, this has the impact of reducing the supply available to meet a growing demand.

If we can farm the land, why can't we farm the sea and inland waters? CONSENSUS partners are convinced that aquaculture can work in harmony with the environment to create a sustainable source of seafood to satisfy increasing demand.

Aquaculture has unique advantages for the discerning consumer:
Sustainability: aquaculture is an increasingly sustainable complement to the traditional fishing industry.
Safety: seafood produced by aquaculture lends itself far more to quality control than product harvested from the wild.
Affordability: seafood produced by aquaculture is generally more affordable than fish caught in the wild.
Traceability: cultured products can be traced back right to the egg and to the parent fish.
Biodiversity: aquaculture can also be used to restock depleted fisheries for a wide variety of species.
We are more aware now than ever before of the benefits of eating seafood, and information and advertisements that portray the benefits of omega-3 fatty acids and the other nutrients contained in seafood for our health and wellbeing are abundant. Our doctors and nutritionists also confirm this need. Health supplements containing fish oils and functional foods, such as enriched milks and margarines containing omega-3 fatty acids, are widely available, although there seems to be agreement that the best source of omega-3 is seafood.
While demand is rising, supplies from wild fisheries are either static or falling. How can we bridge the gap?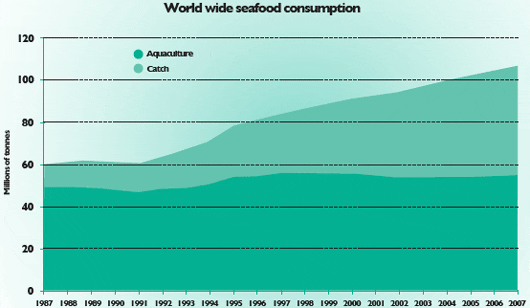 Figure 1: The share of worldwide seafood consumption coming from aquaculture and capture fisheries.
Courtesy Kontali Analyse AS.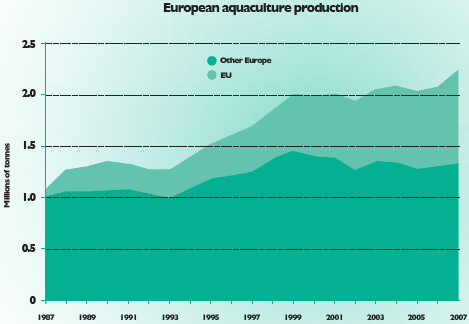 Figure 2: Aquaculture production in Europe. Courtesy of Kontali Analyse AS.
---
*
"We must plant the sea and herd its animals using the sea as farmers instead of hunters. That is what civilization is all about - farming replacing hunting."

Jacques Yves Cousteau (filmmaker, scientist, marine conservationist)
---
On a global level, farmed fish and shellfish production is growing more rapidly than any other food sector. While some of the products in demand (tropical species) cannot be produced in European waters, a significant proportion of the demand for fish and shellfish products can be produced in Europe.

'Aquaculture' may be a recent addition to our vocabulary, but the farming of fish and the cultivation of shellfish dates back millennia – from old Chinese civilisations to the Roman Empire. What is new is the level of production now demanded by a growing world population and the challenge this presents to farmers who want to conduct their activity in a sustainable way.

This document demonstrates for consumers how European aquaculture is addressing sustainability issues through scientific research and how the sector is continuing to improve its production practices in the light of that research.

Further Reading
| | | |
| --- | --- | --- |
| | - | You can view the CONSENSUS brochure: 'Towards Sustainable Aquaculture in Europe' by clicking here. |
September 2008