In the course of his consultancy work with NGOs around West Africa, Dr Patrick Apoya, a water engineer, was struck by a huge dichotomy: West Africa, like many other parts of the world, was running out of water, and needed to do something to check the situation. Yet, in spite of that, water was being wasted at alarming rate, especially in agriculture. He therefore committed himself to working to help turn the situation around, and has found the perfect vehicle: aquaculture. His company, SkyFox Ltd, is transforming communities in Ghana, Guinea, Burkina Faso and Sierra Leone with fish farm projects that are not only increasing national output significantly, but are also transforming crop farming and investment culture in rural communities.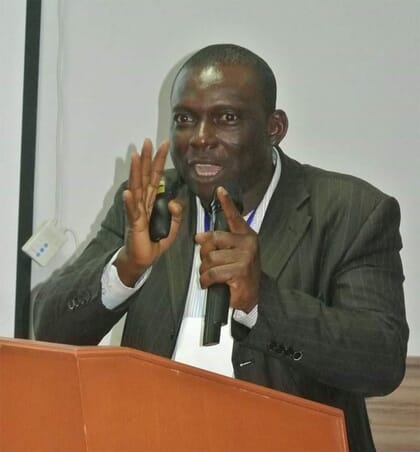 In Ghana, SkyFox is in the process of delivering 200 ponds, each in plots of land of over 1,500 hectares, across 10 rural communities. The ponds are constructed at hilltop locations, or elevations in flat areas. To optimise its use, the water is treated through biological filtration and transferred from pond to pond. Thanks to gravity, waste water from each pond is used to irrigate 10 hectares of cereal crops during the dry season, allowing for enhanced production of maize, soya and rice.
SkyFox secured funding for these projects thanks to a grant from Securing Water for Food, a multinational project managed by USAID, which promotes innovative solutions for producing food using less water. However, Dr Apoya is confident that the programme will become self-financing by 2020.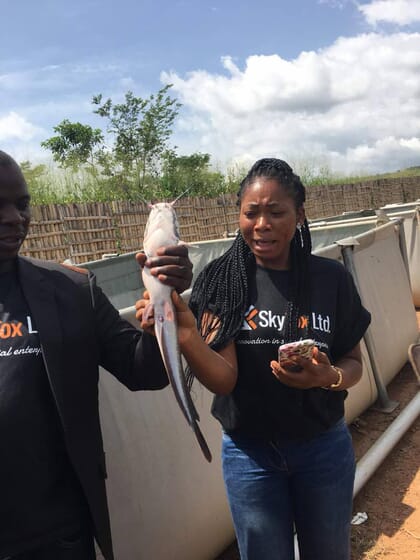 The ownership structure of SkyFox's projects provides an interesting model for fish farming and other agricultural projects. The company mobilises funds from the communities through a shareholding system, with share prices ranging from 100 cedis ($25) to 25,000 cedis. It then leases the ponds to groups of farmers, banding 30 farmers in a group to manage one pond, who are trained and guided by an expert. It also leases the irrigated land to crop farmers for maize, soya and rice cultivation.
Interestingly, 60 percent of the large number of investors in the communities involved in the project are women. This is a very encouraging trend. Women are usually marginalised in West African rural societies, so this will help improve living standards for the women participating in the programme, as well as for the communities as a whole. Grace Ampong, an investor in the project in Berekuso, Ghana, says: "I heard about the SkyFox project on the radio, and made some enquiries. I was convinced that it was a very good investment. And I have not regretted it. I will buy some more shares in the near future."
Currently, there are 400 groups, comprising more than 12,000 farmers, who have produced over 82 tonnes of catfish per group in the last two years, although at full capacity, the farms will be producing many times more than the current volumes.

"We expect to become a major contributor to national fish output in the next few years," says Dr Apoya.

Ghana aims to double its aquaculture output this year in order to reverse the 60 percent gap in fish output, which translates into annual expenditure of $200 million on fish importation. Dr Apoya believes that apart from becoming a major contributor to national output, SkyFox is helping to raise the quality of technical and management skills in aquaculture. Although there are close to 2,000 established pond farmers in Ghana, their total output amounts to only 5 percent of the national output. Weak technical and management skills are believed to be the main hindrance.
"Our farms provide ample evidence of how to achieve optimum results with good management. We are in a position to help other pond farmers to improve on their management," says Apoya. SkyFox is one of the enterprises that have been selected to train young fish farmers under Ghana's Youth Entrepreneurship Programme.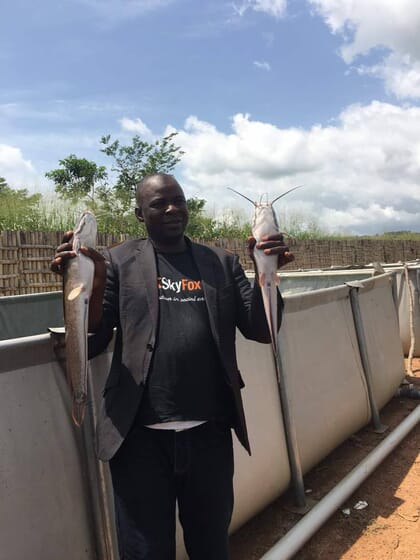 SkyFox also provides off-taker arrangements, assuring farmers of ready markets for their produce and has started processing catfish for sale to hotels and catering establishments and shops. Customers can choose between smoked, spicy and other options. Presently, processing is being done in temporary premises, whilst workers are putting finishing touches to the state-of-the-art processing facility at Oyarifa in Accra. For SkyFox investors, this substantially increases their dividend prospects. A major focus of the company is to export smoked catfish and fish fillet to the West African, European and American markets.
Presently, SkyFox purchases commercial feed for its projects, but Apoya believes that, as the project should also result in increased crop production, it should soon acquire the capacity to process some of its produce into fish feed too. Feed costs account for at least 70 percent of fish farmers' budgets in Africa. Maize and soya meal are the main ingredients used in aquaculture, poultry and pig farming. Demand for maize is huge. Apart from being a major African food source, it is a major raw material in the brewery and pharmaceutical industries.
Last year, the maize crop in most of Africa was struck by an outbreak of army worms that wiped out at least a third of the harvest. Soya meal is imported, and the constant hikes in prices are related to the currency declines around Africa. Dr Apoya believes that any fish farmer who is able to produce his or her own feed raises profit margins and reduces costs substantially. "We should install our own feed production facilities in the near future," he says.
Work is also progressing at SkyFox project sites in Guinea, Sierra Leone, Liberia and Burkina Faso. Completion of these projects will make a major difference, as all these countries need to improve fish consumption per capita and reverse the current prevailing trend of spending scarce foreign exchange on fish imports. Sierra Leone, Liberia and Burkina Faso receive annual fish imports of 30,000, 50,000 and 80,000 tonnes respectively. Various aquaculture projects implemented in these countries over the years have not succeeded, but these days there is better appreciation among governments about the importance of aquaculture to food security and economic stability. According to the SkyFox CEO, a major challenge in working in these locations is the virtual non-availability of good-quality fish feed. But that's a problem to solve further down the line. While preparing to install its own feed plants, SkyFox may need to resort to imports itself, from the nearest country that can supply good-quality feed.