Report prepared by Camillo Catarci - FAO Globefish 2007. EU demand for salmon, albeit increasing, continues to be insufficient to cover rising supplies of farmed products.
Introduction

The wild segment, albeit much more limited than the fresh farmed segment, is also showing weakness in demand.

During the past few weeks, Norwegian fresh salmon prices have fallen below the EU minimum import price (MIP) of €2.80/kg. However, the WTO ruling on the MIP is expected to become public possibly before the end of the current month. Many expect the Norwegians to prevail, with some reporting that the WTO is siding with Norway on 22 out of 47 points, and siding with the EU on only 10 points.

The lifting of the MIP may entail negative repercussions for Scottish and Irish farmers although most farms belong to Norwegian companies by now. In turn, Alaskan suppliers of wild salmon, who compete with Norwegian salmon on some segments of the market, may be less affected by the lifting of the MIP due to the current low value of the US dollar.

For the January-October 2007 period, Norway exported 406 300 tonnes of salmon (live weight equivalent) to the EU, a 18 percent increase from the 342 900 tonnes exported during January-October 2006. Overall, total exports of salmon from Norway increased from 448 600 tonnes, NOK13.70 billion, in January-October 2006, to 562 400 tonnes, NOK14.14 billion, in January-October 2007. Overall, unit values of Norwegian salmon exports declined from NOK30.53/kg in January-October 2006, a year of strong demand and tight supplies, to NOK25.15/kg in January-October 2007.

According to some market analysts, even if the supply of Atlantic salmon is expected to increase by 123 000 tonnes from 2006 to 2007, the decline of world Atlantic salmon prices is not as marked as it would have been had Norwegian and Chilean salmon production not been affected by various diseases during the year. In fact, under normal conditions, the increase of Atlantic salmon supply between 2006 and 2007 would have been around 170 000 tonnes, with much more dramatic repercussions on world prices (source: FIS).
France
French salmon imports are dominated by fresh whole products from Norway, although fillets are increasing quickly. The success of Norwegian salmon in the French market is due to the strong product development (30 percent of the 220 new fish products launched in 2006 contained salmon) and the positive image of salmon from Norway.

Total imports of salmon into France increased in terms of quantity but decreased in terms of value, e.g. from 60 800 tonnes, EUR297.7 million in January-July 2006 to 62 000 tonnes, EUR276.2 million in January-July 2007. The decline in unit values of French salmon imports can be attributed to the declining prices of Norwegian fresh whole salmon, which represent 52.2 percent of French salmon imports in quantity and 43.9 percent of French salmon imports in value (January-July 2007 figures). Provisional figures for August indicate that the sale of Norwegian salmon on the French market rose by 22% in August 2007 compared to the same month in 2006.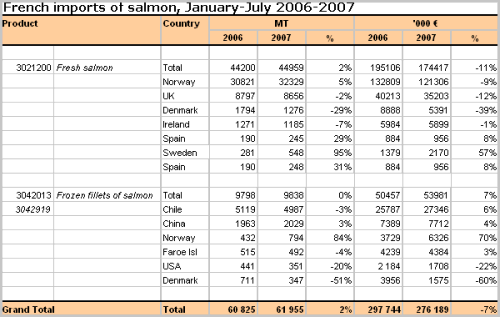 According to the Norwegian Seafood Export Council (NSEC), strong French demand for pre-packed fresh salmon is behind an 18.2 percent rise in sales during the first seven months of 2007. Pre-packed products are more practical than the whole fish as they remove some of the natural deterrents to consumers such as skin and bones.

Recently, an NSEC focus group research concluded that older, higher income earners are the main buyers of salmon in France. As a follow-up to the results of the focus group, NSEC has launched a media campaign aimed at boosting salmon consumption among younger generations, the target being women aged between 25 and 44.
Germany
Salmon is the third most popular fish in Germany, with a share of 11.3 percent of total consumption of seafood in the country (2006 data). The only fish categories which are more popular than salmon are Alaska pollock, accounting for 25.9 percent of fish consumption, and herring, with a share of 17.5 percent.

Imports of salmon into Germany declined slightly from 62 700 tonnes, EUR356.1 million in January-August 2006, to 60 200 tonnes, EUR331.6 million in January-August 2007. Imports of fresh salmon remained steady in terms of quantity between January-August 2006 (26 700 tonnes) and 2007 (26 800 tonnes) but, due to the decline of Norwegian salmon prices, they decreased by 18 percent in terms of value. Instead, imports of frozen salmon fillets increased from 19 900 tonnes, EUR109.3 million in January-August 2006, to 20 300 tonnes, EUR117 million, in January-August 2007. Imports of smoked salmon declined slightly from 10 900 tonnes, EUR97.3 million, in January-August 2006, to 8 900 tonnes, EUR94.3 million, in January-August 2007.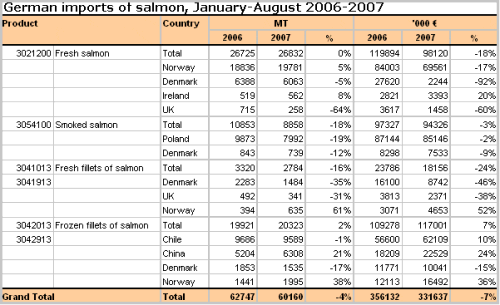 Italy
Imports of salmon into Italy increased in volume from 14 600 tonnes in January-July 2006 to 15 300 tonnes in January-July 2007. However, they declined in value from EUR91.5 million to EUR87.3 million in the same period. This was again due to the declining prices of Norwegian salmon which is purchased by Italian importers through Denmark and, to a lesser extent, Sweden.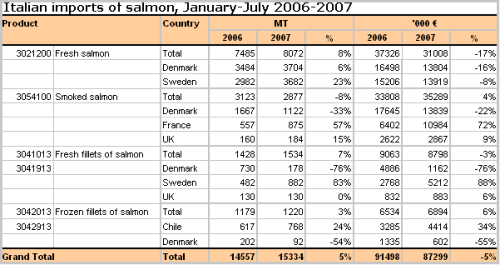 Spain
Spanish imports of (mainly fresh) salmon increased in volume from 18 800 tonnes in January-July 2006 to 20 900 tonnes in January-July 2007. However, they declined in value from EUR85.9 million to EUR77.9 million in the same period because of falling Norwegian salmon prices.

Outlook
Surprisingly perhaps, supplies of Norwegian salmon are expected to decline in the months to come. According to biomass estimates published in September 2007 by the Norwegian Seafood Federation (FHL) only 8 percent more fish is available now as opposed to last year. Furthermore, the biomass of the 2006 generation that is now being slaughtered is only six per cent higher than the same time last year. The estimated current biomass of the 2006 generation is of approximately 366 000 tonnes, against 345 000 tonnes last year. In addition, due to various disease problems, the growth has been reported to be lower than one year ago and higher the rate of fish loss. This relatively contained growth cannot sustain the current 18 percent increase of Norwegian salmon exports between 2006 and 2007.

Despite the risk of tightening supply, the price on fresh salmon is still falling, even if there are now signs of increasing prices on the spot market, according to the latest information from Fish Pool AS. On their long trend forecasts, however, salmon prices are expected to stabilize around NOK24.00 – 25.35 (EUR3.08 -3.25)/kg next year (source: FIS).
News
MSC re-certification for Alaskan salmon fishery (13 November 2007). The Marine Stewardship Council (MSC) has re-certified Alaska's commercial salmon fishery as sustainable on 5 November. In 2000, the fishery became the first one in the United States to be certified by the MSC. Original MSC certification was granted initially for a five-year period that was extended to October 2007. The re-certification will give the salmon fishery the MSC label for the next five years. The fishery commercially harvests more than 160 million salmon a year. Alaska salmon is now the most widely marketed fishery certified under the MSC programme: at present, there are 360 MSC-labelled Alaskan salmon products made available as smoked, fresh, frozen, canned, roe and ready-meal options (source: FIS).

Potential in salmon farming in Russia (24 October 2007). A Norwegian-Russian venture in Petchenga in North East Russia has been trying to set up salmon farming with little success due to lack of capital, smolt production, high costs of importing feed and a divergence between Russian and Norwegian partners. However, increasing Russian imports have shown that the local market has reached a critical size to make domestic production viable. Moreover, the number of Norwegian processing facilities authorised to export to Russia and the number of Russian companies being allowed to import salmon have been reduced. Furthermore, large areas along the Russian Pacific coast are proving to be suitable for salmon production. These areas have the freshwater resources needed to hatch salmon and breed salmon smolt and ideal saltwater temperatures for salmon farms. Recently, a Scottish company delivered 300 000 smolt to a Russian salmon company starting production in Ambarnayafiord, close to Murmansk. The Norwegian live fish carrier Ro Chief transported the smolt. Another live fish carrier is currently on the way to Russia with Norwegian-raised smolt (source: FIS).
November 2007